While many bars and restaurants aim to create a unique decor, concept and experience, it's rare that any new venue in a city like Melbourne can be genuinely described as "unique." But Bar Económico is to even the most seasoned bar patron an unusual proposition, with vivid turquoise walls, a menu written on cardboard and a ticket system for drinks – tickets are sold through a booth and then exchanged at the bar for drinks, which are served in house-party-style red plastic cups.
Located in the nondescript Richmond shopfront where pioneering bar-meets-cocktail laboratory Der Raum once stood, Bar Económico is a venue that couldn't be more removed from its predecessor. It's a considerably ballsy move given that Der Raum's owner, Matthew Bax, is also the man behind Bar Económico – a venue he describes as a "rum brothel" inspired by a bar in Jamaica, the drinking holes of Puerto Rico and "a mixed bag of holiday drinking, not exclusively from the Caribbean."
Moving to Munich, Germany in 2012, Bax closed Der Raum and soon began work on his new vision with long-time friend and collaborator Ravi Avasti, a furniture maker by trade. After many conversations and photograph swapping with Bax, Avasti stripped Der Raum and designed, built and installed all elements of Bar Económico. Avasti says the bar's vibe was "all about cheap and nasty … but that lively, colourful South American/Caribbean cheap and nasty." And while Avasti attests Bar Económico was constructed entirely from readily available building materials as opposed to imported timbers and designer furniture, there's a high level of detail, thought and care involved in its design.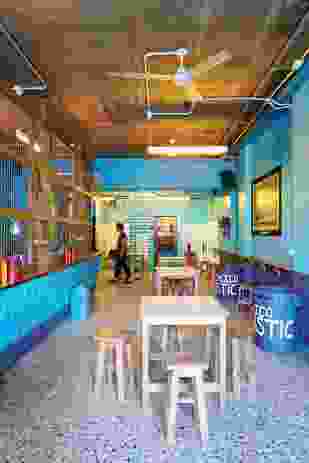 "Every proportion is intentional," Avasti says. "By dropping the height of the bar itself we created a much more domestic environment. The stools are higher than usual in relation to the tables to encourage customers to lean in towards each other. The framework for the bar cage leads the customer to peer inside." And of the turquoise, Avasti says, "I was in Little Havana in Miami a few weeks ago and was very happy to see that we had selected the right colours!"
Stepping past the newspaper-covered street-facing window and into Bar Económico instantly transports you somewhere else – be it Havana, San Juan or a nowhere town in Mexico. A nine-metre-long bar positioned along the venue's southern wall is enclosed by a 1.8-metre-high cage with a few small holes for the exchange of tickets and drinks. Decorated with rum bottles, simple timber furniture, blue plastic waste bins and a solitary ceiling fan, Bar Económico is as raw, lo-fi and colourful as it gets.
After the success of Der Raum, Bax was motivated to create a venue that was a significant departure from his celebrated cocktail-driven endeavour. "Cocktails and the scene can be a bit monotonous and stiff," Bax concedes. "Bar Económico is about demonstrating that a cocktail doesn't always need to be garnished with a lecture from a guy dressed up in 1920s costume."
Authenticity is one feeling that a new venue can struggle to deliver, especially one with a theme as overt as Bar Económico's. Can a venue be spurious yet still feel real and relevant? "Bar Económico is not pretending to be anything authentic," says Bax. "It's more an homage to dive drinking – it's about trying to capture a feeling." Avasti agrees: "While it isn't authentic per se it is as honest as possible, which I think a visitor will always sense."
I put it to Bax that a bar like Económico is needed near the palm-tree-lined beaches of St Kilda. "I would love to do this by the beach. Show me a good space and a good lease and I'll open you a bar. I promise."
Products and materials
Walls and ceilings

Existing cement ceiling with matt finish. Walls painted grey and aqua/teal green.
Windows

Existing external windows.
Doors

Existing doors. Front door painted red. Bathroom doors re-painted then detailed with aged look.
Flooring

Existing cement floor.
Lighting

Globes handpainted to dull lighting.
Furniture

Bar stools and tables designed and made by Ravi Avasti.
Kitchen/bar

Bar and bar cage frame built with treated pine. Sinks and tapware from Swan Street Sales.
Other

Custom-made bar cage and ticket booth. King Cock mural by Rodney Bax. Strickly No Idlers and Strickly No Gambling handpainted signs by Ravi Avasti. 1989 Double Dragon II: The Revenge arcade machine.
Credits
Design practice

Trink Tank
Australia
Project Team

Matthew Bax, Ravi Avasti
Consultants

Builder Ravi Avasti
Engineer Ravi Avasti
Project manager Matthew Bax

Site details

Location Richmond, Melbourne, Vic, Australia
Category Interiors
Type Bars and cafes, Hospitality

Project Details

Status Built
Design, documentation 3 months
Construction 6 months

Source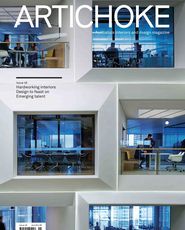 Issue
Artichoke, March 2014
Related topics