Standing under convex cantilever balconies wrapped in charred timber, watching the sun go down over Sydney's Darling Harbour, you might forget that Barangaroo House sits at the edge of one of Australia's biggest ever urban renewal projects. The effortless curves of the balcony form a stately scaffold, enveloping a multi-storey food and beverage venue that offers a range of experiences, from a casual drink to fine dining.
A key piece in the overall redevelopment of Barangaroo, the project had a particularly long gestation period. Base build architects Collins and Turner won a design competition in 2013 that secured the form of the building. Working with H+E Architects, Collins and Turner developed the internal arrangements and workings of the project, with Emilie Delalande of interior design firm Etic being brought on in early 2017 to work with hospitality group Solotel and chef Matt Moran. The result is a three-level dining destination, each floor offering an integrated yet distinct concept for eating, drinking and entertainment.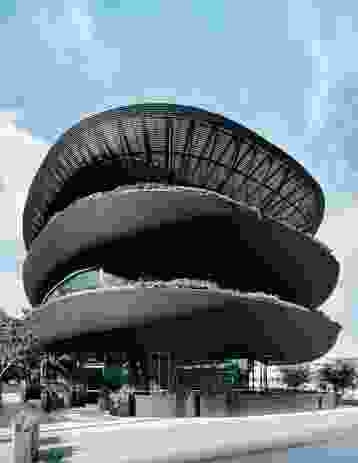 Delalande describes the conceptual experience of the project as similar to climbing up a tree. As you climb higher, you experience something a little different at each level. The ground floor has been slightly elevated above the main foreshore concourse level of Barangaroo. Here, House Bar provides an accessible, fun pub experience. Nestled under the cantilevered balcony above, this level builds on the base palette of dark timber and concrete. A bar wrapped in patinaed copper buttresses the rear of the space, from which the seating area flows out past the strong angled sentinels of the building column, past the curved glass and out toward the harbour. The space is sundered from the public areas outside by a series of sinewy low steel walls and concrete planters, which manage to delineate the space from the exterior without isolating it.
Behind House Bar sits a dark timber interior that holds a stairway that winds up through the building. The middle level is the home of Bea, the building's fine dining restaurant. Delalande says the space has been conceived as a series of families, broken down into zones of booth seating and smaller groups of tables and banquettes. A curved brass table holds the northern edge of the space, lit by bespoke porcelain pendants. Materially, Bea builds on the base palette of dark timber and concrete and is overlaid with brass, green leather, reeded glass and rich marble, which bring a layer of considered luxury to the middle level.
Further up the trunk of the tree, the top of the stair features a specially commissioned work by artist Luke Storrier, which acts like an announcement of Smoke, the top-floor bar. The design team wanted to create a sophisticated rooftop lounge and bar that feels as though you are nestled in a treetop. Hidden from view, Smoke is nestled high in the palm of the curved top-floor balcony. Delalande explains that Smoke was intended to feel like a place where you could be "a little bit naughty." A planter/ banquette crowned with an olive tree holds court on the deck, helping to divide and define the balcony into a series of small, intimate spaces. Inside, similar spatial techniques are also employed – a long, green leather banquette winds around a flourishing planter, its serpentine form creating a series of smaller spaces for patrons to engage and occupy but also delineating the bar zone at the rear. Again, the material palette shifts – familiar still, but a little lighter this time, evident in the playful neopolitan terrazzo tabletops, the bold red hues of the calacatta marble bar top and the lighter-hued furniture.
It isn't a stretch to describe Barangaroo House as a sophisticated treehouse – a sleek three-in-one venue rich in material hue that effortlessly shifts in tone from casual waterside bar to fine dining experience.
Products and materials
Ceilings

Ceiling by Civardi Furniture.
Windows and doors

L'officina by Vincenzo.
Flooring

Concrete flooring to House Bar. Solid tallowwood to Bea and Smoke.
Lighting

Custom porcelain light fittings by Studio Enti. Anton wall light by Volker Haug on staircase wall. Custom pendant lights by Contempo. Pendants and wall lights by Studio Henry Wilson in House Bar.
Furniture

Grain stools and Officina chairs from Cult. Hoffmann side chairs and armchairs and Corbusier chairs from Thonet. Bombala chairs from Cafe Culture+Insitu. Basket chair from Stylecraft. All custom furniture at Smoke and table tops throughout by Contempo.
Bathroom

Tapware from Brodware. Tiles from Skheme and Better Tiles.
Other

Staircase artwork by Luke Storrier. Concrete wall artwork in House Bar and bathroom prints by Studio Twocan. Rugs from Cadrys. Staircase joinery by Civardi Furniture.
Credits
Interior design

Etic

Project Team

Etic: Emilie Delalande, H & E Architects: Chris Grinham, Sonny Lee, Wendy Huang, Sara Sapucci, Natalie Rumore
Architecture

H & E Architects
Sydney, NSW, Australia
Site Details

Location Sydney, NSW, Australia
Site type Urban

Project Details

Status Built
Category Hospitality, Interiors
Type Bars, Cafes, Restaurants

Source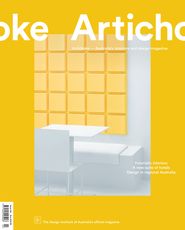 Issue
Artichoke, September 2018
Related topics