Sydney's newest foreshore park, Barangaroo Reserve, opened to the public on Saturday 22 August 2015.
The $250-million park has been designed by American landscape architect Peter Walker in collaboration with Australian practice Johnson Pilton Walker.
The new six-hectare park was created from what was Sydney's oldest industrial site, a former shipyard. The park retraces the original pre-colonial and pre-industrial shoreline that was erased from maps by the shipyard. It also establishes a 14-kilometre stretch of shoreline between Walsh Bay and ANZAC Bridge.
The below video shows how the Barangaroo shoreline has changed over the last 200 years.
The park offers the closest connection to Sydney Harbour of foreshore park in the city. In place of the previous 18-metre cliff that cut off Millers Point from the foreshore, the park's new naturalistic landforms, made from 10,000 blocks (37,000 cubic metres) of Hawkesbury sandstone excavated from the site, builds back the headland and reconnects the city directly to the water. New tidal rock pools have also been created from the sandstone blocks.
The new park is also visually connected to landmarks across the harbour including Goat Island, Ballast Point and Balls Head.
Around 75,000 native Sydney plants were used in the park's creation, with Angophoras, Banksias, and Port Jackson and Moreton Bay figs among the 83 species of trees and shrubs. As well as the new harbour cove, the park features a range of walking and cycling paths, lookout points, grassed areas and and bush walks.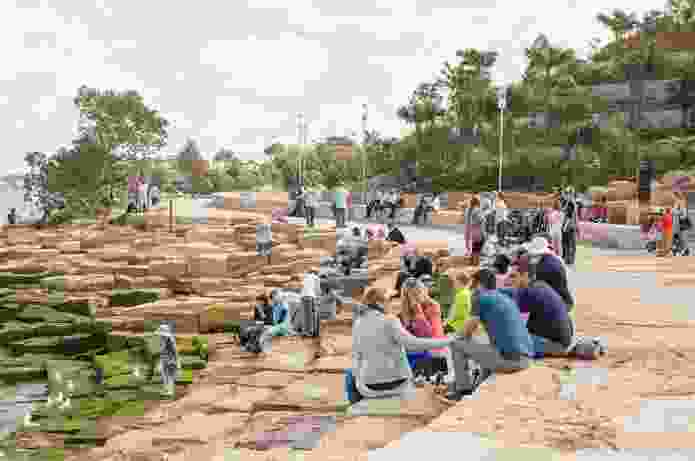 The new park doesn't entirely erase the site's industrial heritage. During the two-and-a-half-year construction process, an original shipway from the shipyard built in the 1820s was uncovered, which was excavated and reconstructed in the new park.
The Barangaroo Reserve is named after historic Indigenous Cameragal woman, who was believed to be the second wife of Indigenous leader Bennelong.
The Barangaroo precinct has attracted criticism and controversy particularly due to the scale of the casino, residential and commercial developments at Barangaroo South. But Peter Walker believes it is this juxtaposition will make the park "really spectacular," he told the ABC.
"Here we have these gigantic buildings right next to this open space which runs the whole length of the rest of Barangaroo," he said. "[That's] one of the things that makes this so dramatic."
The park's opening will be celebrated with a three-month-long program of events including monthly Giant Picnics from September to November, and a Welcome Party on Sunday 6 September.
Read Scott Hawken's review of Barangaroo Reserve.
Related topics