Sydney's contentious Barangaroo Reserve project, designed by US landscape architect Peter Walker in collaboration with Australian practice Johnson Pilton Walker, has won the World Architecture News Waterfront Award.
The recently-opened headland park beat other well-known projects shortlisted for the prize, including the Auckland Waterfront project by Taylor Cullity Lethlean and New Zealand firm Wraight + Associates, as well as the Canary Wharf Crossrail project in London by Foster + Partners.
The history of the Barangaroo Reserve project has been a vexed one that has attracted a great deal of criticism. The initial design competition for the site was held in 2005. Former Australian prime minister Paul Keating played an influential role on the project's Design Excellence Review Panel, and made clear his preference for a design that would reference the site's "natural" state rather than one which focused on its use for industry.
In response to the public presentation of the Barangaroo scheme in 2010, Richard Weller wrote for Landscape Architecture Australia, describing the project as, "Paul Keating's Disneyheadland."
"Keating makes a case for the reshaping of the edge of the site, rescuing it from what he calls "industrial vandalism" and culminating in a "natural" headland that will complete the ring of Balls Head, Ballast Point and Blues Point with Goat Island at the centre. Curiously, the fact that this headland will be used to house a car park beneath was not mentioned during Keating's presentation."
Adam Russell also penned a response to the project, published in Australian Design Review, that conceded the park was "a much-needed asset for the city," but criticized the approach taken.
"It is a proposal that undervalues the capacity of contemporary society to successfully reinterpret the 'mistakes' of the past and project a vision of the present into the future. It is also an ethical contradiction – the value system that promotes preference for a naturalistic shoreline over a linear engineered harbour edge, simultaneously endorses construction of a man-made pier on reclaimed land."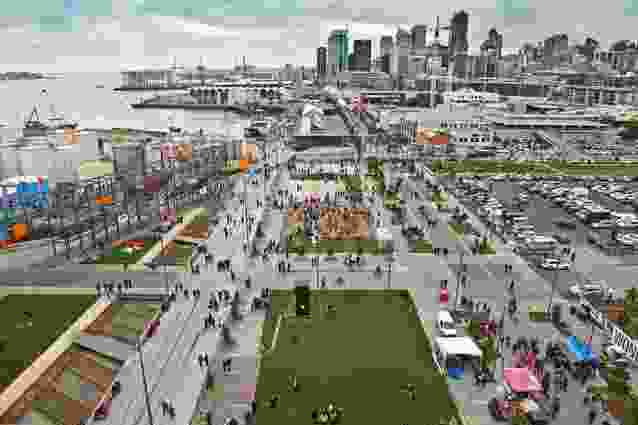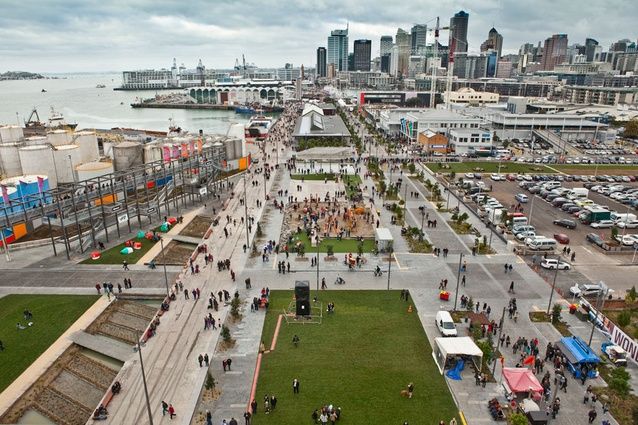 In contrast to the approach taken at Barangaroo Reserve, TCL's Auckland Waterfront transformed its maritime site into a dynamic public precinct by encouraging interaction with its industrial history. The project won the international Rosa Barba Landscape Prize after being shortlisted alongside projects such as New York's High Line.
The panel of jurors for the World Architecture News Waterfront Award was made up of Avery Associates Architects principal Bryan Avery, West8 Urban Design and Landscape Architecture project manager and landscape architect Maarten Buijs, White Arkitekter partner Niels de Bruin and Atkins lead designer Vishnu Anishetty.
Jury member Avery commented that the Barangaroo Reserve project, "slips effortlessly into the landscape."
"It's a complicated project that's been approached with vigour and sensitivity," he said.
The six projects shortlisted for the award were:
Barangaroo Reserve by Peter Walker and Johnson Pilton Walker (Sydney, Australia)
Canary Wharf Crossrail by Foster + Partners (London, UK)
Hasle Harbour Bath by White Arkitekter (Bornholm, Denmark)
Rowing center Bled / Sport pavilion as a spectator stand by Multiplan Architekti d.o.o. (Bled, Slovenia)
Waterfront Park of Aiyi River by BLVD International (Yinchuan, China)
Auckland Waterfront – North Wharf Promenade and Silo Park (Auckland, New Zealand).
Related topics