Australian outback towns no longer live "off the sheep's back" but need to find new ways of inventing themselves. Barcaldine, located in Central Western Queensland, was once famous for the number of pubs fronting its main street, along with the historic tree under which striking shearers established what is now known as the labour movement.
Political foes recently poisoned the tree but its historic significance demanded respect. Barcaldine Regional Council commissioned a memorial. The architects, with vision and tenacity, have created a structure that commemorates, represents and respects the tree, inspiring visitors to consider the significance of this event and this place.
In addition to the building memorial, the architects have cleverly enhanced the structure of the original tree, exposing the root ball below ground in a way that goes beyond preservation.
Such a building is rare in its simplicity. That it has become a destination for contemplation and celebration is testament to the evocative nature of the architecture.
The Tree of Knowledge has brought new life to an outback town in recession. It provides an environment that is fully accessible to the public and shelters a remarkable memory that may or may not be past.
– Jury citation
Credits
Architect

Brian Hooper Architect
Yeppoon, Qld, Australia
Project Team

Michael Lavery, Ben Vielle, Helder Pereira, Emma Healy, Angela Winkle, Brian Hooper, John Angel, Allen Dwyer
Architect

m3architecture
Qld, Australia
Consultants

Builder McNab Constructions
Building surveyor Philip Chun & Associates, Michael Moran
Council engineer Barcaldine Shire Council
Electrical Hawkins Jenkins Ross, Virendra Khatri
Heritage Gordon Grimwade & Associates, Martin Rowney
Hydraulic services Thomson Kane Hydraulic, Mark Kane
Landscape Gamble McKinnon Green Brisbane
Landscape consultant Ross Gamble
Project manager Angel Consulting, Barcaldine Shire Council
Structural Bligh Tanner, Paul Callum
Town planning John Gaskell Planning Consultants, John Gaskell
Traffic consultant Viney Traffic Engineering Pty Ltd, Neil Viney

Site Details

Location Barcaldine, Qld, Australia
Site type Rural

Project Details

Status Built
Category Landscape / urban
Type Culture / arts, Installations

Source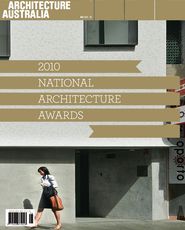 Issue
Architecture Australia, November 2010
Related topics