Bates Smart has designed a mixed-use development near a railway station in the northern Sydney suburb of Macquarie Park.
Dubbed Macquarie Exchange, the 15,620-square-metre site will contain four buildings – three of which would be eight storeys tall with the fourth rising to 16 storeys. The towers will contain more than 74,000 square metres of commercial space and be capable of accommodating more than 7,000 workers.
The four buildings will be centred on a large outdoor plaza and park, with the project containing more than 2,200 square metres of green space while the tallest building will have a number of winter gardens with voids to increase natural light penetration.
A retail "laneway" will offer 5,693 square metres of floor space.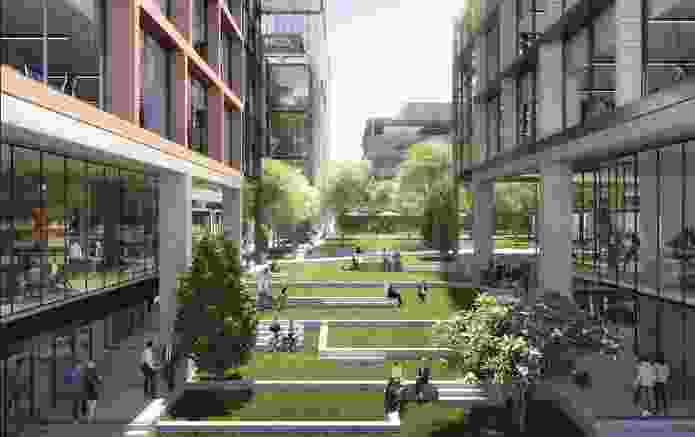 Philip Vivian, Bates Smart director, said, "Macquarie Exchange is designed to be an authentic urban environment that is rich in human spaces. An urban plaza, pocket park, retail laneway, roof terraces and north facing balconies provide new destinations for workers and locals alike.
"A green heart acts as a focal point for leisure and work pursuits. This is where city and soul unite in a new kind of urban hub, where pieces of city making come together to create a rich urban experience."
The development is close to Macquarie Park railway station, which is currently being redeveloped as part of the Sydney Metro Northwest project that is scheduled to open in May 2019.
Reini Otter, executive general manager of commercial and industrial property for the project's developer, Frasers Property Australia, said, "Place making is at the core of the Community Business District concept.
"Macquarie Exchange will activate the Metro precinct, setting a new precedent for work environments outside the CBD. With its scale, location and diversity, Macquarie Exchange has the ability to create a bustling mixed-use community, offering a network of spaces with a variety of experiences and activity for local businesses and the community."
The project is also being developed by Winten Property Group. It is yet to clear the development application process.
Related topics