Bates Smart has released designs for a new development in Canberra that will be the first private sector development on the Vernon Circle side of London Circuit, on Constitution Avenue.
The $300 million project, to be known as Constitution Place, includes both a five-storey ACT government offices building and a twelve-storey mixed-use tower that will host office and retail space and a 132-room hotel. A proposed laneway will open up pedestrian access to the existing Canberra Theatre from Constitution Avenue.
London Circuit, which surrounds City Hill at the northern apex of the Parliamentary Triangle, is currently home to the Legislative Assembly of the ACT (1961) the ACT Supreme Court (1962) both designed by Yuncken Freeman.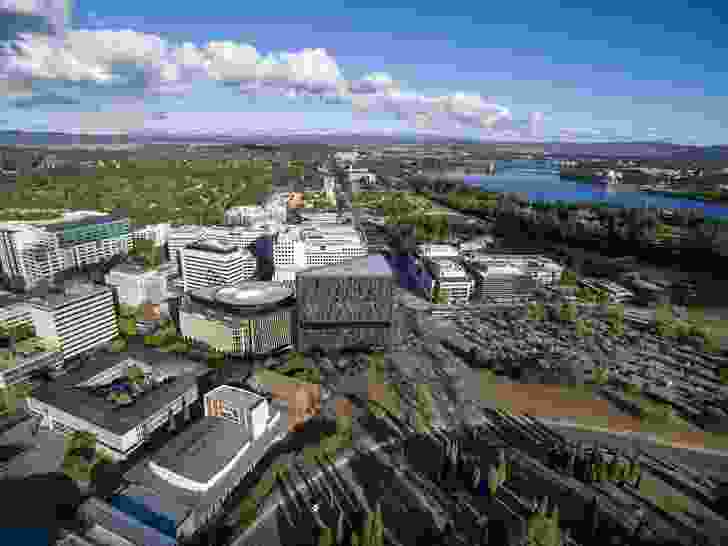 Bates Smart director Philip Vivian said that the design of Constitution Place is intended to accommodate and honor Walter Burley Griffin and Marion Mahony Griffin's masterplan for Canberra. "[The Griffins'] winning design for the international design competition held after federation has created a remarkable legacy," said Vivian, adding that the new design "was informed by the DNA of the Griffins' plan for Canberra.
"We have engaged geometry and axes in a new manner to create urban spaces and built forms unique to Canberra, using enduring materials to create a lasting legacy."
Vivian said effort had been concentrated in designing a pair of buildings that would foster civic and community feeling. "Our interest is not to create monumental buildings, but rather to contribute to the public life of Canberra."
Bates Smart's history as a designer of civic buildings stretches back to 1880, when founder Joseph Reed completed the Royal Exhibition Building in Melbourne and later the first Parliament of Australia in 1901.
The site of Constitution Place is directly opposite to the space earmarked for the construction of the now in-doubt Australia Forum convention centre, designed by Fuksas Architecture and Guida Moseley Brown Architects.
[Editor's note: An earlier version of this article included five renders of the proposed Constitution Place development by Bates Smart. The architects supplied ArchitectureAU with updated renders on 9 March 2017. The article has been updated to reflect these changes.]
Related topics