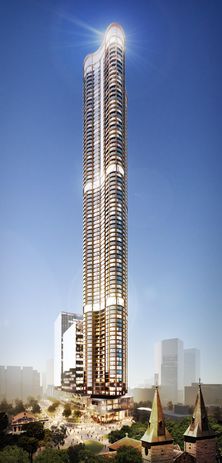 Developer Walker Corporation has announced Bates Smart has been selected to design the Aspire residential tower, in a proposed $2 billion urban renewal of Parramatta Square.
Bates Smart's design, which was selected by an independent panel, consists of a curvilinear form atop a rectilinear podium, which is intended to contrast with the proposed commercial towers in the precinct.
Parramatta City Council originally held an international design competition for the tower in 2012, which was won by Grimshaw Architects.
Walker Corporation launched a fresh competition after it was selected to develop the tower in August 2015.
In announcing the winner, the developer acknowledged the work previously done on the site. "The Council's earlier work was the catalyst for what we see here today," said Lang Walker, chairman of Walker Corporation.
Stage one of the project will be 70 storeys but the developer hopes to push this to 90, subject to approval from the Civil Aviation Safety Authority (CASA), making the Aspire tower the tallest residential building in Sydney.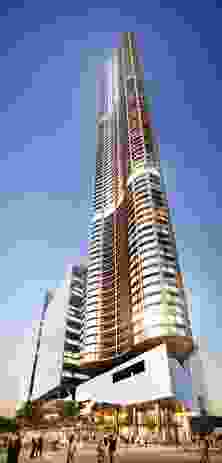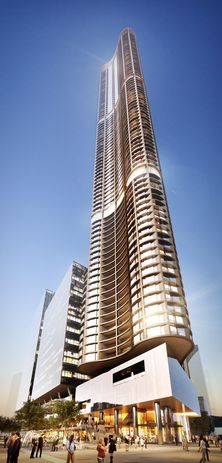 In June 2015, the NSW state government approved Parramatta City Council's request to raise height limits for the Parramatta Square urban renewal project, taking the Aspire tower a step closer to a height of 306 metres.
However, the lifting of the height limit is yet to be approved by CASA. In 2014, a group of aviation authorities and organizations advised Parramatta City Council to reconsider the building's height, saying it could impede take-off and landing corridors used by planes.
Four Australian practices were shortlisted for the competition including Fender Katsalidis, DBI Design and PTW Architects.
The independent panel that chose the Bates Smart design was comprised of Kim Crestani (Parramatta City Architect), Peter Poulet (NSW Government Architect), Bob Nation (Design Director Barangaroo) and Barry Mann (Parramatta City Council).
Walker Corporation is expected to lodge a development application for stage one by June 2016.
Related topics