Sydney's heritage movement shuns proposals to construct new buildings in parks – yet most of the world's notable civic landscapes are defined by their architectural adornments. Some examples, like Le Désert de Retz, built outside Paris just before the French Revolution, and Copenhagen's Tivoli, a cornucopia of 19th century fairground kitsch, are garnished with follies that were conceived to challenge rather than please the eye. Even small urban landscapes, like New York's pocket parks, are rarely left without 'superfluous' constructs such as sculptures and fountains.
Many of Sydney's significant parks also are elaborated by architecture. Examples include the Art Gallery of NSW on the eastern ridge of the Domain, the National Trust's S.H. Ervin Museum on Observatory Hill, the Cenotaph in Hyde Park, the Nielson Park tearooms and the ice-cream kiosks and pragmatic family picnic shelters of Bronte and Tamarama. At Balmoral Beach on the north shore, the Bathers' Pavilion – a Moorish white ornament designed in 1928 by Mosman council architect Alfred Hale – has finally reopened after a 10 year controversy about what should be done with the building. Despite calls to demolish and intense opposition to modest redevelopment plans from residents claiming commercial violations of public beachfront, the old swimmers' changing shed has been recycled as a Mark II upgrade of the restaurant which opened in 1988.
The Bathers Pavilion immediately became one of Sydney's best restaurants – arriving not long after the Bayswater Brasserie, Berowra Waters and Rockpool and before the nineties wave which includes Paramount, Darley Street Thai, Belmondo and Catalina. The driver of the business, Victoria Alexander, is a former Vogue and advertising stylist with a flair for arranging classy hospitality and seductive environments. She has also employed talented chefs: Genevieve Harris at Bathers Mark I and Serge Dansereau, formerly of the Regent Hotel, for the new incarnation.
To plan the building's transformation, Alexander commissioned three firms of architects – potentially a recipe for disaster, as it's termed in the cliché – and was involved in the creative decisions to a far more detailed degree than is usually welcomed by design consultants. As well as commissioning Alex Popov for the main architectural moves and Robert Moore as heritage consultant, she employed hospitality fitout specialists McConnell Rayner (Kevin Murray supervising) to work with her on the interiors. This arrangement would always produce a complex outcome – and surprisingly, it's also cohesive.
Many culturally different aesthetic gestures are drawn together in sympathy – the Islamic fretwork of the original fenestration; Popov's cool Scandinavian-Zen minimalist sensibility in the interior circulation zones; McConnell Rayner's stylish finishes of opaque green glass, weathered metals, tinted concrete, stainless steel, silver leaf and recycled hardwood; complemented by an exceptional variety of Alexander-approved furniture in French and Spanish provincial and Italian, Spanish and Scandinavian modern styles. For Alexander, all these components simply supply the background for her abundant and constantly rearranged overlays of hedonistic paintings, rustic objects and diverse upholsteries and scatter cushions. Because her restaurant's style relies so strongly on remixes of a vast array of table linens, chair covers and cushions, the new fitout includes a serious laundry with commercial washing machines and a steam press.
Why does the Bathers recycle work, when other refurbishments employing several design firms are tragically incoherent? As one example, consider the pageant of designers sequentially employed by developer Dennis O'Neill and Multiplex to stuff tiny apartments into the grand old Goldsborough Mort woolstore at Ultimo. O'Neill's first architect, Lawrence Nield, tried to work with the building's robust industrial character, then his style was overlaid by post-modern insertions in sandy yellow and Noosa blue by EGO Design; which in turn was supplemented by a third aesthetic; the rich, traditional styling of an English club, delivered to the ground floor by Thomas Hamel.
In contrast to Goldsborough and other sequentially redesigned projects, the Bathers refurbishment succeeds partly because the client is a more style-literate design manager than, let's face it, most design managers employed by developers and builders. At a more fundamental level, however, the project works because of the strength, simplicity and logic of Popov's architectural strategies.
Looking from the central bar to the restaurant and its sitting area, with northern stairs at left. Image: Ross Honeysett
Structurally, the building was fragile, and needed new internal walls, columns and slabs to support the facade, as well as a new roof and waterproofing system. Low shrubs and some trees were removed from around the building, so it now sits as a more imposing monument on a clear swathe of lawn. Along the beach facade, Popov has emphasised the existing rhythm of square piers at six metre centres by opening up the infills as an array of windows and pivoting glass doors. Despite this new transparency, the east wall seems to sustain an optical sense of weight along its base. Regrettably though, the council ordered removal of a previous run of concrete steps leading down from the building to the public promenade. It decided that the restaurant should no longer have café tables 'seeping out' into the public avenue, so the neighbourhood has been spared chance encounters between passers-by and patrons.
Ignoring the minor entrances at the north and south ends, Popov has re-established the original street entrance in the centre of the long west facade. Between new service pods concealing machinery and rubbish, a single step places arriving visitors on a terrace which carries right through the ground floor. This simple continuation exemplifies his general tendency to separately distinguish the primal elements of structures: the platform for living, the solid walls for protection – punctured by windows rather than giving way to glazing – and the lofty roof with prisms cunningly modulating the daylight qualities of major spaces beneath. These universal concepts, first imported to Sydney by Professor Leslie Wilkinson after 1918, are especially associated with China, Denmark, Spain and other Mediterranean countries where Popov has lived.
Internally, the pavilion's two floors are amalgamated and ordered by a substantial cross-sectional cut along the west side of the building, which reads as a canyon containing ceremonial staircases rising to the north and south. This dramatic incision has generated an apparently successful ground floor arrangement of Louis Kahn's 'servant' spaces (large kitchens, storage rooms, lavatories, corridors) tucked beneath both stairs, leaving a long, large hospitality zone looking east to the bay.
The 'train carriage' dining zone, entered on the central axis from the front door, is cleverly divided into different zones by low-level furnishings rather than prospect-blocking screens. Glimpsed at both ends are flashes of ochre paint on the walls of the Blue Room to the north and the Red Room to the south: both double-height, yet intimate cubes which are furnished with tribal textiles in sympathy with the Morrocan character of Hale's original architecture.
Upstairs (either flight can be chosen) several pale, minimal rooms can be subdivided and dressed for private dining and functions. There is also a spacious eastern terrace allowing elevated observation of the beach and windsurfers. On the west, north and south sides, more kitchens, offices, lavatories and storage spaces are tucked away, off a broad, open gallery-hall around the stair canyon. This space is toplit by a gabled skylight running along the building: an installation which Popov has designed to "get the light from the wrong side" (not directly from north) to produce "a fine studio light, like a French atelier, with a warm glow from the west in the evening." It's exactly this kind of hedonistic sensitivity – instinctive care for the psychological effects of light, space, shelter and prospect – which makes Popov one of Australia's most popular architects.
Davina Jackson is concluding her term as editor of Architecture Australia in March and is writing books titled 'Australian Architecture Now' and 'Sydney's Designer Restaurants'

Pivoting doors on the beach facade. Image: Ross Honeysett
Looking south across the restaurant, with the café and cocktail/coffee bar at rear. Image: Ross Honeysett
Looking across the stairwell canyon and first floor from the top of the south stairs. Image: Kraig Carlstrom
Central doors leading from the ground floor to the beach promenade. Image: Kraig Carlstrom
The central bar, looking across the entry from the restaurant to the café. Image: Ross Honeysett
First Floor Plan
Ground Floor Plan
Source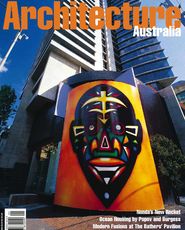 Issue
Architecture Australia, January 2000
Related topics