The 1960s were a cultural high point worldwide, not just for social revolutions, but for architecture and design. The first Porsche 911 rolled off the assembly line in Stuttgart around the time organic Modernism was shaping the suburbs of Sydney. Today, Sydney's highest concentration of gems from this era can be found in the harbour suburbs of Castlecrag and Middle Cove. One such classic is the Baudish House by architect Ken Woolley, recently discovered on the eve of its changing hands for the first time.
Built for postwar immigrants Raoul and Fernande Baudish and their children Anne and Peter, the house hugs a steep bush block, looking north to Middle Cove. Raoul was Czech, an importer of Finnish and German design and glassware into Australia; Fernande (Fern to her friends) was Belgian, an active member of the Willoughby arts community. "They were cultured people, with a sophisticated European sensibility," recalls Woolley. "They both loved music and art, and brought with them an unusual collection of glasswork and furniture, so the house was a very particular response to them."
Raoul and Fern had seen Woolley's own Mosman House in the Australian Journal of Architecture and Arts, when it won the Wilkinson Award in 1962. Theirs became one of Woolley's first commissions after leaving the Government Architect's Office, though he wasn't the first architect they approached. Neville Gruzman produced a prior set of plans for the Baudishes, and had them published as "a project to be completed," though it never was, possibly for reasons of cost. Instead, it was Woolley's more modest sheme that they built in the summer of '64.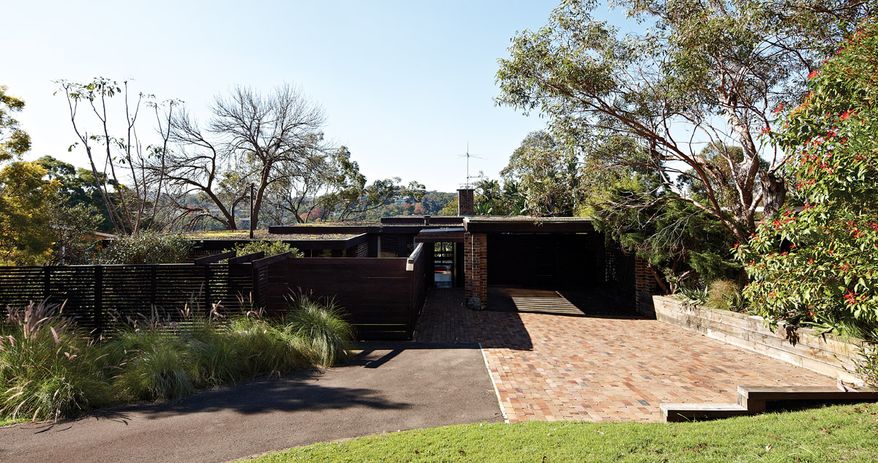 The block had a council covenant prohibiting fences, so neighbouring gardens tended to blend, as did the neighbourhood children. In designing the three-bedroom house, Woolley borrowed themes from his own Mosman home: sidestepping walls, partitioned outdoor areas and the earthy palette of timber and exposed brick. "It's a kind of irregular version of the Mosman house," says Woolley. "Mosman has a strict modular grid, whereas this house uses a kind of organic pier structure to hold up three overlapping square roofs. Each square intersects halfway in, higher than the next by its thickness. Together they produce a zigzag plan that follows the site contour lines at base; windows are forty-five degrees to the contour. The overall geometry brings a discipline to the irregular, complex plan."
The roofline organizes the interior flow diagonally across the site. Stepping from the south-west corner is the children's wing, then the kitchen/family room, dining room, entry and lounge. A discreet master bedroom suite and study alcove trail off to the north-east. Verandahs from the living and dining rooms lead downstairs to a rumpus room – created in 1970 through minor alterations by Glenn Murcutt. He extended the deck to the north, added a spiral staircase and raised the originally sunken living room floor, to level it with the dining room. Peter Baudish recalls why.
"When we extended the dining table for guests, whoever sat at the head of the table – usually Dad – would be quite close to the edge of that level … which was a bit dicey after a few glasses of wine." Murcutt also drew up plans to enlarge the family room by moving the kitchen out into a courtyard, but this was never done. "Mum loved the house and although she wanted extra space, she didn't want to compromise the original design, so we left it alone," says Anne O'Sullivan, Peter's sister.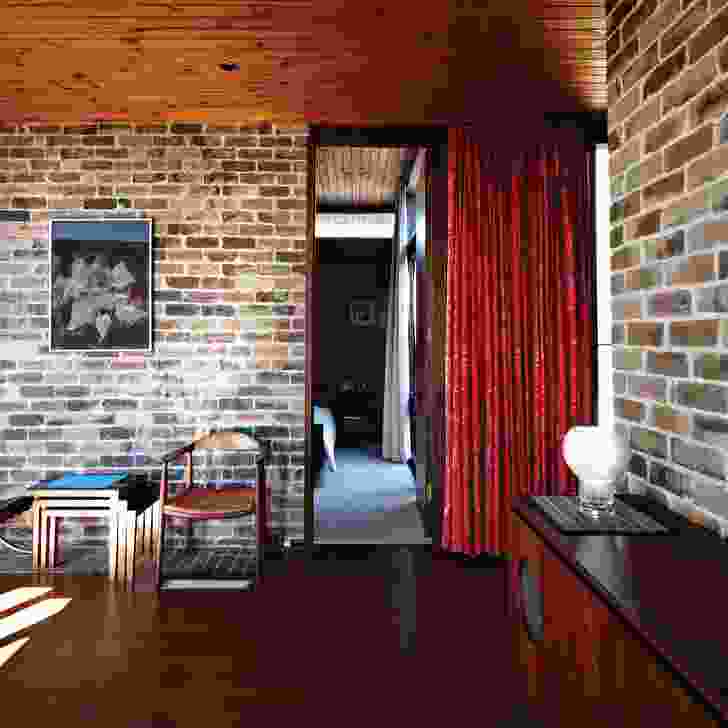 The spirit of this house also owes much to its rich palette of natural materials, beautifully woven together. Windows and doors are reddish-brown meranti, framing bush and garden views. Ceilings are golden radiata pine above clinker brick walls and tallowwood floors. Not a white surface anywhere, except for bathrooms and the kitchen's original enamelled oven. For the face-brick interior walls, Woolley handled clinker bricks – the rejects of a run – with uncommon care to achieve an earthy refinement. "I looked for the smoothest face of each brick and that's what we'd put to the front. Then we used a coarse, lime mortar and flush-cut it, instead of raking it in … There was an idea emerging worldwide, to reject the 'machined look' of bricks and let them appear more natural; you saw this in the churches and handmade buildings of Swedish architect Sigurd Lewerentz, and the textured brickwork of Alvar Aalto."
Within this textured tapestry are myriad details to explore: the ribbed glass and timber entry wall and door (another nod to Aalto), a radio/stereo cabinet and matching teak dining table, custom-built shelving and storage. Playful circular forms are featured here and there to contrast his rigorous geometry. In the courtyard are round stormwater pits, while inside, the rounded walls of the two circular showers encroach into the hallways. Such details, he says, "become everyday events for the people who live there, a type of human touch."
Woolley is a veteran of Sydney School Modernism and one of our most awarded architects. His public works include the State Office Block (since demolished from Macquarie Street), Fisher Library at Sydney University, and the Chapel at St Margaret's Hospital (now Object Gallery). Although early on he avoided house commissions (for fear of being typecast), he is known as the designer of the iconic Pettit and Sevitt project homes. The pioneering company has today been revived, with Woolley once again at the drawing board, which brings the architect full circle. "Fundamentally, a lot of what I was doing on individual projects like the Baudish house related to my Pettit and Sevitt designs and they're still relevant today. The original Porsche 911 was a clear, rational, aesthetic design that is still recognizable in the current model fifty years later. We're taking that same approach with Pettit and Sevitt, and have adapted the original designs for today's technology and size standards. We've added some new models as well."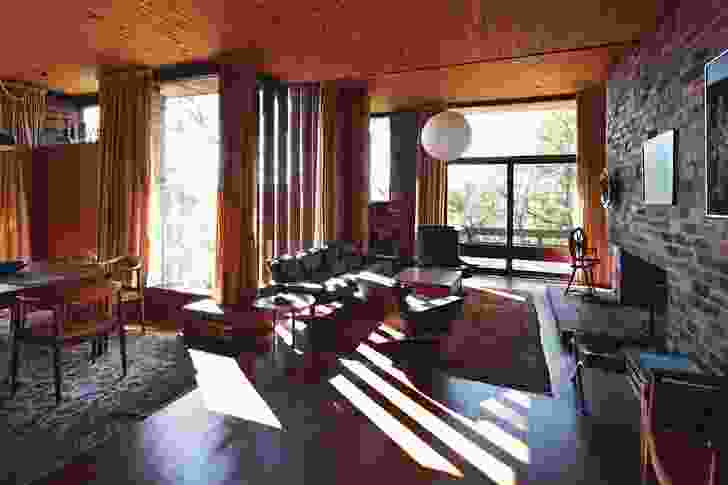 Woolley attended the photo shoot for this story and was moved to see the house after nearly forty years. "It was amazing because it was so untouched, and it's not often you see that sort of thing," he said. All the furnishings – Scandinavian leather chairs, Persian rugs, flocked linen drapes and handmade ceramics and glassware, even a stack of home journals from the 60s, and the early Gruzman drawings – were all still intact.
Anne and Peter had invited us to photograph before they vacated the house for its new owners. "We were apprehensive at first, but thought it would be a lovely record and tribute to Mum and Dad, and what the house meant to us all," says Anne. "When we lived here, there were young families either side and we were all friends. It's wonderful that there are new young families on both sides again, so while it's difficult to let go, there's also a sense of renewal."
This review is part of the Houses magazine Revisited series.
Credits
Architect

Ancher Mortlock and Woolley
Ultimo, Sydney, NSW, Australia
Project Team

Ken Woolley
Site Details

Location Sydney, NSW, Australia

Project Details

Status Built
Category Residential
Type New houses

Source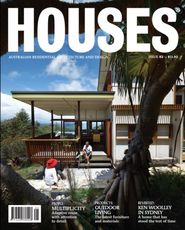 Issue
Houses, October 2011
Related topics