The Bauhaus's enduring influence is extraordinary, given its short, fourteen-year existence. Bauhaus: Art as Life explored and explained this phenomenon brilliantly, via four hundred exhibits of paintings, sculptures, ceramics, textiles, furniture, graphics, product design, theatre, architecture, film and photography.
Founded by Walter Gropius in Weimar in 1919, the Bauhaus manifesto called for artists to "return to craft," and equality between artists and craftsmen. Its radical model of learning, based on visual analysis, and study of nature, materials, colour and form, was the foundation for Bauhaus education.
In 1920 students obtained experience by building a house commissioned by Gropius's client Adolf Summerfeld, for which the Bauhaus workshops provided furniture, stained-glass windows, wood panelling and textiles.
Three years later the Bauhaus abandoned its emphasis on crafts and embraced a more rational aesthetic, influenced by the geometric forms of Constructivism and De Stijl. In response to the Weimar government's pressure to generate revenue by designing goods for industrial manufacturing, masters and students staged the 1923 Bauhaus exhibition, which showcased their prototype Haus am Horn.
Despite the Bauhaus's industrial design focus, the Weimar government reduced Bauhaus funding and Gropius sought its new home. The school moved to Dessau in 1925 after a building site was provided in the expanding industrial city. Designed by Gropius, the new purpose-built campus crystallized modernist ideas of space, form and construction. The Prellerhaus (studio building) had twenty-eight live-work units for students, a studio with improved workshop facilities, and masters' houses, which were models of domestic efficiency.
The Bauhaus ideals for modern living – joy in work and zest for life – are evident in the photographs and films that document daily life on the campus. The Bauhaus band, formed in 1924, provided music for the legendary, themed parties. Theatrical productions were an important aspect of Bauhaus creative and social life; they utilized the building's rooftops and balconies as well as its stage.
In 1928 Gropius resigned to concentrate on his private architectural practice. His successor, Swiss architect Hanne Meyer, who focused on "the needs of the people, not the needs of luxury," directed the Bauhaus until 1930.
The third director, Ludwig Mies van der Rohe, broke further with Gropius's pedagogical model by transforming the Bauhaus into a school of architecture. He led the school during its last two years at Dessau, and then in Berlin, until its dissolution in 1933. Many Bauhaus teachers emigrated, mainly to the USA, where they disseminated Bauhaus theory and practice and ensured its enduring influence.
Source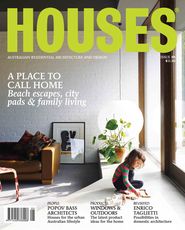 Review
Published online: 1 Oct 2012
Words: Colin Martin
Images: Courtesy Bauhaus-Archiv Berlin., Courtesy Galerie Berinson, Berlin., Courtesy Stiftung Bauhaus Dessau., © The Josef and Anni Albers Foundation/V. G. Bild-Kunst, Bonn, Germany/Artists' Rights Society, New York, USA.
Issue
Houses, October 2012
Related topics