The Bauhaus was a seminal influence on twentieth century design and architecture which remains influential. Founded in 1919 in Weimar, its first director Walter Gropius could have simply merged the city's Academy of Fine Arts with its School of Applied Art to form an Academy of Art and Design, but instead he conceived a more radical synthesis which he named the Bauhaus. Constructed from bau (building in the sense of creating) and haus (meaning both house and spiritual home), it was an inspired neologism which effectively branded Gropius's educational and aesthetic vision for posterity.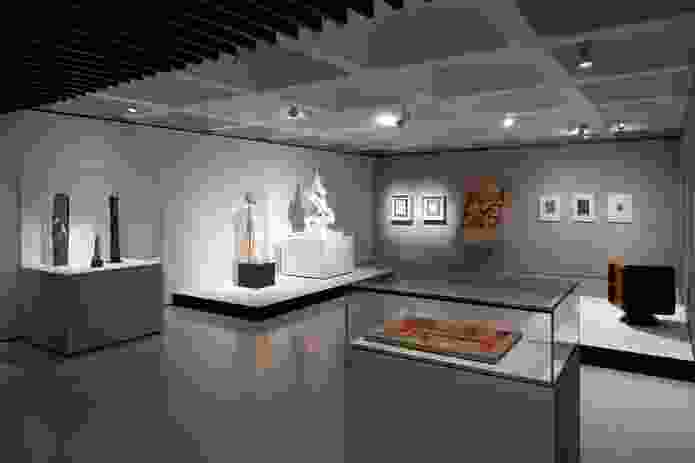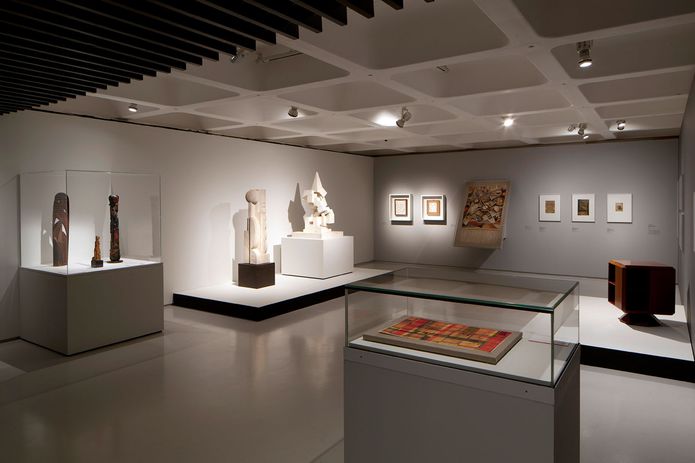 The Bauhaus packs an extraordinary punch, given its short fourteen-year existence before pressure from the National Socialists forced its closure. Many teachers and graduates formed a design diaspora which spread Bauhaus ideals and teaching – based on visual analysis, study of nature and materials, colour and form - across the world.
Bauhaus: Art as Life, the largest Bauhaus exhibition in the UK for forty years, explored and explained how the school functioned and its impact, exhibiting more than 400 paintings, sculptures, ceramics, textiles, furniture, graphics, product design, theatre, architectural projects, films and photographs. The concrete spaces on two levels at the Barbican Art Gallery are aesthetically challenging, but their austere angularity provided a perfect foil for an exhibition showcasing the colourful palette of Bauhaus design. Furniture by Josef Albers and Marcel Breuer was displayed in alcove "room sets" against enlarged period photographs of Bauhaus-influenced interior architecture, establishing a domestic intimacy within the gallery. Human context was accentuated by using large-scale projections of archival photographs of teachers, students and their families at work and play.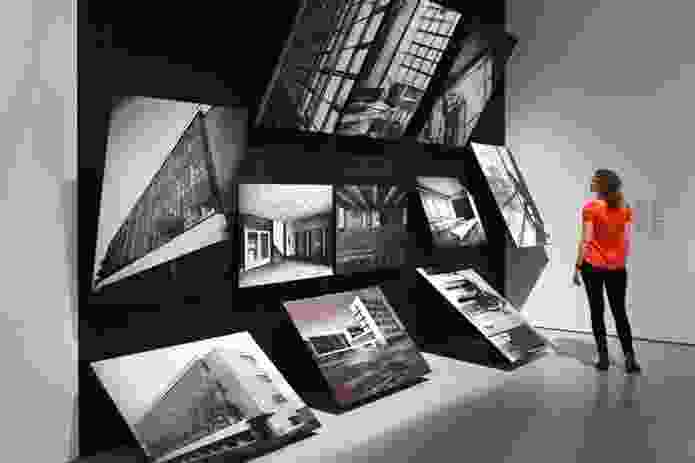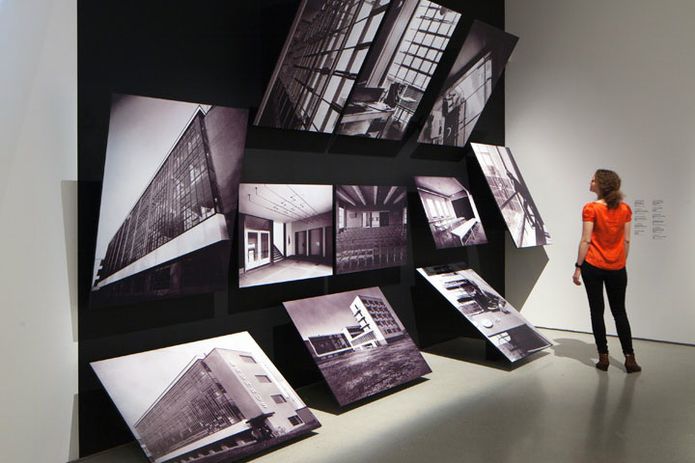 The exhibition was designed by Carmody Groarke, the London-based partnership between Australian architect Kevin Carmody and British architect Andy Groarke, feted by curators for their thoughtful exhibition designs. "We aimed at contextualising the works on display whilst avoiding pastiche," says Groarke. "We worked with the curators to present thought-provoking juxtapositions of objects and interpret the movement for exhibition visitors." Graphically, the exhibition design was influenced by Bauhaus principles of typography, colour and structure. Carmody Groarke worked with the graphic design studio APFEL (A Practice for Everyday Life), which throughout the exhibition used FF Bau, a contemporary revival of Breite Grotesk, the letterpress typeface largely used within the Bauhaus itself.
Gropius's enduring question to his students was "How do you want to live?" The Bauhaus ideals for modern living – joy in work and zest for life – remain as desirable now as then. When the Weimar government reduced Bauhaus funding, Gropius designed its new home on land provided in the industrial city of Dessau, to which the school moved in 1925. His purpose-built campus of white buildings crystallized early modernist ideas of space, form and construction. It provided inspirational accommodation for teachers and students. Archival film footage highlights the domestic efficiencies of the masters' detached houses. Archival photographs show students relaxing inside and in front of the Prellerhaus, in which twenty-eight live-work units were provided for their use. Another photograph shows a more energetic pair, of leaping footballers, silhouetted against the building. Theatrical productions and themed parties, for which a five-piece jazz band provided music, were an important aspect of Bauhaus creative and social life. At one, guests dressed in tin foil slid down a metal chute onto the dance floor, making an appropriate entry for budding industrial designers.
In 1928 Gropius was succeeded by Swiss architect Hanne Meyer, who directed the Bauhaus until 1930. Its third director, Ludwig Mies van der Rohe, transformed the Bauhaus into a school of architecture, before it moved briefly to Berlin, where it was closed in 1933.
Bauhaus: Art as Life
3 May – 12 August 2012
Barbican Art Gallery, London, UK
www.barbican.org.uk
The exhibition catalogue
Bauhaus – Art as Life
by Melissa Larner
Barbican Art Gallery and Koenig Books, 2012.
Related topics