The residents of this quiet, tree-lined road in one of Victoria's coastal communities have had their peaceful world turned upside down. Since the demolition of an old asbestos cottage on the southern side of the street and the erection of a new house in its place, there has been a marked increase in traffic. For the family concerned – a couple and their two young sons, who live here permanently – the stream of people driving past to gawp at their new house has become something of a joke. Luckily, an automated, battened driveway gate keeps the curious from wandering in to take a closer look, but it doesn't prevent them from craning their necks over the top to take snaps.
All this attention is flattering, concedes the house's architect, Peter Woolard of Geelong-based practice Studio 101 Architects. "But more importantly, half of those people might never have looked at architecture before," he says philosophically. "So if this project means that they start looking at it, talking and thinking about it, then that's a great thing."
The north-facing house is the boldest architectural expression in the street to date. It is also one of the few eye-catching contemporary houses in the small beachside town at the headland of Port Phillip Bay, so no wonder it is drawing crowds. It stands on a large, rectangular block of almost 900 square metres that slopes down from the southern rear boundary to the street frontage. The architects took advantage of the sloping site, slotting the rear end of the single-storey house into the hillside, close to the back fence. This created room for a double-car garage and a studio to be tucked underneath, separated from each other by the centrally positioned entry.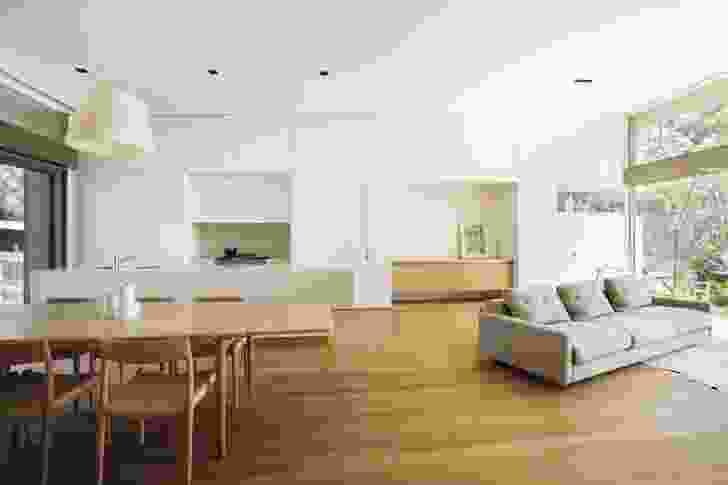 From the street the house's elevation is imposing. The main living area cantilevers out over the recessed garage, cocked on a slight angle to face due north and frame views into the canopies of large, old eucalypts fringing the block.
"If we had put a deck on the front, there would have been issues of privacy," says Peter. "Plus decks tend to be cluttered with outdoor furniture so that you lose the sense of floating and elevation when looking out from the house." Instead, he put the deck between the primary living space (a combined kitchen, dining and living area) and the rumpus room at the rear. Wedged between the two, the central deck provides a sheltered, sunny outdoor area that acts essentially as an internal courtyard and third living space. This arrangement also maximizes winter sun penetration into both living rooms and facilitates easy cross-ventilation. "It allows the house to breathe," says Peter.
Running through the house and the courtyard deck is a spine wall of blond concrete block that fulfils a number of functions. As well as providing thermal mass, it clearly separates the western living side of the house from the central corridor and the private sleeping and bathing wing that runs parallel to it, to the east. Starting outside as a two-storey element, the block wall borders one side of the primary living area, where it contains a fireplace as well as niches for built-in furniture. A bank of full-height joinery along the opposite side of the room houses food preparation areas and extra storage. When all the cupboard doors are closed, the kitchen virtually disappears.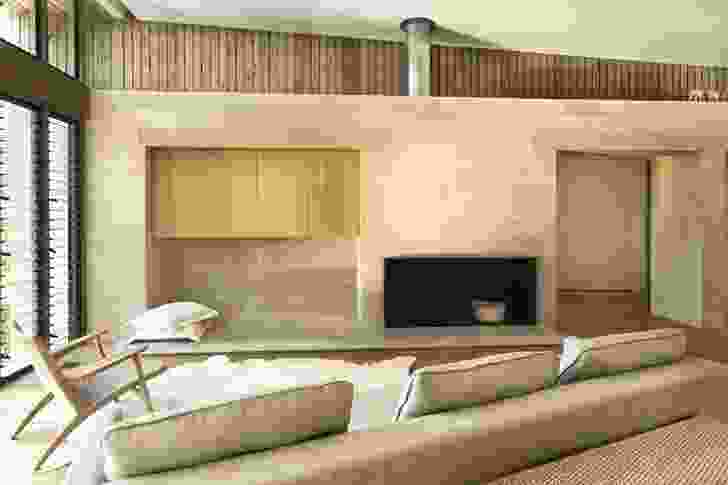 Continuing through the courtyard, the block wall incorporates an outdoor fireplace and a barbecue before it ends in the rear rumpus room, where again it contains a niche for a built-in entertainment unit. The various fireplaces and niches emphasize the wall's depth and solidity, as does the opening from the corridor into the front living area. When crossing this threshold, the robust essence of the house is clearly apparent.
"I'm influenced by mid-century modernism adapted to meet today's needs," says Peter. "An expression of simple forms and a limited palette of natural materials used in a careful, considered way are the style's key features, with materials left to age and patina over time. I hope this house doesn't always look so new, but weathers gracefully."
The honest, pared-back nature of the house is also due to the owners' love for the clean lines of Scandinavian design. They are gradually filling the house with carefully selected pieces that underline the building's quiet strength.
The brief – more functional than aesthetic – was for a relaxed family beachside home that wasn't overly large or showy, with plenty of storage and two living areas. The result is much more than the sum of those words. It is a warm, inviting space, filled with sunshine and buzzing with the energy of the young family who live there.
Products and materials
Roofing

BlueScope steel roof sheeting; R 1.5 insulation blanket; R 3.5 batt insulation.
External walls

Cypress timber, finished with Cabot's stain; concrete blockwork.
Internal walls

Cypress timber; concrete blockwork; plasterboard with low-VOC paint finishes.
Windows and doors

KDHW timber frames; double-glazed and argon gas; Breezeway louvres.
Flooring

LVL timber and steel structure; Victorian ash timber flooring.
Heating/cooling

Ducted subfloor mechanical system; natural cross-ventilation; cantilevered eaves for shading and vertical blade walls to the east.
External elements

Cypress timber decking.
Kitchen internal walls

Concrete block spine wall; cypress timber cladding; full-height double-glazed windows; full-height 2-pac painted MDF joinery.
Kitchen flooring

LVL timber and steel structure; select grade Victorian ash timber floor, natural oil finish.
Kitchen joinery

Mitred CaesarStone benchtops and splashbacks; 2-pac painted MDF cupboards and drawers; Designer Doorware formed angle finger grips.
Kitchen lighting

Artemide feature lighting; Sonic Lighting fittings.
Kitchen sinks & tapware

Franke fittings; Rogerseller fittings.
Kitchen appliances

ILVE freestanding oven and stovetop; Miele refrigerator and dishwasher.
Kitchen doors & windows

Protim treated KDHW timber frames; Breezway louvres.
Bathroom internal walls

Full-height ceramic tiles.
Bathroom flooring

LVL timber and steel structure; ceramic tiles.
Bathroom joinery

Mitred CaesarStone benchtops and splashbacks; mirror cupboards with 2-pac painted MDF panels.
Bathroom Lighting

Sonic Lighting fittings.
Bathroom tapware & fittings

Rogerseller basin mixer, shower mixer, bath spout and shower rose.
Bathroom sanitaryware

Rogerseller basin, bath and floor mount toilet with in-wall cistern.
Bathroom doors & windows

Protim treated KDHW timber frames; Viridian translucent double-glazed and Argon gas sliding doors.
Credits
Architect

Studio 101 Architects
Geelong, Geelong, Vic, Australia
Builder

Bolder Constructions
Barwon Heads, Vic, Australia
Consultants

Engineer MacLeod Consulting
Interiors Studio 101 Architects
Landscaping Mexted Rimmer Associates
Lighting Sonic Lighting, Artemide

Site details

Location Point Lonsdale, Melbourne, Vic, Australia
Number of stories 2
Site type Rural
Building area 380 m2
Category Residential
Type New houses, Residential

Project Details

Status Built
Design, documentation 12 months
Construction 12 months

Source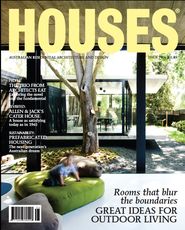 Issue
Houses, October 2010
Related topics