The Greater Shepparton City Council has announced Denton Corker Marshall as the winner of an architectural design competition for the $34.5 million new Shepparton Art Museum (SAM) in regional Victoria.
The new art gallery, to be located on a site adjacent to Victoria Park Lake and the Goulburn Valley Highway, will replace the existing art gallery on Welsford Street.
The proposal by Denton Corker Marshall was unanimously selected by a seven-member jury.
"The Denton Corker Marshall proposal stood out because it combined a powerful and relevant conceptual idea – well-resolved and compelling in its structural expression and detail – with a highly adaptable, functional, safe and efficient solution," said the jury.
Denton Corker Marshall's winning design is derived from a square-shaped footprint, which is restricted by a floodway across the site. Rather than creating a small ground floor footprint with larger overhanging upper floors, hence creating an undercroft, the plan of Denton Corker Marshall's proposal is extruded vertically to create five level building, which will be surrounded by parkland. A large mound to the north of the building will be created to hide service areas below and will function as an "art hill."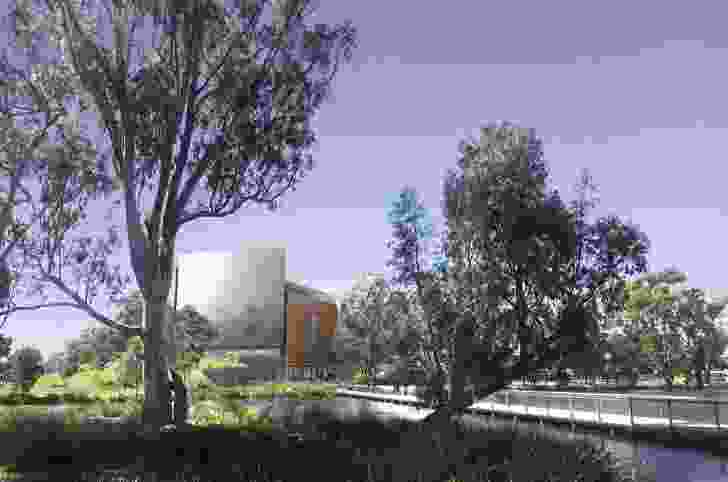 "By making the building small and tall we maximize parkland around the gallery and incorporate numerous places for community interaction, including a Sculpture Forecourt, Community Arbour, Art Hill, cafe and roof top event venue along with sheltering verandahs to all four sides of the building. It will be an art museum that is a delight to work in and a pleasure to visit – again and again," said Adrian FitzGerald, design director of Denton Corker Marshall.
"The other aspect is we were very purposefully aware of safety in the park, particularly out of hours. So the undercroft-type solution had an inherent risk of creating dangerous spaces," FitzGerald told ArchitectureAU.
The design of the building is "conceived as a land sculpture […] that is both disconcerting and exhilarating."
"It's disconcerting in scale," FitzGerald said. "There are no windows in the building so there's nothing that gives you a sense of scale. That's the sculptural quality.
"The building must express something of its function. Of course its function is an art museum. It should be an art object in its own right. It should be as if we were artists and sculptors and we'd been commissioned to create a building."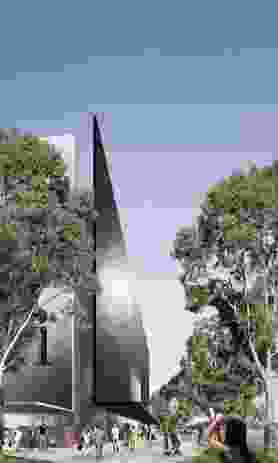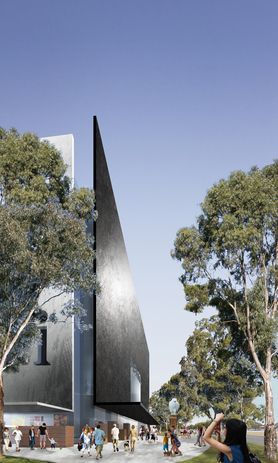 The cubic building will consist of four L-shaped facade plates will will appear to be suspended abstractly in the landscape. "The 'L' to the base of the plate provides essential shade and shelter that, like the traditional verandahs of Shepparton and Australian country towns, creates a transitionary indoor–outdoor realm for exchange and interaction," said Denton Corker Marshall in a design statement.
Each of the facade plates will have different metallic surfaces. The eastern facade (above the main entrance) will made with matt soft charcoal and the southern facade will be a lighter coloured low-sheen zinc. The western facade, where the Indigenous arts organization Kaiela will have its studio space, will be clad in Corten steel – its earthy tones will complement the studio's outdoor spaces with a traditional fire pit. Finally the northern facade, adjacent to the "art hill," will present a blank canvas for installation art, such as light projections.
The facade plates will come together at different heights to create an abstract composition in the landscape. "It will be unexpected and enigmatic, powerful and memorable," said Denton Corker Marshall.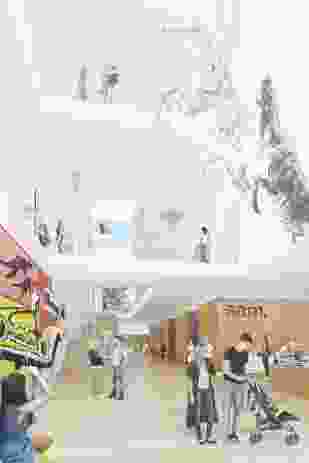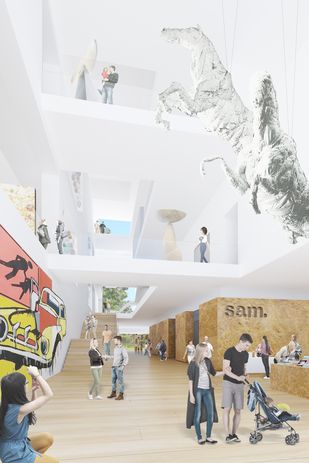 The design of the entire building has been conceived holistically as "an art container."
"Every space in and on SAM is a gallery display opportunity, be it stairs, lobby walls, lift wells, facades, even external toilet block roofs. Every surface presents an opportunity for display, event or installation."
The external facades will also present a blank canvas for installation art, such as light projections.
The jury described the proposal as a "beacon in the landscape" which offers an expressive, innovative, contemporary and exciting SAM that works with its immediate and greater environmental, social and cultural contexts.
Greater Shepparton City Council Mayor Dinny Adem said, "The new SAM will be a game changer for the region […] The selected design is reflection of what makes Greater Shepparton unique and we congratulate the competition winners in being able to capture this."
The design competition received 88 entries. Five architecture practices were shortlisted, which included John Wardle Architects, Kerstin Thompson Architects, Lyons Architecture and MvS Architects. The designers were assessed against three key criteria: design approach (50 percent), capacity (30 percent) and experience (20 percent).
Denton Corker Marshall were awarded $10,000 for their winning proposal. The unsuccessful shortlisted practices each received a $7,000 honorarium.
Greater Shepparton City Council exhibited the shortlisted designs in January 2017 for public feedback and received 1,417 submissions, which the jury took into account in their deliberations.
On the jury were Shelley Penn (chair and former national president of the Australian Institute of Architects), Donald Bates (Lab Architecture Studio director and chair of architecture and design at the University of Melbourne), David Islip (principal adviser urban design and architecture, Department of Premier and Cabinet), Rueben Berg (executive director, Indigenous Architecture and Design Victoria), Dr Rebecca Coates (director, SAM), Carrillo Gantner AO (philanthropist), Doug Hall AM (former director of the Queensland Art Gallery|GOMA and former Australian Commissioner, Venice Biennale).
Greater Shepparton city Council endorsed the jury's recommendation on 18 April. Construction on the new gallery will begin in 2018 and will take two years to complete.
Related topics