Dutch and Brazilian practice Kaan Architecture has designed a crematorium in Belgium intended to comfort and soothe.
The practice won a design competition for the Crematorium Siesegem, in the city of Aalst, in 2012.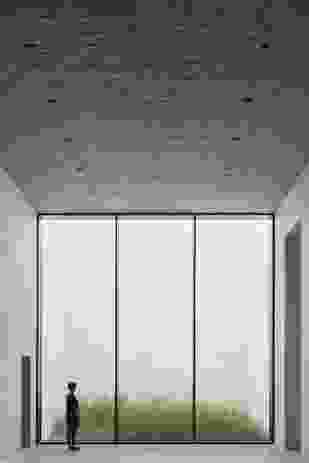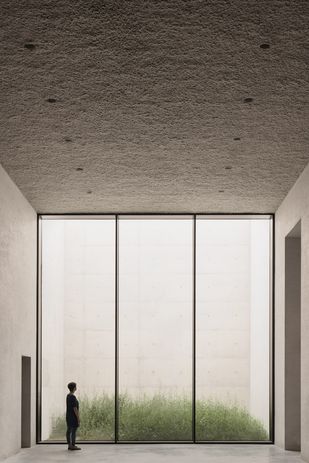 The building, completed in 2018, occupies a small, 74 by 74 metre footprint at the edge of a park designed by Belgian landscape architect Erik Dhont. The park features a meditative pool that doubles as a reservoir for rainwater, an urn garden, and a number of landscaped mounds for scattering ashes.
An entryway for hearses at the eastern side of the site is completely hidden from view, to avoid disrupting mourners.
Inside, the design aims to "transition from a busy outside world into a metaphorical and physical interior imbued with calm and restraint," according to the architects. This is partly achieved through the exaggerated proportions of the building. Its 6.4 metre floor-to-ceiling height enhances the "sense of vastness, paired with the warm abundance of daylight."
"Crematorium Siesegem is an ode to verticality," said the architects in a statement.
Constructed from Ceppo di Gré marble, the interiors feature a muted colour palette and simple layout. The architects said that creating a "legible" and "self-explanatory" space was paramount. In Belgian crematoria also serve as places for gathering, reconnecting and sharing a meal with family and friends.
The mechanical elements used for cremations, including the chimneys and ovens, are exposed rather than hidden, with the chimney leaving the building through a glazed opening in the ceiling. The sandy beige colour of these elements is echoed in the colours of the benches and other pieces of furniture, to lend a "sense of dignity intimacy" to the cremation process.
"Without succumbing to pompous monumentalism," the architects said, "the building and its surrounding grounds are a peaceful oasis for reminiscence."