Sleeping out of the Box
Sleeping out of the Box is the name of a new guesthouse situated in the historic centre of Ghent, Belgium. Run by Belgian designer Caro van den Hole of Maison Caro, the guesthouse gives visitors the opportunity to discover a series of design objects by Belgians at their own pace.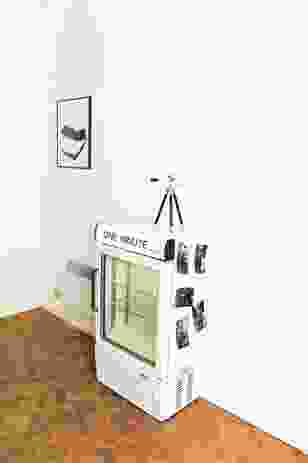 Small but perfectly formed, Sleeping out of the Box consists of a single bedroom on the first level called the Studio, and the Flat – a living space on the second floor plus double room on the top floor. The stairs that connect the floors are steep and narrow – typical in this part of the world – and painted in a cheery sky blue. Meanwhile, the rooms are white on white, the best blank canvas to show the works and working objects on display. These include furniture and lighting pieces, tableware, linen, accessories and decorations, all curated by van den Hole.
A designer in her own right, van den Hole has chosen works by herself and other designers for the Flat, including edible teaspoons made from actual sugar and biscuit by Maison Caro, an apron with a high formal white collar "because also dignified eaters do smudge" by Linde Hermans, and "Not a Lamp" by David Gaas, where the cardboard box of the lamp forms its own shade with cut-outs to let the light through. Perhaps the most whimsical is "One Minute…", a freezer with a rubber mould for making a wedding ring out of ice for a "one minute wedding." Photos of happy couples taking their (temporary) vow are stuck to the side of the freezer.
In the Studio, the design is on circulation – every three months, van den Hole gives a new designer the opportunity to add to the blank canvas of the room called "Sleeping with…" The first designer, Belgian James Van Vossel, contributed a bed that transforms into a sofa by propping up the mattress with a series of colourful cushions, and Granny, a white rocking chair with a piece of pink wool woven through holes in the back and seat like a loose embroidery.
Sofie Lachaert Bed and Breakfast
Similar in concept and aesthetics is another guesthouse in Belgium – this time by jeweller Sofie Lachaert (not surprising, considering Lachaert part owns and helped to set up Sleeping out of the Box). The Sofie Lachaert Bed and Breakfast is situated in Tielrode, fifteen minutes from Antwerp and thirty minutes from Ghent or Brussels. In the small town, Lachaert and her husband, painter Luc d'Hanis, converted an old brick shipyard into their house, studio and gallery, which they refurbished and opened up as accommodation to visitors in 2008.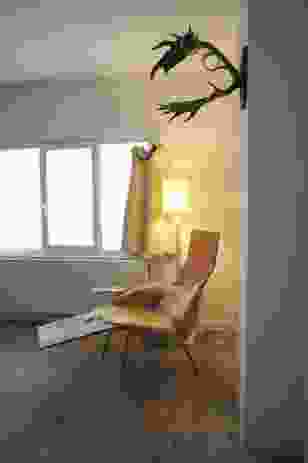 As a visitor, the first entry point from the street leads you into the clean white gallery space. Here, Lachaert and d'Hanis have collected pieces by Belgian designers and artisans, including ceramics by Piet Stockmans, furniture and lighting by Maarten van Severen, Bram Boo and Casimir, and jewellery by David Huycke, as well as pieces from as far afield as Japan and Korea. Also on display and in use are Lachaert's own metal jewellery and cutlery pieces. "We like craftsmanship and we have a feeling there is a new interest for it," explains d'Hanis. "It's a balance, of course, because of price – that's the big problem. People go to these big shops like Ikea but they don't see the difference in quality." But that doesn't mean that all of the pieces in the gallery have a high price tag. "We bring things we like that fit into the collection, which we think are clever and affordable. Otherwise people come and ask the price and they say we can never buy anything in your gallery."
Upstairs, in the B&B, two king-sized rooms show off more design and everything in the rooms is for sale. Carefully curated and positioned, the sense of being in a gallery of beautiful objects is continued in the rooms. "I think it's very important to present everything, even just ordinary soap, with the highest respect, because then it shows the respect for the product," says Lachaert. "It's very hard to get good design well known by the public, so we have to teach them. Each piece has to say, 'please look at me.' "
The design experience is continued with breakfast, which is served in the gallery where guests sit on designer furniture among the pieces on exhibition and eat jam made by Lachaert (out of fruit from the garden) served in beautiful ceramic pots from the gallery, with Lachaert's own silver spoons.
Curating and exhibiting other people's works and running a guest house is only second in priority to the work that Lachaert does in her studio, designing jewellery, tableware, furniture and rugs – sometimes with husband d'Hanis and sometimes on her own. At this year's Milan Furniture Fair, for example, Lachaert was shown in four different locations – as part of exhibition Saved by Droog, at Z33's exhibition Design by Performance, at the Design Flanders show Je Suis Dada and at the Nodus stand where her new rug was launched. Last year, Lachaert also exhibited as part of Collect at the Victoria & Albert and at 100% Design in London.
On the day we visit, the studio is covered in broken plates and precious stones. These are part of Lachaert's collaboration with well-known Belgian chef Sergio Herman from award-winning restaurant Oud Sluis. Having replaced the plates in his restaurant with new ceramics by Sofie Lachaert, Piet Stockmans and Studio Job, Herman was ready to throw his old plates away. But Lachaert saw potential in them and has since spent time artfully breaking them and adapting the fragments to create new types of tableware. In addition, Lachaert is using pieces of obsidian – a smooth black stone – and actual twigs covered in a layer of silver, all as precious pieces for gourmet dining. "Sometimes Sergio has an idea and I design something for his recipe, and sometimes I show up with something," explains Lachaert.
Other projects ongoing in the studio include a candelabra series made of old books called Vanitas, and another new rug for Modus called Palette, inspired by d'Hanis's old paint palettes. Incredibly intricate, this rug is made from 244 different colours and takes nine months to make.
Surrounded by the strength of design in the Netherlands and France, it's easy for Belgian design to be overlooked. However, these two guesthouses prove that the design scene in this small but important country is alive and kicking – and that it has a gentle flavour all of its own.
Credits
Design practice
Site details

Location Zwartezustersstraat 20, Ghent, Belgium
Category Public / commercial
Type Hospitality

Project Details

Status Built
Website sleepingoutofthebox.be

Credits
Design practice

Sofie Lachaert

Site details

Location st Jozefstraat 30, Tielrode, Belgium
Category Interiors
Type Hospitality

Project Details

Status Built
Website lachaert.com

Source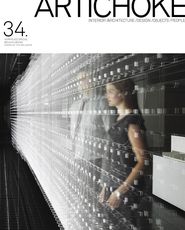 Issue
Artichoke, March 2011
Related topics