Newport has been a popular destination since the 1880s when The Newport Arms Hotel attracted daytrippers and holiday-makers arriving via coach and paddle-steamer to Sydney's northern beaches.
Hospitality company Merivale bought The Newport Arms Hotel in 2015, renamed it The Newport and engaged Akin Atelier to design the redevelopment. The first stage transformed the iconic beer garden into a leafy oasis offering a variety of experiences. The second stage – Bert's Bar & Brasserie – adds to that variety with a relaxed, sophisticated venue that pays homage to Newport's history as a holiday destination. "People would be on holiday but still want reason to get dressed up and enjoy a sense of occasion," says Kelvin Ho, founding director of Akin Atelier.
The design team worked closely with Justin and Bettina Hemmes of Merivale and stylist Amanda Talbot of Studio Snoop to create a new type of dining experience for the Northern Beaches. As Bert's sits at the top of a tiered site, above the expansive grounds of The Newport, they conceived the design like a traditional country club with a dining room and conservatory looking out to the gardens and waterfront beyond. Old Northern Beaches holiday houses, grand European hotel dining rooms and upstate New York country clubs provided inspiration, with Dirty Dancing's (1987) Kellerman's Resort offering cinematic reference. "It captures the spontaneity and fun, but also a more classic, old-school attitude," Ho says.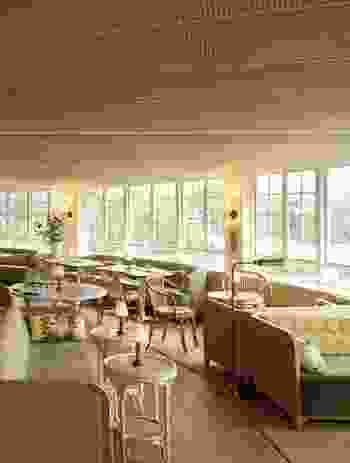 The journey through Bert's evokes a sense of ceremony, from the light-filled lobby, which provides a friendly yet formal arrival point, into the more trad itional dining room and out to the lounge-like round room for pre- and post-dining drinks. Each area is defined by a different material palette – darker in the dining room and lighter in the round room – and is anchored by the champagne bar, oyster bar and lounge bar. Skylights bring light deep inside the plan and balance the afternoon sunlight through the Pittwater-facing windows.
The champagne bar is a sculpted showpiece, its fluted base with green Marrakesh render, lit from above, suggestive of the undulating geometry and rippling movement of a curtain. The dining room spreads out between the champagne bar and kitchen with columns establishing the rhythm of the layout, and timber and glass partitions providing a sense of separation without inhibiting the visual connection.
The dining room is a more elevated space with darker-coloured furnishings and tumbled marble tiles contrasting with high-gloss white timbers. Staff service stations have elegant fluted detail and banquettes are detailed to look more like furniture than built-in booths. Akin Atelier wanted furniture to have a sense of ease and lightness rather than permanence and weight, as if they had been fabricated in a local workshop as they would have been a century ago. Specially commiss-ioned paintings by Clara Adolphs also hark back to Newport's history, depicting moments of cherished family beach holidays.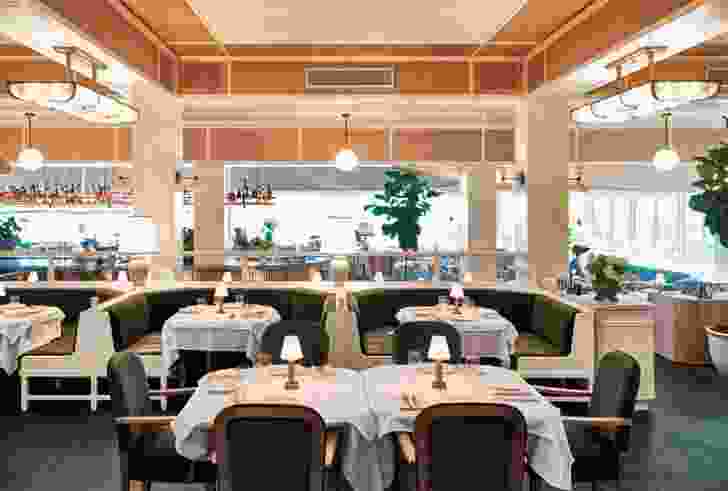 The open kitchen feels like part of the dining room with the larder, oyster bar and seafood in customers' view. Custom workbenches, display space and brass shelving have the same elegance and detailing as throughout the restaurant, and a large east-facing window brings in natural light.
Between the dining room and round room, a promenade provides passage through the space, with pink and cream harlequin stone flooring, leather banquettes and upholstered bentwood chairs.
The round room is a lighter, lounge-like space, its architecture having inherent similarities to a glass conservatory. Sofas curve around the perimeter of the room, and custom chairs, sofas and lamps have a relaxed and residential feel. Rattan panels accentuate the fanning-out form of the ceiling and continue the historical beach-holiday narrative – "like a straw hat that would have been worn on a paddle steamer," says Ho.
Like all of The Newport, Bert's Bar & Brasserie offers a variety of experiences and atmospheres that encourage people to return for different occasions. The venue was already a destination in its own right, but now recaptures the sophistication and charm of a bygone era on Sydney's Northern Beaches.
Products and materials
Walls and ceilings

Custom-made profiled timber mouldings and panelling on walls, columns and ceiling with high-gloss enamel finish. Decorative inlays of hand-trowelled render finish and open weave rattan panels to coffered ceiling. Vintage subway heritage tiles with custom moulded edging pieces to kitchen and service areas.
Windows

Solid hardwood casement windows. Brass hardware and fittings aged by hand.
Doors

Antique heritage highlights over doorways sourced from France. Solid hardwood doors with custom panelling and edge profiles with high-gloss enamel finish.
Flooring

Hand-milled eighteenth-century French oak boards to floor in Round Room and Champagne Bar, with specially sourced antique French mountain oak Chenonceau parquetry inlay to library. Verde Imperial marble floor throughout restaurant and feature Rosso Verona and Portagallo marble harlequin tiling in the salon. Custom- made mosaic marble flooring through kitchen and service areas with Carrara Octogan and Verde Dot tiles. Custom carved Verde marble to kitchen stations and column bases.
Lighting

Feature linear pendants in restaurant. Hand-blown globe shades to brass pendants in Salon sourced from France. Wall lights and table lamps custom made or sourced overseas.
Furniture

Custom upholstered Thonet Hoffman armchairs to Salon. Custom upholstered blue velvet stools to bar areas. Natural cane chairs with pad seats in lounge from Italy. Dining chairs all custom designed and made by local craftspeople.
Other

Pantry joinery built from custom-made French oak with granite benchtop and French oak plate shelving behind with handmade brass pasta-rail. Round room bar crafted from French oak timber panelling and antique brass strapping detail with green Smeraldo quartzite bar top from Artedomus, with custom-made profile edge detail by Mediterranean Marble. Champagne bar features custom specialty rendered fluted bar front panels with profiled green onyx skirting and bar top by an artisanal stone mason. Custom ceiling-hung champagne bar canopy features enamelled steel in vibrant high-gloss green.
Credits
Design practice

Akin Atelier

Consultants

Builder Dewcape
Landscaping 360 Landscaping
Lighting Twenty Seven Hundred
Mechanical engineer Chapman Hutchison
Project manager Merivale
Stylist Studio Snoop

Site Details

Location Sydney, NSW, Australia
Site type Suburban

Project Details

Status Built
Completion date 2018
Category Hospitality, Interiors
Type Bars, Restaurants

Source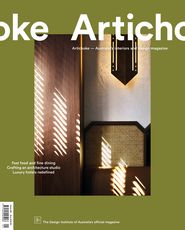 Issue
Artichoke, March 2019