The Australian Institute of Architects Queensland Chapter has awarded landscape architect Beth Wilson with an Honorary Fellowship in recognition of almost half a century of work.
Beth Wilson, director of Wilson Architects, is the first landscape architect in Queensland to receive the award.
Wilson graduated in 1966, in the first Queenland cohort of landscape architecture students from the Queensland University of Technology (QUT). At the time, landscape architecture was rarely considered in Queensland's building projects. She founded the landscape architecture studio at Wilson Architects in 1970 and has since worked on many of Brisbane's landmarks, which include Cathedral Square, the redevelopment of Brisbane City Botanic Gardens, Queen Street Mall, Suncorp Stadium and Eleanor Schonell Bridge. Wilson was also an educator, lecturing at QUT throughout the 1980s and 1990s.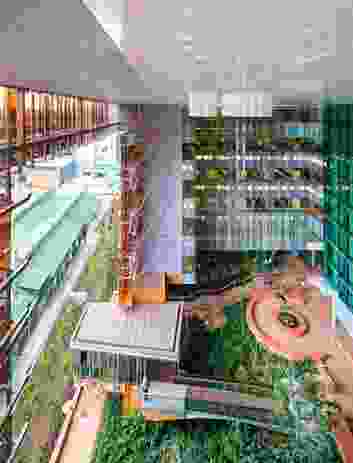 Wilson's designs for internal landscape rooms at the Translational Research Institute (Woolloongabba) and EcoSciences Precinct (Dutton Park) are prominent examples of her pioneering work in introducing landscape as a part of interior architecture. She is also well known for her deep understanding of history and placemaking, unrivalled knowledge of plants and vegetation and ability to read sites. Wilson is a leading practitioner of developing sustainable landscapes, particularly with respect to native plant selection as a part of landscape design.
More recently, Wilson's work has focused on landscape design in aged care facilities, which she continues to pursue through her role at Wilson Architects. She is also writing a book on the history of gardens with houses in Queensland.
The award "is testament to Beth Wilson's groundbreaking contribution to Queensland's natural and built environment over the last fifty years," said Richard Kirk, Queensland Chapter president.