Adelaide has the potential to be a living laboratory for experiments in green urbanism. There are many examples of sustainable design in the Adelaide city centre and the latest of these is the SAHMRI Medical Research Building. Is it a spaceship piloted by a friendly alien, a metallic pine cone or a giant cheese-grater?
SAHMRI stands for South Australian Health and Medical Research Institute and its building on North Terrace is not designed to blend into the Adelaide skyline - it's a floating object. The building is lifted, creating a partially open ground plane in an integrated landscape, opening the building to the public as well as users, allowing for greater activation and porosity through the site. The 25,000 square metre facility is located adjacent to the new Royal Adelaide Hospital, sharing its forecourt entry.
The institute will conduct collaborative interdisciplinary research with South Australia's three universities and the new Royal Adelaide Hospital, and is the first stage of a new health and bio-medical precinct. A second SAHMRI research building (already proposed) and two multi-storey medical research and training facilities owned by the University of South Australia and Adelaide University will create "the largest health and biomedical research precinct in the southern hemisphere" (SA Premier Jay Weatherill, November 2013). It promises to be one of the most amazing research and innovation communities in Australia.
Researchers from three South Australian universities will work under the same roof, forging new relationships, and collaborating with other organisations, including the CSIRO and the European Molecular Biology Laboratory. There are numerous advantages to bringing a range of research areas under one roof, including sharing the cost of expensive technology, state-of-the-art laboratories, improved sharing of research techniques and outcomes, and synergies from knowledge sharing.
Thousands of staff will be employed across the health and bio-medical precinct and their presence will boost the city's economy and vibrancy, further transforming Adelaide's West End and enhancing its social and economic sustainability.
The building shows strength of character and makes the most out of its exposed North Terrace location. It has an envelope of diamond-shaped façade elements wrapped around its exterior. The triangulated dia-grid facade covers the entire surface and responds to sunlight, heat load, glare and wind, while maintaining views and daylight. The first impression is that the building's structure and number of storeys are hard to discern and the overall grid pattern looks like a perverse decorative exaggeration of an abstract geometry used by 1920s utopian Russian architects (the famous Melnikov house comes to mind). Who knew that disco bling could be an ideal motif for a twenty-first-century research facility?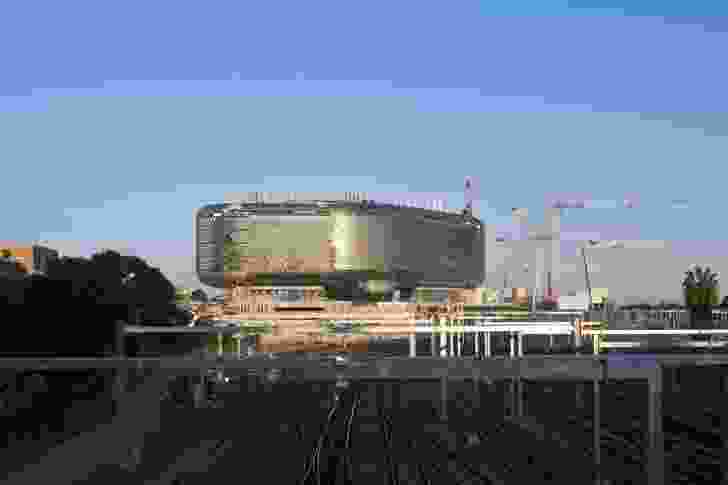 Without doubt, the object's sculptural quality and unusual envelope are its most striking feature, which is appropriate for a facility that is all about innovation. The complex façade structure is a combination of a structural steel dia-grid sub-frame with an external aluminium suite and double glazed (high performance low E glass) triangular panels, woven mesh panels, and perforated and solid aluminium infill panels. The glass skin comprises 6,300 triangular glass panels. The structural steel grid spans up to 40 metres with no additional support and has less embodied energy than if it would have been made of aluminium. The sunshades have been designed and orientated for optimum thermal and light efficiency (reducing also heat load and glare), and sizes vary for that reason, making it nearly impossible to register the building's scale accurately.
The building's overall pattern surface fully and continuously wraps the unusual shape of this eight-storey object. An interesting shell is always about sculpture, surface and object; but architecture is primarily about creating spaces. The building is also inspiring on the inside. In fact, it does not disclose itself until you are inside, starting with the two large day-lit atria.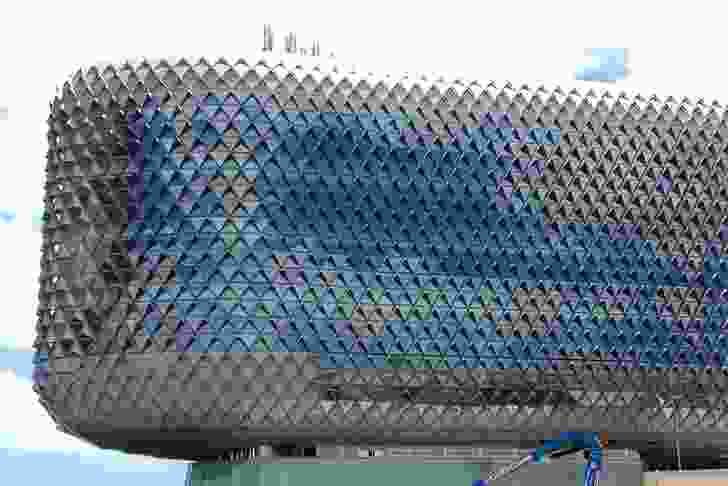 Following an intensive environmental analysis with consultants Atelier 10, the architects (Woods Bagot) used parametric modelling tools to integrate environmental, programmatic and formal requirements into the façade design, and to ensure that the building form achieves its optimised solar orientation through passive design of floor plates that respond to the internal program and provide maximum daylight where needed. For instance, the enclosed lab support spaces are located along the western façade to provide protection from the harsh afternoon sun.
Parametric design produced by computational modelling tools (such as Maya or Rhino) has become the architecture profession's current obsession. The good thing about parametric design is that we can now rework and remodel a building's shape to improve its energy performance, orientation and geometric parameters, allowing us to test different design options very quickly. Building information modelling (BIM) makes sharing this 3-D information with structural and environmental engineers easy. Unfortunately, the potential of parametric design to improve building performance is frequently unrealised, when digital architects lose themselves in superficial and futuristic 'form making'. They play with forms without worrying about their structural implications too much, as regularly evidenced in computer-generated student projects.
The danger of parametrically designed buildings is that they look impressively futuristic today, but date quickly. Architects have long been deliberating on how best to harness computing's digital design potential, and it seems that 'parametricism' has more to do with a taste for complexity than problem solving. Almost fifty years ago, Christopher Alexander stated: 'My main task has been to show that there is a deep and important underlying structural correspondence between the pattern of a problem and the process of designing a physical form which answers that problem.' This is still valid and says it all.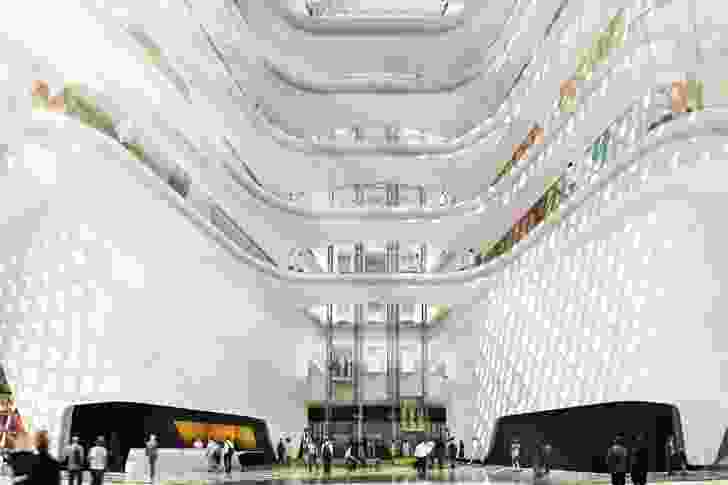 For this building, parametric modelling has been used to optimise the envelope so that its performance is more environmentally sustainable. Woods Bagot say the key to the building's success is a new and liberating lab typology that promotes collaboration and openness. The architects suggest that the building design and workplace environment will foster collaboration between researchers, achieved by the introduction of glass partitions, open atria and bridges, as the visual connection between floors and an interconnecting spiral stair will encourage connectivity and collaboration. While the motivation is commendable, we might question whether the symbolism of glass will foster sustainable collegiality and collaboration. Interdisciplinary research is based on the principle of learning from each other and of researchers sharing their understandings, but crossing the traditional boundaries that sometimes hamper research communities will require more than a spiral staircase.
The SAHMRI facility organises space according to use and function: it provides nine fully flexible wet and dry laboratory modules to PC2 standard as well as a vivarium, cyclotron, and associated public areas. Woods Bagot worked closely with laboratory design specialists Research Facilities Design (RFD) to determine the current and potential needs of scientists working at the facility. A typical building floor plate consists of two research lab modules which can accommodate dry lab or wet lab fit-outs. The large structural span of 10.2 metres allows for efficiency and flexibility, combining formal, structural and social organisation of space.
A key feature of the project's structural engineering was finessing the geometry of the column locations to upper floors to reduce the required 36 column locations to just 6 main support locations at plaza level, by the use of what have been dubbed 'flower columns' and a transfer structure. This expressive superstructure looks like the trunks of giant trees, creating the impression that the building is floating above ground.
On top of all this, the laboratory building also features an ecologically sustainable concept beyond the comfortable internal working environment. It minimises the use of energy, using an energy-efficient heating, ventilation and air-conditioning system, with high levels of outdoor air supply (something that is still unusual for laboratories); intake of fresh air is through the cooler plaza gardens and a sub-labyrinth to cool the air naturally. Other features include rainwater harvesting and the re-use of processed water; and an intelligent integrated building system to improve energy efficiency and provide real-time measurement of operational measures, such as energy and water consumption (e.g. no potable water is used in cooling towers or for toilet flushing). The operation costs of such a facility over 20 years can easily be higher than initial construction costs, so hopes are high in regard to the intelligent building system.
In keeping with South Australia's history of progressive reform, Adelaide has frequently led Australia in implementing environmental sustainability initiatives. To achieve more sustainable cities, urban designers must understand and apply guiding principles, adapted to local contexts, in a systematic way; for instance, by applying the principles of green urbanism. In 2008 I developed the concept of green urbanism based on a holistic systems thinking approach that interconnects urban 'eco-regeneration' with changes at both the building and neighbourhood scale.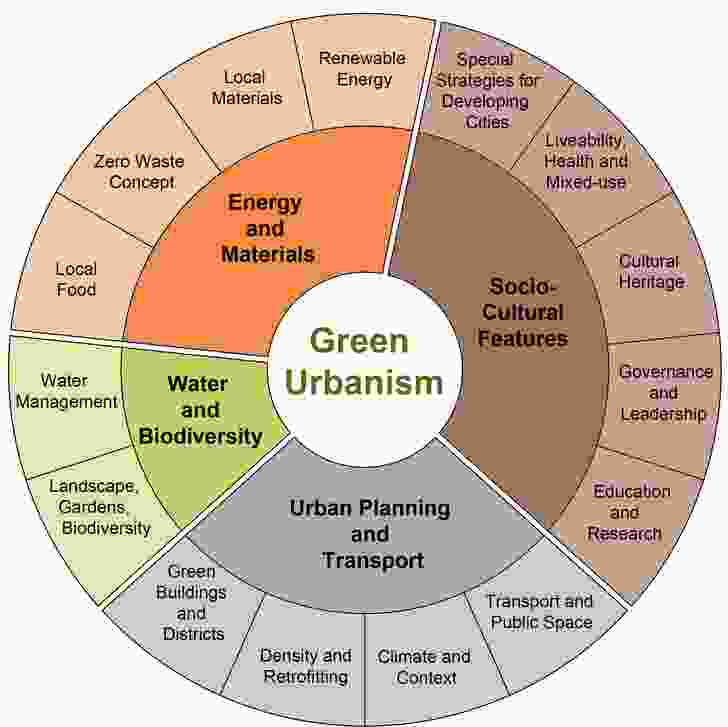 The interconnected principles offer a guide for managing a city's energy, water, food, material flows, transport, housing, work and recreation needs through education, behaviour change and creative leadership (see diagram right, or enlarge in image gallery at top). Understood holistically, they provide a conceptual model for creating the city of tomorrow through zero-emission and zero-waste urban development. In addressing some of the environmental challenges cities face, the principles could guide Adelaide's sustainability trajectory over the coming decade and offer an example for other cities to emulate.
Adelaide's per capita CO2 emissions are exceptionally high by international standards: over 28 tonnes of CO2 per person per year. It is estimated that, between 2002 and 2012, the CO2 emissions per capita increased by around 15 per cent. The main contributors to this were increases in population, energy-intensive transport, and commercial and residential buildings' air-conditioning. Adelaide is on a trajectory to become an ecologically sustainable city but it needs more outstanding green architecture and low-carbon precincts.
SAHMRI's impact on architecture in Adelaide and Australia is likely to be profound. If the building's environmental sustainability performance lives up to its promise, it will make a significant contribution to sustainable design, and if its interior does facilitate an interdisciplinary research culture, it will be of interest to designers, scientists and scholars not only in Australia, but internationally.
Credits
Architect
Project Team

Anoop Menon (project architect); Gavin Kain, Peter Miglis, Enzo Caroscio (design architects); Thomas Masullo (project manager); Rosina Di Maria, Keith Dougal, Emma Smith, Melinda De Canni (interior designers); Suresh Dhillon (laboratory designer),, Ernst Jury (technical leader); Michael Andrew (technical leader – facade); Jerey Holmes (facade design); Kate Russo, Craig Rogers, Glen Collingwood, Nick Bendys (technical design)
Consultants

Acoustic consultant Norman Disney Young
Builder Hindmarsh
Building certifier Katnich Dodd
Building surveyor BuildSurv
Ceiling and wall contractor Ceiling and Wall Contractors
Concrete Piotto
Cost consultant Rider Levett Bucknall – Melbourne
Dangerous goods consultant Cetec Pty Ltd
Disability consultant Disability Consultancy Services
Electrical and communications consultant Aurecon
Electrical services Nilsen Electrical
Environmental consultant Cundall Australia
Facade Yuanda Australia Pty Ltd
Fire services Trojan Fire Protection Pty
Glazing Kingswood Aluminium
Hydraulic and mechanical engineers Norman Disney Young
Hydraulic services Hindmarsh Plumbing
IBS Schneider Electric
Joinery Wunda Projects Austalia
Laboratory specialists Research Facilities Design
Landscape consultant Oxigen Landscape Architects
Lifts consultant Schindler Lifts Australia
Lighting consultant Norman Disney Young
Mechanical and laboratory services Watson Fitzgerald
Radiation Shielding Design and Compliance Radiation Services Group
Signage and wayfinding ID/Lab
Structural cabling TAF
Structural consultant Aurecon
Structural steel SA Structural
Workstation supplier Aura Objects

Site Details

Location Adelaide, SA, Australia
Building area 25000 m2

Project Details

Status Built
Completion date 2013
Category Commercial, Health, Public / cultural

Client

Client name South Australian Health and Medical Research Institute
Website sahmri.com