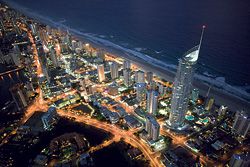 John Gollings and Ivan Rijavec are the Creative Directors for the Australian Pavilion at the next Venice Architecture Biennale. The selection committee reports on the short-listed schemes and the winning proposal.
Finding a creative director for any international arts event is a challenge. Curatorial innovation must be played off against experience, enthusiasm and ambition. There's also a responsibility to understand the vicissitudes of the location and the way such an exhibition might profile architectural ideas – whether they represent a nation, a person's work or critical issues with local and global clout. What might be wanted is not always represented in the mix but, then again, there is the unnerving prospect of being pleasantly surprised at the audacity of a proposal. This year's short list for Creative Director for the 12th Venice Architecture Biennale in 2010 was no exception. Five teams were short-listed from a list of twenty-seven registrations of interest and team leaders were invited to present in person a developed proposal to the Venice Biennale Committee in Melbourne.
Bill Taylor, Daniela Simon (in absentia) and Philip Goldswain presented Epic AUSTRALIA, a proposal that was encyclopaedic, literally epic in scale and orchestrated as three themes that would translate into the three main spaces of the pavilion: exotic Australia, elemental Australia and exceptional Australia. Exhibits would be drawn mainly from award-winning projects, and the medium was still and time-lapse photography and camera/computer-generated video. A key feature of the proposal was a limited competition for architectural firms to produce short films for the final, largest space of the pavilion. The team proposed another competition for students to submit video or software-generated "shorts". All would be knitted together by an accomplished photographer or film-maker and video editor. Self-consciously composed boxes would elaborate each space: exotic Australia as magical exhibit cabinets inspired by the principle of camera obscura, elemental Australia as a gathering of boxes to sit on, and exceptional Australia as giant boxes, the sculptural and oversized "elephant in the room", one side a screen, the other with more intimate exhibit shelves.
Peter Mould and Dillon Kombumerri, representing the NSW Government Architect's Office, presented Living with Fire, a provocative reflection on the cataclysmic effects of bushfire. The phenomenon has international resonance given recent destructive fires in California and France and this year in Italy, Spain and Greece. A compelling aspect of this proposal was the presentation of Indigenous use of fire as a cultural backdrop, reinforcing regrowth and renewal and the need to coexist with fire as an inevitable part of the future. The exhibition would focus not just on architectural solutions for individual dwellings but also, through an Australia-wide competition, on innovative approaches to bushfire design and broader issues of settlement and town planning. The pavilion's entry verandah was planned to feature a wraparound image of burnt landscape beginning to regenerate, with an LED news ticker reading out the history of major Australian and international bushfires. The upper gallery was dedicated to the story of Indigenous use of fire and regeneration. This led to a circular darkened room, a theatre in the round, where, in a highly immersive experience, the full force of fire would be presented through sight, sound and smell. The main gallery in the lower level was to be devoted to design solutions and a commissioned documentary, with, at the exit, in huge letters the words STAY OR GO as a final epithet to the exhibition.
Kate Rhodes and Justine Clark presented Zero | Architecture, Matter, Community, a daring proposal to work, in their words, "inventively with 'almost nothing' – the ephemeral event, memory and perceptual effects, the leftover and the found, noisy abstraction of the digital and new media". Collaborating with m3architecture, PHOOEY, Super Colossal and Dan Hill, they proposed the startling idea of recovering the Philip Cox-designed pavilion – stripping back its various additions and accretions to bring back its light, shadows and cross-site views between the Giardini and the canal. A new datum of hanging speakers/forms/objects would be inserted, perhaps like a collection of fruit bats that would create a cloud of soundscapes moving from the trees immediately outside the pavilion to inhabit the spaces within, to differing degrees of density. It was to be an installation that revelled in the sensory and, in many ways, was a challenge to the obvious visual catalogue. It highlighted, through experience, the not so obvious aspects of what might constitute multiple cultures of architecture in Australia.
Cameron Bruhn and Jan van Schaik, on behalf of a formidable cross-disciplinary team including exhibition designer Bryon Cunningham and artist Callum Morton, presented Prescient Australia, an intense "immersive multimedia experience". The pavilion exterior was to be speckled with stencilled, fluorescent orange graphic artwork and this same graphic applied to trees in the pavilion's forecourt and to a giant wall of takeaway bags in the entry hall, which when taken away would reveal a plethora of faces of Australian architects. Visitors proceeded then into an "interview gallery" where, in a mini-theatrette, a series of renowned Australian professionals are viewed paired with Australian architects of various architectural persuasions, generations and geographic locations. The main gallery space would be devoted to an exhibition of work by twenty-one selected architects/firms paired with a professional from another discipline and asked to produce design speculations on the future of Australian architecture, based on "counterfactuals" such as "Redesign Circular Quay for an eighty-centimetre rise in sea level". The intention was that difficult propositions matched with cross-disciplinary collaboration would produce intriguing results.
Each of these four proposals is brave and ambitious in scope, intellectual depth and, in some cases, management of time, given the need to seek high quality responses from across the country, reassemble the material and ship everything off to Venice. The winning proposal is all of those as well. But the selection committee was unanimously impressed by the promise of Ivan Rijavec and John Gollings' Now + When: Australian Urbanism, a proposal for a visceral experience created by spectacular stereoscopic Gollings images, from "the fathomless mining pits of our deserts" to prototypal Australian urban narratives, largely unseen by an international audience. "Now" will comprise extraordinary aerial images of Sydney, Surfers Paradise and Melbourne in all their various grains, contrasted with the devastated and surreal lunarscapes of Australian mining across the continent. "When" will comprise super-real stereoscopic images compiled as "a cyberspace of urban conjecture that dares to imagine Australian cities in 2100". A national selection of architects will be asked by Ivan Rijavec to put forward radical ideas for rethinking the scale, density and form of the future Australian city. Using the expertise, technical knowledge and experience of one of Australia's most distinguished architectural photographers, this exhibition will also be a celebration of John Gollings' unique art. The whole pavilion will be a black box that will without doubt surprise. There's even an idea of attendants in white bodystockings handing out the spectacles. Now + When should be a knockout. Put on your stereoscopic glasses. Venice, here we come!

The Venice Biennale Committee: Geoffrey London (chair), Philip Goad, Brian Zulaikha, Rachel Neeson, Annabelle Pegrum, Howard Tanner, Ross Clark and Karl Fender.

Now + When is calling for submissions for the "When" component of the exhibition in the Australian Pavilion. See www.architecture.com.au/nowandwhen.