It takes a leap of faith to build a new home in Far North Queensland that fully embraces the principles of sustainable design and the philosophy that "less is more." Residents of Cairns may insist that we love our balmy weather and outdoor lifestyle, but we continue to build block-on-slab houses that occupy most of the site, where we hunker down in our airconditioned media rooms waiting for the weekend, when we might head out to a creek or park to enjoy our green environment. That's because the design elements of the old Queenslander that work so well in a tropical climate also demand a degree of compromise – living with fans instead of airconditioners, sacrificing internal space for shady gardens, and sharing your home with a few bugs and creepy crawlies (mostly not as creepy as they are made out to be). This is where the owners of the Big Small House in a beachside suburb of Cairns have committed fearlessly to a tropical way of life for their family of four, and the rewards are many.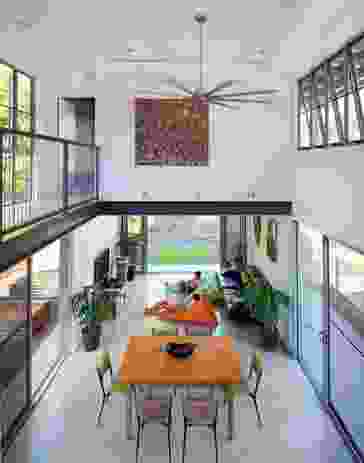 The owners' vision for their new home led them to architects Shaneen Fantin and Belinda Allwood of People Oriented Design (POD), whose "least house necessary" philosophy was a natural fit. While there are obvious cost-saving benefits to building a small home (the Big Small House is only 238 square metres), the project was also informed by the concept that fewer walls mean "more life" – more opportunities for people to engage with the outdoors and each other. Responding to the client's initial brief for a house in a garden, Shaneen and Belinda oriented the long, narrow house on its 621-square-metre suburban lot to maximize breezes, minimize direct sun and allow for blissful breathing space on all sides. In section, the two-storey house is pleasingly top-heavy, allowing the living areas on the ground to be shaded and protected from rain. All "walls" in the living area are glass sliders that can be opened up to the garden, pool and nature reserve at the rear of the site, resulting in the house feeling much wider than it actually is (a modest four metres).
To allow the tropical garden (yet to mature) and the client's eclectic collection of art and collectibles to do the talking, the house is simple and leans towards brutalism in its use of raw finishes. Stacked concrete blocks with white mortar form the lower finish of the front elevation, creating a solid undercroft for the cantilevered box and dramatic skillion roof above. Inside, expressed steel beams frame the void above the kitchen and living areas, and Australian hardwood and galvanized pool fencing form the balustrading for the stairwell and plywood-floored upper level. If there is an indulgence in this efficient house, it's the stairwell, which is shadowy and intriguing by day and glows like a lantern at night. Heavy timber studs form the skeleton, and polycarbonate sheeting is the skin, opaque on two sides and translucent from the rear elevation. While it exists as a thing of beauty, the stairwell also functions climactically, with vents at the top and bottom to allow for air movement.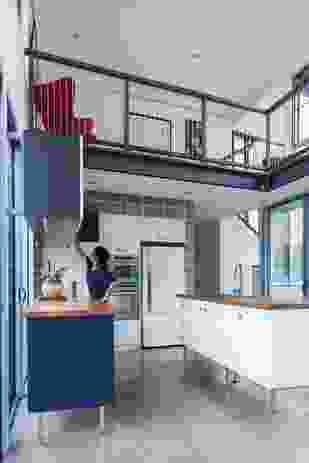 In asking themselves "How big is big enough?" this family had to decide what it values in life. That soul-searching, combined with some inspired problem-solving by the architects, has resulted in a home that facilitates experiences around family, nature and art. The use of the void and upstairs gallery creates the feeling and amenity of a single-storey family home over two levels. From upstairs, children can see their parents in the kitchen or lounge room, while parents can easily call the children to dinner from the pool, the vegie patch or their rooms. There are also peaceful spaces to retreat – on a narrow terrace overlooking the pool, in an inviting armchair upstairs, or flopped in a big beanbag out the back, watching out for wallabies and curlews among the melaleucas and Burdekin plum trees.
With its axis shift and dramatic sectional layering, this is an undeniably good-looking building, even though its raw finishes and exposed structural elements have called to some visitors' minds the utilitarian school buildings and halls of our childhood. Details such as the carefully placed, mismatched louvres (some are opaque and some are clear, for privacy), off-form concrete plinths and oversized fan certainly strike a nostalgic chord with Queensland buildings of old. The client and the architects embrace this aesthetic, arising as it has by an authentic response to site and climate, honest materials and principles of sustainability. As such, the Big Small House has joined in the conversation about what Queensland architecture in the twenty-first century looks like, and for a little house, it has quite a lot to say.
Products and materials
Roofing

Lysaght Trimdek in Colorbond 'Basalt'.
External walls

Concrete block with silicone finish; James Hardie HardiePlank weatherboards and Easylap panels, painted; Sunpal Multi twin wall polycarbonate sheet.
Internal walls

Plasterboard; concrete block with raw finish.
Windows and doors

Breezway louvres with powdercoated finish; Bradnam's Windows and Doors glazing and glazed doors, with powdercoated finish.
Flooring

Concrete, polished; Radiata plywood, limed and sealed.
Kitchen

Scholtes oven, microwave and cooktop; Smeg dishwasher; kauri timber benchtops.
Bathroom

Catalano basin; Methven wall-mounted spouts; Acclaim Kitchens and Cabinets stained hardwood plywood in TasPaints Timber Care Stain in 'Wenge'.
Other

Wire and hardwood balustrade by Cairns Fencing; Magnesium pool by Placid Pools.
Credits
Architect

People Oriented Design
Cairns, Qld, Australia
Project Team

Shaneen Fantin, Belinda Allwood
Consultants

Builder Reilly Building Services
Building certifier All Construction Approvals
Engineer Thirkell Consulting Engineers
Hydraulic engineer H2O Consultants
Landscaping Owner

Site details

Location Cairns, Qld, Australia
Site type Suburban
Site area 612 m2
Building area 238 m2
Category Residential buildings
Type Houses, Residential

Project Details

Status Built
Design, documentation 5 months
Construction 8 months

Source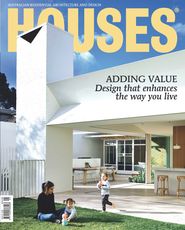 Issue
Houses, October 2016
Related topics