Australian company Big World Homes has designed a modular, flat-packed, off-grid tiny home that will be used to create off-grid homeowner communities on unused land through not-for-profit organization Big World Communities.
The idea is to lease land that has been earmarked for development by either government or big developers that has long development application processes between obtaining the land and starting construction. Alternatively, the land could be donated as part of an organization's social responsibility program.
"The fact that we've developed an off-grid dwelling means that you can drive it onto the site and not have any set-up costs and also you can drive it off the site and not have any decanting costs. A lot of landowners don't want people coming on to their site if it's going to have an impact on them," said Sydney architect Alexander Symes, founder of Big World Homes.
The tiny houses Big World Homes have created are 13 square metres in size and operate in a modular system, allowing the homeowner to make their home bigger or smaller depending on their needs.
The tiny home comes with a living room, bed, running water and a plumbed bathroom. Solar panels provide electricity and running water is sourced from inbuilt rainwater tanks.
Big World Homes hopes the tiny house will help solve Australia's affordable housing crisis by providing a low-cost, effective housing solution.
Big World Homes teamed up with Rainbow Power Company who provided a 1-kilowatt DIY PV system that runs electricity, while a group called Unique Caravan Conversion assisted in incorporating caravan technology into the house, including a combination of gas and electric cooking, an electric washing machine and low-wattage pumps for water.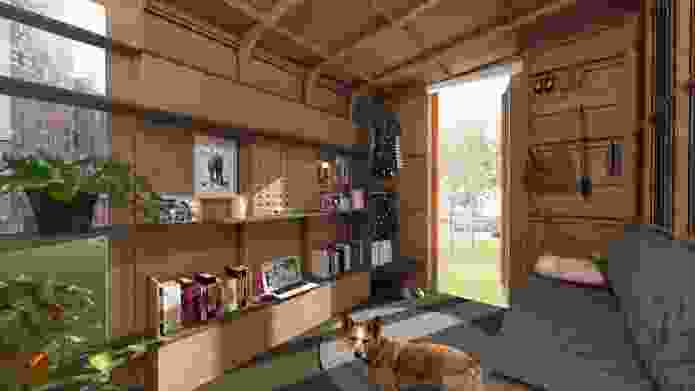 Symes raised concern over some products that are marketed as DIY that do not comply with occupational health and safety standards legislation. Health and safety has been the instigator of how the tiny home has been designed.
"We've had the design ambition to make sure every panel is less than 15 kilograms so two people can easily lift it into place, and the main advantage of the system is that it can all be installed from the inside. A DIY person can effectively install all their roofing on the inside and they never have to be working on the roof and they never have to be working off scaffolding," Symes said.
One person can construct the house, but ideally "three or four friends over a long weekend can assemble the panels together and erect it," said Symes.
Big World Homes is currently crowdfunding to build the first two homes, which are $65,000 each at cost.
On 29 September Big World Homes will run an innovation lab where a group of unskilled volunteers will build one of the tiny homes over a couple of hours before it is transported to the Sydney Architecture Festival where it will be on display from 30 September to 3 October.
The emergence of Big World Homes reflects a growing interest in energy-efficient prefab homes. Last year Melbourne-based architecture firm Archiblox designed a carbon-positive prefabricated house, which was a 75-square-metre, single-bedroom home that used a range of passive design principles and sustainable materials and technologies.
Related topics