The health campus and the city
During the past decade, Australian health architecture has reshaped global contemporary thinking about hospitals. Through a once-in-a-generation development program, entire city-scale facilities that are focused on patient amenity informed by evidence-based design have been developed.
Today the role the built environment plays in perceptions of wellbeing is well understood, evidenced in the many ingenious ways architects create built amenity through access to daylight and views, and the use of clear and intuitive wayfinding and landscape.
But what about the hospital campus? Can we envisage a future in which the hospital becomes a "health campus" that promotes physical and psychological wellbeing? Will the health campus connect with the bikeways and pedestrian paths of our towns and cities, and can it make manifest broader landscape ecologies that augment perceptions of place and identity?
A growing focus on psychosocial health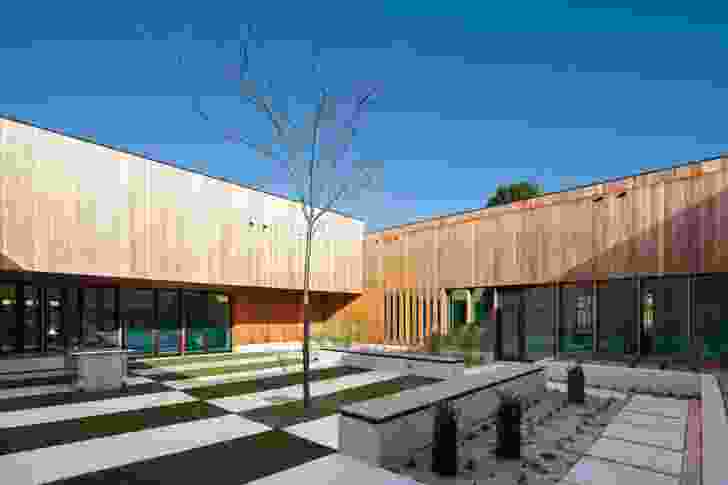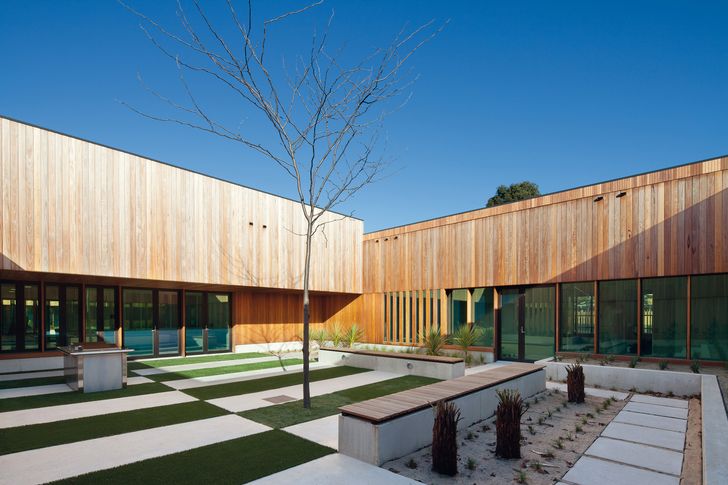 Some fifty years after deinstitutionalization, today's psychiatry units are in dire need of redevelopment. Older facilities are outmoded, introverted, residential in character and generally hidden away "out the back," but design for mental illness is undergoing a revolution globally. Contemporary care models that prioritize consumers and recovery are reviving an appreciation of the ways psychological health can be aided by the built environment.
Having completed a number of exceptional developments, Australian architects are now evolving the model for mental health units into multi-level buildings with narrower footprints designed for denser hospital campuses. But what if the mental health unit was unmoored from the acute-care hospital entirely and embedded instead into the main streets of our cities and towns? How might this help our understanding of the psychology of the public realm?
Old is the new black
The problem, by now, is well known: baby boomers in the Western world are ageing and, as with most things relating to baby boomers, the problem must be dealt with now! The retirement living industry in Australia is booming and has been shaped by the needs of civilization's most affluent generation. The market is fractured into multiple models, providers, typologies and products. But this cornucopia of offerings does not – and arguably cannot – deal with the most needy, who remain the responsibility of the state.
How does the state shape the care it provides? Are the principles of individuality and choice commonly associated with private aged care affordable on the public purse? Does the state partner with the private sector or develop its own facilities? And how can design disciplines and their research tools assist to frame and resolve this issue?
Technology as a design tool
Researchers are now establishing definitive correlations between human brain activity and environmental design, thanks in part to the advent of cost-effective and mobile EEG equipment. This emerging knowledge can inform the design process and has the potential, when matched with virtual environment simulation, to rapidly test prototype design environments against desired human responses.
This modelling, which is equally applicable to any of today's complex environments, has the capacity to empower people through environmental design by assisting them to move intuitively through space. Coupled with crowd modelling and time and motion software, this technology means environments can be designed to not only flow better but also make us feel less stressed.
How do we leverage this capability into rapid prototyping? How is the research data captured and made available globally? And how do we avoid determinism when codifying tacit design knowledge?
Changing of the guard
During the past decade, Australian architects have reinvigorated the hospital typology. These architects – many of them recognized with Australian Institute of Architects' state and national architecture awards – have leveraged their success in the Asian and Middle Eastern markets of today's global knowledge economy. Emboldened by the results, conservative government clients now expect more: today, in hospital world, design matters. However, a closer look behind the scenes reveals that a web of collaborations, procurement models and contracting arrangements is splintering forever the role of the hospital expert.
But health planning is only part of the hospital equation – a mandatory minimum. Should clients reverse their selection criteria towards a design bias? Should tender shortlists be prepared based on the capacity to deliver design excellence in complex projects, irrespective of type? And will health planning become a specialized sub-consultancy like airport and transport planning?
Author's note: The views outlined in this piece are mine and do not represent the views of the Victorian Department of Health and Human Services.
Editor's note: Two of the projects presented at the 2016 Health Care / Health Design symposium – Bendigo Hospital by Bates Smart and Silver Thomas Hanley, and Sunshine Coast University Hospital by joint venture partners Architectus and HDR Rice Daubney – will be reviewed in Architecture Australia's September 2017 issue.
Health Care / Health Design is presented by Architecture Media and is part of the Design Speaks program. The 2016 event was supported by presenting partner Taubmans and supporting partner Stormtech.

Related topics