Predicting how occupants, visitors or neighbours will react to and interact with a building is a crucial part of the design process. Will this building cast shadows on the neighbouring park? Will this brick facade fit in with the other buildings around it? Will this lobby area get too congested? Will this light monitor provide enough daylight to the hallway below it? These types of questions are best answered by "seeing the design" and experiencing the design before it is real.
A computable building information modelling (BIM) platform such as the Autodesk® Revit® platform brings with it the ability to predict the performance of a building before it is built. One aspect of a building's performance is how people will experience the space, and accurate design visualization is fundamental to predicting the effect the building will have.
By using visualization tools such as Autodesk® 3ds Max® Design, architects and designers can see how the design will work and uncover areas where problems exist during the design phase. The earlier in the design process this type of review is done, the easier it is to resolve issues. Ultimately, design visualization can help architects create better designs and sharpen their competitive edge.
Visualizing an architectural design
Visualizing an architectural design often relies on envisioning the building based on orthogonal drawings, a small-scale physical model, an artist's sketch or watercolour. Visualizations such as these can be hampered by the viewer's ability to mentally interpret 2D drawings, the static nature of the medium and, in the case of models or artists' renderings, the cost to produce them.
The advent of CAD and 3D modelling technology ushered in computer-based visualization, which complements the traditional visualizations described above. Shaded 3D views, photo-like renderings, animated walk-throughs – these types of design visualizations are much more effective for communicating a 3D design and are now widely used to explore, validate and convey architectural design concepts.
Most architectural authoring tools, including Revit-based applications, have some sort of built-in or in-line visualization capabilities for quick feedback during the design process. Purpose-built visualization tools such as Autodesk® 3ds Max® software are then used to deliver the extra realism and special animation effects that characterize today's visualizations: renderings worthy of an art gallery, animated walk-throughs and fly-bys that resemble movie trailers. For commercial projects and high-end residential projects, these are the norm instead of the exception, expanding the visual context of a design concept for more effective validation and communication.
If a designer is already using a BIM solution to design the building, the obvious and more efficient visualization workflow is the reuse of that data, avoiding the waste of time and cost to re-create the building model in the visualization application. In addition, the redundant models would have to be synchronized, increasing the time, cost and potential for error.
Similar building applications, such as structural analysis or energy analysis, are susceptible to the same malady. However, some have avoided the use of redundant models by using the building information model for related building analysis. Similarly, state-of-the-art design visualization tools are not taking advantage of building information models for visual analysis.
Visualizing a building information model
BIM produces highly accurate and detailed building models. So it is natural to expect that those models can also be used for advanced visualizations, such as a rendering, or an urban building project with the existing structures surrounding it, or a lighting study that shows precisely how a new lightshelf design will affect indoor lighting at all times of the day and throughout the seasons.
Explore design concepts
The freedom to experiment during the conceptual stage enables designers to more quickly explore design alternatives and gain a better understanding of the impact of their ideas earlier on. Design visualization tools, such as 3ds Max® Design, offer a powerful modelling tool set that complements the BIM workflow during conceptualization. The software enables designers to more freely create and manipulate complex organic shapes and drive geometry procedurally in an iterative manner via built-in, rules-based modifications and constraints.
Validate and communicate design concepts
Design visualization allows designers to better visualize a project in context, which is crucial to making informed design decisions. Various tools and features, such as Exposure™ technology in 3ds Max® Design, help simulate and analyse sun, sky and artificial lighting. These capabilities allow designers to tell the story of their design, throughout the design process, to both colleagues and clients. Using design visualization, designers can then better communicate information quickly, compellingly and persuasively.
Using BIM for greener designs
BIM contributes to sustainable designs by enabling more accurate and efficient designs to streamline the construction process and significantly reduce the chance of human error. This leads to fewer physical materials being used during the construction stage, which cuts costs and wasted resources. Tools within BIM-based products also allow designers to measure and analyse the effects of daylighting and conduct energy analysis to maximize the sustainability of a building.
Products that incorporate design visualization and BIM are increasing the efficiency of the design process for architects by enabling more accurate and easy-to-understand 3D models. These models are allowing architects to communicate concepts and ideas to clients more clearly and quickly, which helps with winning business and increasing business productivity.
BIM and design visualization in action
Architectus has been using 3D design software purpose-built for building information modelling (BIM) to consistently deliver intelligent architectural solutions, notable for their simplicity and performance. The company is realizing immediate competitive advantage by optimizing the design and documentation process and capitalizing on intelligent 3D design. The firm exceeds client expectations by delivering more complete documents and higher quality designs. Staff and project productivity is maximized through better coordination and integration of project documents.
With a strong reputation for project delivery, Architectus sought to streamline the design and documentation process in a bid to further enhance its services. The company adopted Revit® Architecture software as the key platform underpinning its building information modelling approach to project delivery. Today, Architectus relies on Revit® Architecture software to communicate design proposals more quickly and clearly, to offer better design insight through on-demand visualization and analysis, and to provide a process that mirrors the real world of building.
Greater productivity
Since adopting Revit® Architecture software, Architectus has transformed the way it creates, amends and delivers designs. The company now has the ability to design throughout different phases and to quickly and easily make changes to major compositional elements. It can create comprehensive design proposals and realize its clients' ideas on the fly with 3D views. It can also make late-stage changes without having to manually coordinate model views, drawing sheets, schedules, sections, plans and other design information. More importantly, Revit® Architecture helps Architectus to provide designs and documentation that are coordinated, consistent and complete.
Architectus has dramatically reduced the time spent on iterating designs, particularly where detail is consistently added to various elements and phases of the design process. According to Rodd Perey, design technology director of the Sydney Architectus office, "Originally we saw Revit® Architecture as a design and presentation tool but, in my view, the strength of the product is its ability to manage and coordinate all the elements needed for successful building design and construction documentation. We use Revit Architecture to produce our door, window and finishes schedules and many other types of analysis. The documents remain fully coordinated, allowing outstanding design issues to become immediately obvious."
Enhanced coordination, quality and communication
Using BIM technology, the company can keep computable information about a building project in design and construction up to date and accessible in an integrated digital environment. This gives architects, engineers, builders and owners a clear overall vision of their projects and enables faster decision making, helping raise the quality of projects.
From conceptual studies through to the most detailed construction drawings and schedules, Revit® Architecture software helps Architectus coordinate its projects effortlessly. With the Revit® Architecture parametric change engine, the company can make amendments to any part of the design and have the changes automatically integrated and coordinated throughout the project. It also enables the company to enhance client communications and accelerate decision making by gaining timely feedback on project design, scope, schedule and budget, while minimizing costly efforts to coordinate documents manually.
Realizing a return on investment
Architectus has made a strategic investment in design visualization tools, not just in terms of software, but also in relation to staff training, quality assurance systems and procedures as well as extensive in-house customizations. The adoption of Revit® Architecture is further maximizing the value of the company's investment, as the solution builds on its existing systems with BIM capabilities being developed alongside existing applications.
Perey explains, "Architecture is a competitive environment, and the purpose of any technology is to allow us to make the best use of the skills and experience of our professional staff. Revit® Architecture eliminates many tedious tasks, and our staff are very enthusiastic about using it."
Perey goes on to add, "With each project we take Revit® Architecture technology one step further. We are now using Revit® Architecture as the basis for analysing a building's environmentally sustainable design (ESD) performance, code compliance, construction sequencing and logistics. We are sharing models with multi-disciplinary teams for structural analysis and MEP integration, and using the built-in coordination and interference checking tool to reduce errors."
The result
Revit® Architecture software is delivering significant benefits to Architectus, providing the company with a key point of differentiation and further boosting its position as a leader in the architecture and design field. Architectus now relies on Revit® Architecture to keep its designs and documentation coordinated, consistent and complete, to communicate design proposals more quickly and clearly, and to offer better design insight through on-demand visualization and analysis. Overall, the company is delivering on its commitment to project success and excellent service through enhanced communication and collaboration, integrated processes and streamlined systems.
Source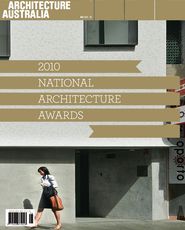 Practice
Published online: 1 Nov 2010
Words: Rob Malkin

Issue
Architecture Australia, November 2010
Related topics