The new Bankstown Library and Knowledge Centre by Francis-Jones Morehen Thorp (FJMT) officially opens to the public this Sunday, 6 April 2014, on the site of the old Town Hall.
Bankstown Library and Knowledge Centre (BLaKC, for short) is a key urban redevelopment project in this southwestern Sydney city. A creative adaptation of the former Bankstown Town Hall, it is conceived as a public space for the encouragement of intellectual, creative and social exchange.
The centre includes a new three-level library, the 300-seat Brian Brown Theatre, community conference facilities, cafe and interactive community information wall. Surrounding public domain improvements include the redevelopment of Paul Keating Park, a new aquatic sculpture garden, new street trees and landscape, upgraded and new accessible amenities, all-weather accessible bus drop-off zone, bicycle parking and upgraded off-street car parking facilities.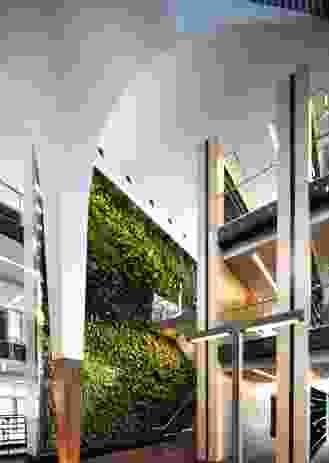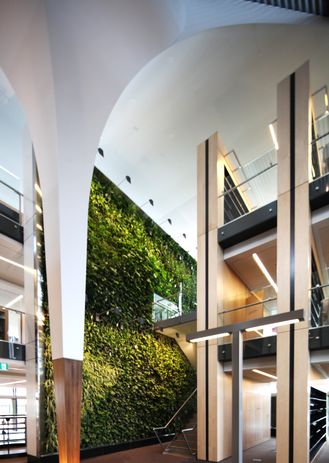 This is FJMT's second such library in Sydney, the first being the multi-award winning Surry Hills Library and Community Centre on the gentrified city fringe, with its mechanized timber louvres screening the sun and defining the facade. The BLaKC facade of folded red aluminium sunscreens will deliver shade and privacy with the dappling effect of a leafy canopy of trees. Like the Surry Hills project, the facade will define the centre's visual identity. And also like Surry Hills, the design and development of BLaKC is underpinned by a sustainable engineering ethos, hard-wired into the building.
BLaKC also uses a suite of both passive and active environmental design initiatives to deliver measurable benefits to the building performance. Added to those is the recycling component of having adapted the old Town Hall building, salvaging its high-quality construction materials (timber, precast concrete, alumininum and stainless steel).
In her review of the Surry Hills Library and Community Centre for Architecture Australia, Laura Harding defends the building's controversial costly environmental engineering, observing that "Rather than wilful symbolism, FJMT's intention has been to invest the building's bespoke components with architectural qualities that transcend their environmental function – that contribute more holistically and specifically to its urban character." At first glance, even before the prized professional photography get the media blitz, it seems they have brought the same sensibility here, leading instead of following.
Related topics