Each year since 2014, an architect of significance has been invited to design a temporary pavilion in Queen Victoria Gardens, Melbourne on the Yaluk-ut Weelam Lands of the Boon Wurrung people. Entitled MPavilion, the annual structure becomes a stage for four months of programming that explores and responds to the values, aspirations and areas of interest of the commissioned architect. Blakitecture is one of these programs: an annual series of talks exploring all things Indigenous within the built environment. Blakitecture commenced in 2017–18 as part of MPavilion's inaugural regional program. Eight Indigenous architects, landscape architects, interior designers, researchers and students engaged in a broad conversation that responded to Rem Koolhaas and architecture and urbanism practice OMA's interest in the "countryside" from Indigenous Australian perspectives. The talk was incredibly well attended, and what became evident from this forum was that one two-hour event was both extremely valuable and completely insufficient. Thus, the Blakitecture series was born.
The series follows a few simple yet fundamental guidelines. First, the conversation needs to further our collective understanding of the Indigenous built environment. To do this, facilitators and speakers curate a conversation that we, as Indigenous practitioners, want to have, rather than an "Indigenous architecture 101" with a purely educational or reactive approach. Second, we invite speakers across a broad spectrum of Country, gender, age, profession and experience level, including non-Indigenous people. Third, we take a practical, casual and sometimes speculative approach: understanding that the audience – who have chosen to come to our talks – are already listening, we endeavour to share our experiences (both positive and negative) in good faith. Finally, we acknowledge that there isn't one "correct way" to approach Indigenous design, and that we are all constantly learning. We share and celebrate what we have learned from our mistakes, and understand that the same conversation topic we explored one year might have completely evolved the following year, as we find better ways to normalize Indigenous protocols, cultures and knowledge into built environment processes.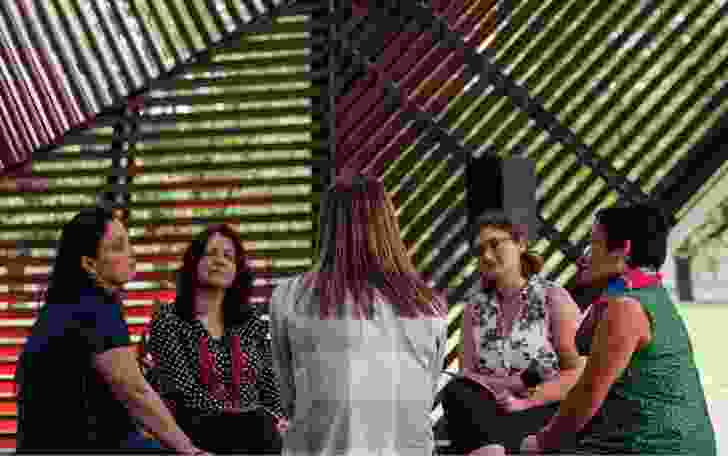 Overall, our aim is to inspire critical debate. We want to be part of moving the profession beyond acknowledgement and into action by sharing the experiences of those who are already making change or asking questions. Each talk we have held so far leaves us with more questions, which, in partnership with the architect's theme, inspires the next Blakitecture season. During the 2018–19 series, we responded to Carme Pinós's theme, with talks that centred on Indigenous women, Indigenizing procurement, Indigenizing education and memorialization in architecture. The 2019–20 series responds to Glenn Murcutt's Australian focus by exploring cultural protocols, storytelling, deep listening, speculative reciprocity and the juxtaposition of inward and outward design approaches.
The attendance and response to each talk so far have been overwhelmingly positive. Many of the same faces return with new people in tow, and questions from the audience have been an indicator of the impact these talks are having. As the years progress, questions such as "What is Indigenous architecture?" and "How do we start?" are being taken over by more specific questions relating to each topic. This encourages us to maintain a practical and critical approach to Blakitecture, in the hope that we are contributing to this shift in understanding.
Occasionally, and not exclusively related to Blakitecture, some Indigenous practitioners feel a recurring frustration that what is discussed in public forums is perceived by the audience as "new" and "groundbreaking" when, in reality, it is tens of thousands of years of protocols and processes that are being made contemporary for present-day realities. It is an interesting tension. On the one hand, it is true that these concepts aren't new; rather, they are being remapped, often in an attempt to reconcile differing world views within our professions. Yet, on the other hand, they are entirely new to the majority of built environment professionals.
This sense of "newness" is partly due to the insufficient education almost everyone in Australia has received from birth on the truths of this country's histories, and the resulting ongoing systemic failures. The lack of education has created a sociopolitical mess and, frankly, results in many non-Indigenous Australians experiencing a form of culture shock when engaging with Indigenous ideas for the first time. The responsibility for managing this "culture shock" frequently falls on Indigenous practitioners. I am in two minds about this. We need to encourage all practitioners – non-Indigenous as much as Indigenous – to engage in this area, because everything we construct in Australia is on Indigenous land. At the same time, in order to move forward from centuries of silence, it is important to centre Indigenous voices over non-Indigenous ones.
It's the classic pendulum swing. We have spent so much time ignoring the reality of our Indigenous context in the built environment that now the pendulum is swinging back in the other direction. We are spending more and more time unpacking these layered conversations in the public eye. You could safely anticipate that the pendulum is going to keep swinging in the Indigenous direction for many years to come. There are so many areas to cover, so many voices that need to be heard and so many understandings that need to be shared with listening ears. If we continue this metaphor, when the pendulum stops swinging, we will have successfully normalized Indigenous processes in the profession to the extent that those processes are part of "business as usual" and everyone, Indigenous and non-Indigenous, understands their role and responsibility in supporting and looking after Country. That is the long game.
The short game is the collective incremental lessons we learn along the way. During the 2018–19 season of Blakitecture, we covered vastly different topics with a huge range of speakers. However, there were multiple threads that ran through each of these talks that reveal collective sentiments. The first of these is a feeling that we just need to get on with it. Kelly Greenop, a senior lecturer at the University of Queensland, aptly explained that there has been so much research undertaken to date, exploring all manner of topics that the profession is grappling with, that "people now need to do the things that the research has told them to do."
Michael Hromek (technical executive of Indigenous architecture at WSP) and Jasmine Hocking (a director at Indigenous Architecture and Design Victoria) explored how Indigenous people can be empowered through design, but can equally be oppressed when their knowledge and cultures are appropriated. This conversation left open the question, "Where is the line?" This is particularly important as non-Indigenous people educate the next generations of practitioners, because there simply aren't enough Indigenous practitioners to fill these roles at the moment. One way to understand where the line is might be to ask: "Am I speaking on behalf of someone else? If so, do they know that I am doing so and do I have their permission to share this information? If so, have I stuck to the scope of the permissions that have been granted or am I starting to misrepresent their voice by speculating on a topic I only know a particular aspect of?"
Many speakers highlighted the tendency for organizations to create an internal push to engage more deeply with Indigenous design, usually championed by one or two individuals, only to find that if those people move on or their interests change, all engagement disappears. Often, this is because the systems within that organization haven't been open to change, or there hasn't been sufficient time to influence the organization's ethos. Equally often, organizations create this internal push until they hire an Indigenous person who subsequently carries the entire cultural load and, by virtue of their employment, the company feels it has satisfied its obligation.
Danièle Hromek (Budawang/Yuin) spoke of the importance of starting with Country in our approach to design – a small shift that fundamentally changes the way we consider our role as practitioners. Another way of looking at this is moving away from the concept of "human-centred" design toward a more holistic approach that understands how the systems within the environment relate to each other and gives equal importance to each – for example, considering flora and fauna as equal to ourselves.
I am fascinated by the way that small shifts in understanding can fundamentally change the way we approach design. Blakitecture events have explored many of these ideas, such as seeing landscape design as habitat rather than ornament; seeing a building as a living entity that thinks, breathes, eats and feels; and starting with a first principle of "do no more harm." Another might be standing at the edge of a site, looking inward, with the understanding of how the surroundings impact the site; or standing in the middle of the site, looking outward, with the understanding of how the site impacts its surroundings. The latter ultimately creates more connected places, as we shift our understanding of the built environment to a community of buildings and landscapes with their own identities and responsibilities that contribute to a collective, rather than individuals vying for isolated glory.
Ultimately, it's what we take on as our responsibilities outside of egotism and individualism that will define our ability to create change, and if through Blakitecture we can inspire one practice to take up a responsibility of change, then we have made a positive contribution. Imagine that every built environment practice took on one responsibility each year that aligned with the values and aspirations of the local Traditional Owners, and then shared the successes and failures of this approach. We would see significant change over a shorter period. Alternatively, we could form working groups with Traditional Owners and develop a key focus for every project undertaken on their Country each year. We could put out a call to practitioners to take up this challenge, and it could be anything of importance to Traditional Owners: perhaps restoring the habitat of a native bee population, repairing damaged natural water systems or backyard Indigenous plant farming. This is obviously speculation, but the point of this speculation – and this review of Blakitecture – is to emphasize that there are so many ways that we can all contribute or facilitate others to guide us on what changes we should make. The next step is to take on the responsibility and "get on with it."
Source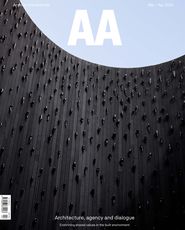 Discussion
Published online: 28 May 2020
Words: Sarah Lynn Rees
Images: Alan Weedon, Katelin Butler
Issue
Architecture Australia, March 2020
Related topics