Bleu by Herbert and Mason won the Colour in Commercial Design award in the 2011 Australian Interior Design Awards.
Design statement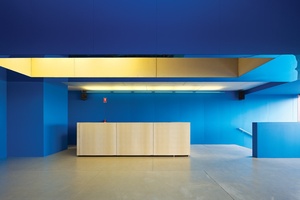 The project sought to create an experience through the building of an idea. The design explores the notion of volume and colour through the inversion of floor and ceiling, and void and form. The singular volumetric approach uses lightweight materials to create a strong sense of depth and mass. The less-is-more attitude toward colour, saturation and materiality is simple yet creates immediate impact. The marquee was designed for the Spring Racing Carnival in Melbourne. With the interior set up as an extruded geometry, the idea was to create depth of space and weight through voids and forms dropping from the ceiling "inversion," and to then reflect these moments through the extrusion of the floor plan. Predominately saturated in a single colour, the reflective and matt surfaces generate contrast and add to the sense of intensity. Vivid colour and simple material application was key to achieving sharp, clean lines. One blue creates a spectrum of colour throughout the space depending on the way the light falls on the surface.
Jury comment
A bold and completely saturated statement of colour, a pure approach that uses sculptural form to vary the shade of the colour blue. Clever use of light creates reflection and zones of light and shade on the interior surfaces, resulting in a creative and powerful space.