After twenty-five years, Blonde Venus, the Brisbane fashion store that claims to have brought boutique shopping to Fortitude Valley in the nineties, has moved to new digs. Its location, formerly in a strip where only nightclubs had dared to venture, has changed to a discrete laneway (also in Fortitude Valley) where grunge, chic and commercial banality sit side by side. Around the corner, James Street has fast become a destination for brand-lovers and flagship worshippers. But if James Street is Brisbane's fledging retail answer to Tokyo's Omotesando, the area around Blonde Venus is equivalent in quirk factor to the winding side streets that form tributaries off Tokyo's famous boulevard. The delightfully individual boutiques of Ura-Harajuku are clearly stamped with the personalities of their owners. Individuality rules, and there's a delightful mix of makeshift-ery and rawness to the presentation. Something of the same can be said for Blonde Venus.
Thea Basilou, Blonde Venus's founder and figurehead, trades in a series of independent fashion brands for men and women. Her self-described "fashion forward" style is a long way from High Street predictability. When she commissioned architecture firm Richards & Spence to repurpose an unprepossessing office space for the store, they all agreed to "avoid a fitout." As architect Adrian Spence notes, "We wanted to keep that independence that marks Thea's brand. It's not about applied decorative finishes – it's really a blank background for the clothes."
In briefing the architects, Basilou presented Richards & Spence with a folio of cut-outs of her favourite spaces, predominantly Belgian and Japanese interiors. The architects felt a stripped-back interior would suit the bravery of the stock. "The place definitely has her stamp on it," says architect Ingrid Richards. "It's her personality. There are so few 'authentic' spaces around town like this that could only belong to one person."
One of Basilou's cuttings was of a Danish timber clothes rack. Spence knew fellow architect and friend Paul Owen had created something similar with his firm Owen and Vokes and Peters, and suggested he produce them commercially for Basilou. The apex-ended racks of simple raw pine serve as hangers for the various stories from Jacquemus, Carly Hunter, Emmanuelle, Karen Walker and Hansen to name a few.
"The trellis racks came about because we've always made our own little pieces in the practice," says Owen. "They're not meant to be highly crafted – we just feel it's nice to make some stuff ourselves instead of always getting a builder in."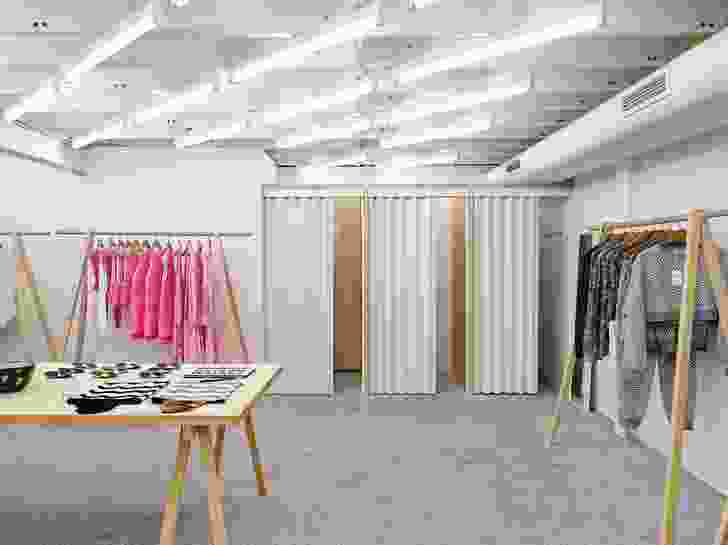 The finger-jointed pine legs and Tasmanian oak dowels are designed to be economical and easy to work with. "They were designed with residential apartments in mind really – things you can take with you when you move."
Raw brick walls were exposed for their simple, elemental beauty, and the floor framing of the upper level is also exposed. A series of fluorescent strips runs across the rafters in diagonal stripes.
"It's a bit of a homage to Dan Flavin," says Spence, referring to the mid-century American minimalist whose medium was fluore-scent tubes. "It goes against the trend of cool pendant lights," says Owen. "Everyone wanted a non-commercial, authentic feel."
Basilou also uses plaster hand sculptures by American artist Harry Allen to display accessories. A rudimentary laminated ply box serves as a desk and concrete floors are left unpolished. Concertina vinyl doors serve as dressing room curtains, neatly boxed in around the tops and sides.
While the discrete laneway location seems destined to be found on a "need to know" basis, there are a couple of subtle markers. A protruding glass display window, looking more gallery installation than mannequin exhibition box, leads the eye on. The adjacent recessed doorway, lined with the rough and ruinous outline of the deconstructed bricks, also sets the tone. As Basilou says, "I really wanted it to feel like a minimalist gallery as much as a retail space." Here, clothes are art and are given their due space.
Products and materials
Walls and ceilings

Existing brick.
Windows

Custom-made structurally glazed window.
Doors

Custom-made pine blockboard doors with concealed hinges. Lotus Vinylcloth folding doors to change rooms.
Flooring

Existing concrete.
Lighting

Generic T8 surface-mounted fluorescent tubes.
Furniture

roto-Type pine clothing rack and easel designed by Paul Owen and manufactured by Doppel Factory. Hoop pine ply counter custom-designed by Richards & Spence and manufactured by Morris Construct & Develop.
Other

Artwork behind counter by Michael Phillips.
Credits
Design practice

Richards & Spence
Fortitude Valley, Brisbane, Qld, Australia
Project Team

Adrian Spence, Daniel Wilson
Consultants

Builder (window box) Rory Galligan
Engineer Optimum Structures

Site Details

Location Brisbane, Qld, Australia

Project Details

Status Built
Design, documentation 1 months
Construction 1 months
Category Interiors
Type Retail

Source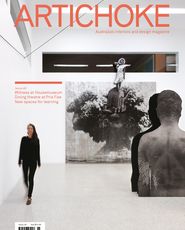 Issue
Artichoke, September 2014
Related topics