AARON PETERS: "INFANT NARRATIVE AND ARCHITECTURE AT PLAY"
QUEENSLAND UNIVERSITY OF TECHNOLOGY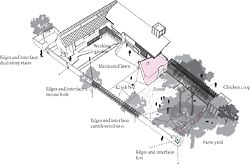 JURY CITATION
A space designed for children undoubtably resonates with the human psyche, but the architectural merit of this project impresses beyond its thematic warmth. Resisting the temptations of the tabula rasa, Peters' project skilfully reprogrammes an existing religious building as both church and kindergarten. Occupation is expanded from two or three hours a week to around 60, transforming an unremarkable building into a valued piece of community infrastructure.
Clearly communicated through drawings, this scheme demonstrates a precise response – to site topography, latitude and climatic conditions; to notions of refuge and safety; to the various requirements of scale, typology and morphology; to the nature of an existing structure. There is an obvious care in shaping space for human enjoyment.
The project has the potential to educate, making a broader cultural and social argument for the importance of place in the human experience, and the capacity of architecture to facilitate it.
Jury
Glenn Murcutt
Joshua Morrin
Stephen Buzacott