The Youth Mental Health Building delivers an impressive and gutsy street elevation that serves as a perfect reflection of its client's ambition to be an alternative institutional health building. Calling for a combination of research laboratories, academic offices, clinical consulting spaces and a social drop-in centre, the brief demanded inventive, robust and economical architecture.
The new forms are inserted adjacent to, and over the top of, an existing two-storey heritage facade, part of the gritty context of this previously industrial quarter in Sydney. This constraint has only benefited the project's final form, creating a provocative and mannered solution that addresses the street with originality and character. It presents an embodied representation of the complexity of social and clinical research and consulting facilities within. Inside, these functional areas are layered through floor plates with generous interconnecting stairs and hallways, including tall vertical spatial connections, links to street views and social spaces.
– Jury citation
With just 0.3 per cent of the world's population, Australia generates between 3 and 4 per cent of refereed research publications in health. Australia's health and medical research sector has produced three Nobel Prize winners and five Australians of the Year in the past decade alone. In little more than a decade, Australian health research has led to the bionic ear, a cure for stomach ulcers and a cervical cancer vaccine.
– Transcript of Hon. Tony Abbott, address to the Brain and Mind Research Institute, Sydney, 21 April 2011.
For further coverage see Brain and Mind Research Institute.
For a full list of awarded projects see 2011 National Architecture Awards – the winners and for more awards discussion see the Rachel Hurst and Rory Hyde's responses to the awards and the jury overview by Karl Fender.
Credits
Architect

BVN Donovan Hill
Australia
Project Team

James Grose, Sarita Chand, Ian Goodbury, Nicola Bertrand, Kate Smith, Andrea Fink, Alexander Suen
Consultants

Acoustic engineer Acoustic Studio
Building advice Cockram Construction
Building regulations consultant Steve Watson & Partners
Construction manager Buildcorp Interiors
Cost consultant Davis Langdon
Fire engineering Rawfire
Heritage consultant Godden Mackay Logan
Imaging equipment Siemens
Landscape consultant Sue Barnsley Design
Planning consultant City Plan
Project manager APP Corporation
Quantity surveyor Page Kirkland Partnership
Structural consultant Aurecon
Structural, traffic, electrical, hydraulic and mechanical engineer Arup Sydney

Site Details

Location 100 Mallett Street, Camperdown, Sydney, NSW, Australia
Site type Suburban

Project Details

Status Built
Category Education, Health
Type Clinics, Universities / colleges

Client

Client name The Brain and Mind Research Institute, University of Sydney.

Source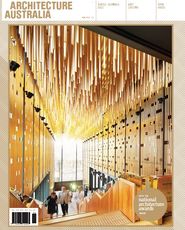 Issue
Architecture Australia, November 2011
Related topics