It may be no surprise to learn that a house dubbed 'Boatsheds' is owned by a pair of nautical enthusiasts. The couple, architect Rachael Rush and partner Greg Lee, came to Strachan Group Architects armed with concept plans and resource consent to achieve a full-size family house on a challenging urban site in Takapuna, Auckland. There began a successful collaboration to refine and develop the design.
Comprising a series of stepped gable pavilions – inspired by boatshed forms and informing the project's name – Strachan worked the boatshed aesthetic externally with black-stained vertical cedar, simple corrugated roofing and floating timber decks.
"The gable ends are glazed and louvres are used both for privacy and to extend the verticality of the design," says Strachan.
An informal bach feel has been achieved with guests entering via the front courtyard, past the lawn and an outdoor shower, onto platforms that lead to the front door.
Inside, further nautical references can be found, such as the woven ceiling and extensive built-in cabinetry, including fold-out bed, ladders and floor-to-ceiling bookshelves, finished to a high standard by builder Gary Bonham.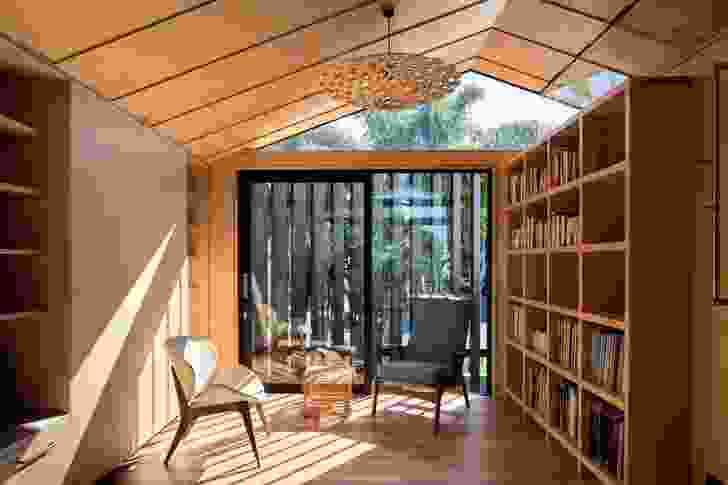 Environmentally sustainable design features, both active and passive, predominate and include a glazed atrium space to maximise solar gain, with thermal mass being stored by block walls and stone tiles. A pond, situated beneath the living room windows assists with passive cooling of this space. Cross-ventilation too, has been carefully considered, says Strachan.
"The house opens to a courtyard on one side and a deck on the other. An entire glazed wall lifts vertically, opening the dining area to the outside. This means both sides of the building can be opened up, from the western courtyard behind the kitchen through to the deck, which allows summer breezes to circulate through the home. In the cooler months, the home can be shut down and the thermal mass utilised."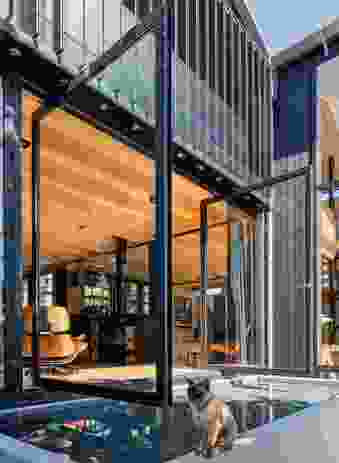 Louvres on the upper level mechanically pivot and can be positioned to block or permit solar gain in keeping with the season. There are also what Strachan calls vertical soldiers, or columns, positioned to capture sunlight. Additionally, solar panels heat the water and the house features a high level of insulation. An open fireplace features a flue that carries through to the master bedroom providing radiant heating.
Accommodating the needs of two young, active sons – retaining a large lawn area was a must – as well as incorporating workshop and boat storage spaces into the scheme necessitated a high level of design innovation. For the owners this meant a lengthy negotiation with council, however, by challenging the established development controls, a large house – 380m² ­– including the aforementioned workshops and boat storage, has been packed onto a relatively small, 480m² site without any loss of amenity.
Related topics