Bond Street Cafe and Wine Bar pays homage to the power of black. As designer Chris Connell tells me over a lunch of fish of the day, black is not an oppressive material; rather it works to accentuate space and form, and this design is true to his word. Working in tandem with light-filled spaces and colourful displays of food and wine, Connell's black walls and black fittings appear strong and confident, opening up the cafe and wine bar to its ever-flowing range of conversations, encounters and culinary experiences. This is a social space as much as a service space: indeed, in Connell's world these cannot be separated. Food, like friends, after all, is a necessity.
Tucked away behind busy Chapel Street, the cafe and wine bar provide a retreat that is at once notably calm and wonderfully complex. After twelve months of trade a regular clientele keeps this establishment buzzing. Its position on a small side street welcomes guests with a serene interior of textured features and intimate space that combine to be deliciously cool in summer, and cosy in winter.
This duality is a signature of the space and Connell has successfully understood the peculiarities of the cafe and wine bar combination. Large windows make up the north-facing entrance (and part of the eastern wall), bathing the first half of the cafe in natural light. This is predominantly counterpoised by the black-on-black interior, including black aluminium panels along the southern wall, set off by a polished concrete floor and ceiling. Banquettes covered in perforated black vinyl line the western wall and double as storage areas, and small wooden Parisian-style tables and chairs – in black – make a strong line beside the banquettes.
The bar itself spans half the length of the floor space and displays a bold and, in contrast, colourful melange of produce: wine bottles rise to the ceiling behind the bar, while a black overhanging display shelf suspends even more bottles above the heads of diners. Over one thousand bottles are accommodated in these shelves as part of the design, rather than hidden away. Running prominently along the bar's frontage is a refrigerated display case, evocative of a Mediterranean delicatessen, that contains fresh cheeses and meats to be served to the day's clientele – a true visual delight.
Connell emphasizes the limited space presented by the building – the kitchen measures only four metres square – and he has certainly maximized every opportunity. By maintaining the original concrete ceiling, the space extends vertically and is furthered by natural light. The row of banquettes brings visual extension, and clever storage opportunities, including the wine display, lend a clean, even sharp, air to the room – everything here is in its place.
Credits
Design practice

Chris Connell Design
St Kilda, Melbourne, Vic, Australia
Project Team

Chris Connell, Manuel Blanchet
Site Details

Location 4A Bond Street, South Yarra, Melbourne, Vic, Australia

Project Details

Status Built
Category Hospitality, Interiors

Source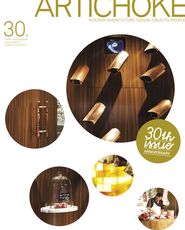 Issue
Artichoke, March 2010
Related topics