Every young practice faces a similar dilemma – how to demonstrate the extent of a design approach or idea exploration in order to attract the right kind of clients, when the group hasn't yet amassed a sizeable folio. Some find accommodating relatives or friends; others, like the directors of Dock4, put their own money on the table and weave experimentation into their own dwellings. These small, low-cost homes in outlying Hobart suburbs (Bonnet Hill and Fern Tree) reflect a number of core principles for the practice and each reads as a loose roadmap for future Dock4 work.
The Bonnet Hill house, designed by Richard Loney, is a simple, two-storey, cement-sheet-clad box bedded into the side of a valley south of Hobart. Richard jokes that he wanted a TARDIS – seemingly tiny from the outside but spacious on the inside – and in this he has had some success. The building is difficult to spot until you are upon it, due to the cut and position amongst existing vegetation, but internally the space is lofty and permeable.
The basic program is unsurprising – a mezzanine sleeping and bathroom area hover over a service area (kitchen, laundry, store), while the living area is double-height. But there are twists that make the building unique.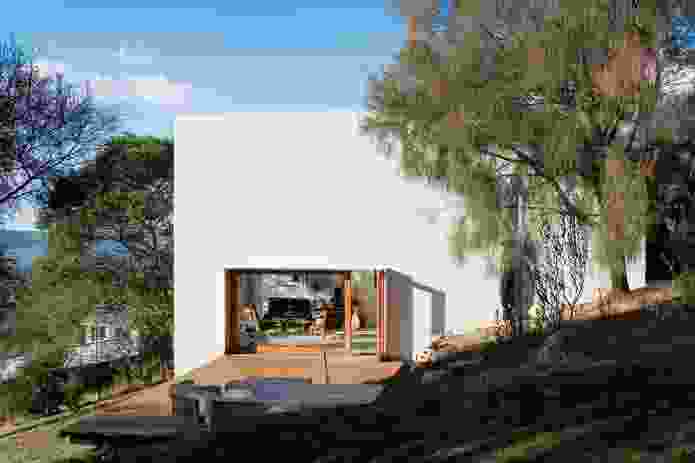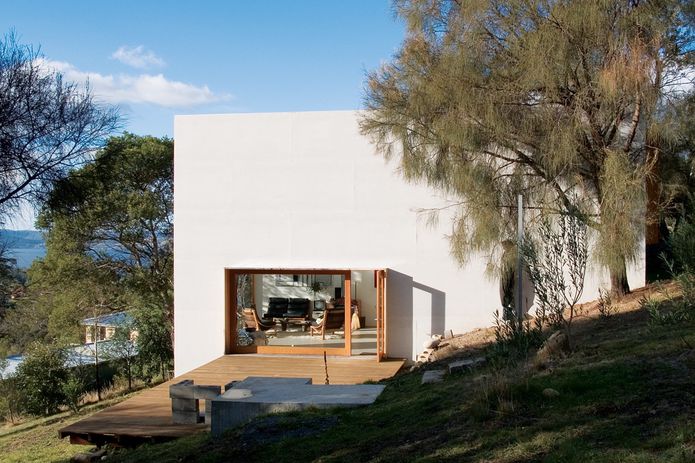 Firstly, Richard was interested in the idea of being able to move around the contour within the main living zones, so each long side opens to a deck, creating a pleasant sense that the building dematerializes into the surrounds with all doors open.
Secondly, the entire northern facade is glazed, broken only by a large cross of mullions and transom. Because the aperture is so large, elements of the landscape, such as an adjacent silver wattle, are part of the building, stretching and enclosing the living area.
The third is a tiny "outrigger" space projecting from the upper level. The two-metre-square space is a mini refuge against the winter chill, offering cosy contrast to the double-height space.
Richard's greatest interest and satisfaction in the building is the manipulation of volumes. He enjoys the equation of play with the plan versus ceiling height. He has explored new building details – some of which he would carry on to other projects and others he would avoid – but best of all, he loves living in this little building, particularly in the winter light.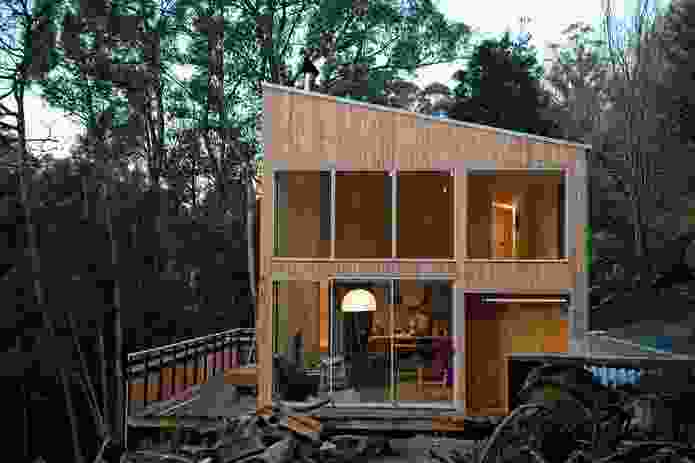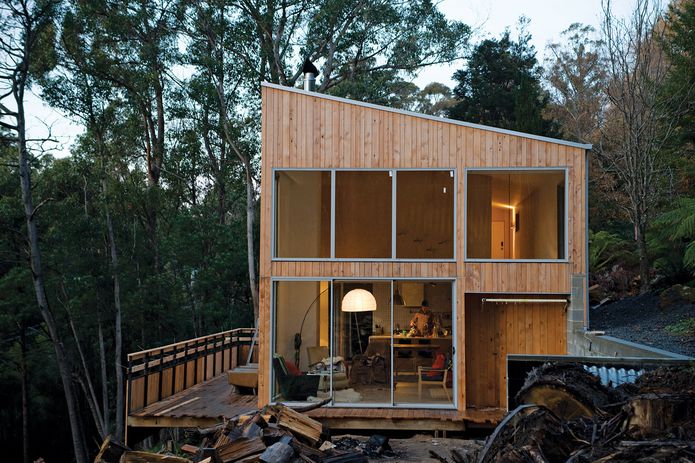 While the Bonnet Hill site offered the perfect combination of a north-facing slope with views, the Fern Tree house by Wesley Hindmarch needed to perform some architectural gymnastics to draw in maximum light and capture framed views.
The long, thin site, located high on Mount Wellington, faces south-east and was heavily wooded when purchased. Even gaining the required fire setback meant purchasing part of an adjoining title. The result of these site constraints is a long, narrow, two-storey building pushed as far back from shading northern trees as possible.
Its internal volume is like an extrusion of the Bonnet Hill house – a service area (kitchen, toilet, laundry, boiler room) and office sit under two upper-level bedrooms, which share a bathroom. The upper level stops short of the northern end of the building so that the living area is a double-height space and sun penetrates further.
The building beds into the slope along its length, matching cut against fill and keeping the height low for an adjoining neighbour. Materials were selected to define different aspects of the building. A block wall exposed internally reflects the cut, timber decks indicate moments where the building hangs over the slope and ply walls define the upper-floor sleeping zone. Plaster walls are always white, the slab is clear-finished and the outer skin is unfinished celery-top pine.
As with the Bonnet Hill house, Wesley has shaped the volume and placed apertures in order to maximize the variety of environments. Generous ceilings make space within a small plan and framed-out sections of wall – offering niches for storage or furniture – create the impression of thick walls. Along the upper-level rooms, low narrow windows capture lush "slices" of the bush as it drops away toward the road, and a small "box," to be accessed by library ladder, is embedded in the north face, creating a precious eyrie for reading in the sun.
Products and materials
Roofing

Lysaght Klip-Lok;
External walls

Cement sheet; plywood, clear finish;
Internal walls

Plasterboard;
Windows

Clear anodized aluminium frames; hardwood frames, oil finish;
Doors

Hardwood frames, oil finish;
Flooring

Off-white trowel finished concrete slab; plywood, clear finish;
Kitchen

Hardwood joinery, clear finish;
Heating/cooling

Natural ventilation; thermal mass; back-up in-slab heating.
Artwork

Trudi Brinckman; Mary Louise Seddon.
Credits
Architect

Dock4 Architecture
Sullivans Cove, Hobart, Tas, Australia
Project Team

Richard Loney, Trudi Brinckman, Wesley Hindmarch
Builder

Richard Loney

Consultants

Engineer Hutchings Spurr
Lighting Casa Monde Lighting Specialists

Site details

Location Bonnet Hill, Hobart, Tas, Australia
Site type Suburban
Building area 110 m2
Category Residential buildings
Type Houses

Project Details

Status Built
Design, documentation 5 months
Construction 6 months

Products and materials
Roofing

Lysaght Custom Orb; fibreglass insulation battens.
External walls

Shiplapped Tasmanian celery-top pine, unfinished; ss fittings.
Internal walls

Plasterboard, painted; 9 mm exterior grade hoop pine plywood.
Windows

Vantage Magnum aluminium framed windows, double glazed.
Doors

Solid core internal pine veneer doors; Vantage Magnum aluminium sliding doors, double glazed.
Flooring

Concrete, polished with Epimax polyurethane finish; Tasmanian oak floorboards, Livos floor finish.
Kitchen

White gloss Laminex island bench; ss kitchen bench; plywood joinery; white pool tiles for splashback.
Credits
Architect

Dock4 Architecture
Sullivans Cove, Hobart, Tas, Australia
Project Team

Richard Loney, Wesley Hindmarch, Paula Silva
Consultants

Builder Evolution Builders
Engineer Hutchings Spurr

Site details

Location Fern Tree, Hobart, Tas, Australia
Site type Suburban
Building area 138 m2
Category Residential buildings
Type Residential

Project Details

Status Built
Design, documentation 6 months
Construction 8 months

Source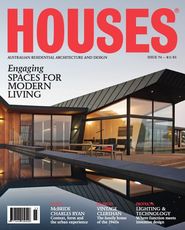 Related topics