GLENN MURCUTT, ARCHITECT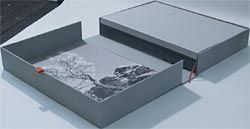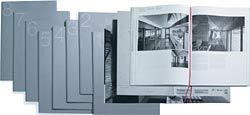 With essays by Kenneth Frampton, Juhani Pallasmaa, David Malouf and Phil Harris. 01 Editions, 2007. $1,600.
This is not so much a book as an object in the tradition of the folio. Beautifully designed, with high reproduction values, it is a collector's item for those captivated both by Murcutt's work and by the pleasures of the object itself.
A grey, cloth-bound Solander box houses a hardback volume of generously illustrated essays and eight folders – each devoted to a particular project, presented through a bound series of photographs and a set of loose-leaf drawings. In the book, three short thematic essays by Juhani Pallasmaa, David Malouf and Phil Harris complement Kenneth Frampton's longer, detailed, mostly chronological account of Murcutt's output and influences. The aim of this arrangement, the publisher tells us, is to allow the reader to engage with the work in a nonlinear, non-sequential manner, with simultaneous access to images, photographs and text.
And given the space, such an approach to reading is certainly rewarding.
The folio is an exquisite object, the texts erudite and the photographs sumptuous (although some are already very widely known), but for me the real treasure is the facsimile drawings.
Many of Murcutt's drawings have been widely published elsewhere, but usually cleaned up and reduced to fit the pages of various books and magazines. Here they are reproduced 1:1, complete with smudges, scrawls and precise annotation, on a grey background that is presumably intended to evoke the materiality of butterpaper and other drawing grounds. Presented in this manner, the drawings invite an intimate engagement with the means of production and process. Such immediacy is rare and, in Murcutt's case, can only otherwise be achieved in the archives of the Mitchell Library.
On each folder Frampton discusses the project through the drawings, offering a different approach to that in his main essay. Another real gem is the documentation of Murcutt's relationship with clients the Simpson- Lees, articulated through facsimiles of their extraordinary correspondence and an interview with Sheila Simpson-Lee.
So what might this folio tell us about Murcutt's work? In Australia, responses to his oeuvre have become polarized into either hagiography or scepticism. Neither of these positions is very useful, and both do a disservice to the work. This volume could be seen as part of the hagiography, but, in presenting the work in a range of ways, and through a variety of media, it also opens up opportunities to engage with the oeuvre in new ways. The question it leaves for me is, what might younger critics and architects make of the work, especially the later projects?
What might they contribute to our understanding of this significant and still developing body of work?
Justine Clark
EVOLUTIONARY MODERNISM: DARYL JACKSON 65/05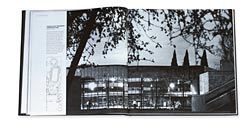 By Daryl Jackson. Melbourne University Publishing, 2006. $49.95.
Daryl Jackson has been a towering figure casting a long but illuminating shadow over architecture in this country for more than forty years and this lavish new monograph records that remarkable achievement. Written largely by Jackson himself, the book is a chronicle of a sustained and evolutionary journey, and a critical self-reflection on his work and the cultural, social and political forces that shaped it.
The book begins with an insightful foreword by Patrick McCaughey, in which he charts Jackson's progression from his early metaphors of the body through his environmentally responsive buildings of the 70s and 80s to his large-scale commissions which engage with the city – all underpinned by Jackson's humanist ideals and his expansion of the modernist vocabulary. Jackson's own introduction establishes his early influences – Corbusier, Aalto, Rudolph (with whom he worked), Wright, the West Coasters and the work of the cubist painters. These provided the platform from which the young Australian jumped to establish his own "reactive and expressive" form of modernism. The book is structured loosely into eight overlapping eras – each introduced by Jackson, outlining his influences and interests, followed by a selected portfolio of work from the period.
The first two essays are compelling and it is here that we find some of Jackson's best and most influential work – the Lauriston Girls School Building (1970), Harold Holt Memorial Swimming Pool (1969, with Kevin Borland), and the Canberra School of Music (1977, with Evan Walker). Jackson's response to the ecological debates of this period and into the 80s produced the State Bank College, Woodleigh School and Jackson's own house at Shoreham set into a wooded hillside setting. As the book moves through to the present the essays become less polemical – perhaps a result of the challenges that come with an expanding and increasingly international practice.
Aspects of the book's design frustrate the reader's efforts in bringing together the threads of Jackson's argument. None of the projects in the portfolios are dated and the heavy, black-and-white, "inked" axonometric drawings – de rigueur in the 1980s – make it difficult to read the spatial and compositional qualities of the buildings.
Despite these limitations, this is a book which rightly celebrates and documents the contribution of Jackson and his collaborators to our national culture and architectural thinking.
What comes through the texts and the work is Jackson's sustained and articulate advocacy for design as an exploratory proposition. That we are able to hear this story directly from one of our most prolific and critically acclaimed practitioners is a rare thing indeed.
Corbett Lyon