THE ENVIRONMENTAL BRIEF: PATHWAYS FOR GREEN DESIGN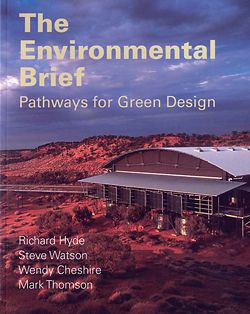 Richard Hyde, Steve Watson, Wendy Cheshire and Mark Thomson. Taylor & Francis, 2007. $93.

The design industry is moving towards the consensus that the best opportunities for achieving environmental gains in building procurement lie in the initial stages of a project. Across Australia, buildings demonstrating significant environmental outcomes are those where there was a strong up-front commitment to sustainable outcomes from both client and design team.
The industry is investing heavily in predictive rating of buildings and this in turn is leading to product innovation and a re-evaluation of the design process – which is a good thing. However, again there is a growing consensus that a more meaningful measure of the success of a green building is the actual measurable environmental outcomes.
The Environmental Brief: Pathways for Green Design provides a helpful guide for addressing some of these issues. It outlines methods for incorporating environmental goals, and pathways for achieving environmental outcomes, in the building procurement process. It investigates various tools, primarily the brief, but also benchmarking, ratings tools and blueprinting.
The authors emphasize integrating consideration of the "environmental imperative", drawn from Victor Papanek's work, during the early phases of the design project. This argument is supported by their concepts of form and substance. The authors put forward the idea that green buildings rely on the successful realization of form and substance, form being "the meaningful architectural expression of the ecological principles underpinning the building", and substance referring to "improved environmental performance".
The main premise, however, is that a brief that establishes environmental goals and criteria for measuring the achievement of those goals is more likely to deliver environmental outcomes. Four stages of the environmental briefing process are described. Setting environmental goals is the first step, then identifying parameters or filters for the project, such as consideration of climates and life cycle analysis. The third phase is to develop strategies in response to the environmental goals, and the last is to apply the strategies within the design.
Chapters on benchmarking, rating tools and blueprinting provide detailed descriptions of these methodologies and approaches. There is a useful description of Green Star and its relationship to BREEAM and LEED in Chapter Six. Ten detailed local and international case studies give practical examples of the application of these briefing tools in various building types.
A great deal of information is presented on industry and government projects and initiatives – a useful snapshot – but given that the rate of change in this area is so rapid, the examples presented are inevitably in danger of becoming out of date.
Natasha Palich
THE EMERGENCE OF THE INTERIOR: ARCHITECTURE, MODERNITY, DOMESTICITY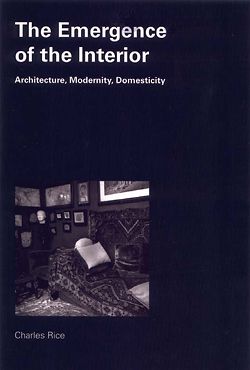 Charles Rice. Routledge, 2007. $88.

Interior design is often referred to as an emerging discipline, so a book titled The Emergence of the Interior seems timely for addressing what a history of interior design might be. While Charles Rice makes it clear that his study focuses on the domestic interior, and that his text is most relevant within current discussions on architecture and modernity, I found the book inspiring in terms of a broader sense of "the interior".
In a carefully crafted and rigorous text, Rice takes the reader through a number of conceptual shifts that challenge and overturn the dominant idea of the interior as an essential and pre-existing condition. This is vital for grasping a different kind of approach to the interior from existing histories, which assume the interior as a given. In contrast to a history that pursues a continuity of form of the interior as "the primary 'space provider' in culture", Rice's history articulates the interior's "conceptual separability from architecture". Citing semantic shifts in the use of the word "interior", Rice locates the emergence of "the interior" at the beginning of the nineteenth century as a relational concept involving a doubling between an actual space and an image, between a physical spatiality and an imaginary condition.
The book is divided into two parts, Orientations and Trajectories. The first includes a detailed discussion of the writings of Walter Benjamin on the interior, on the collector as a site of private retreat from an exterior urban realm, and on the psychoanalytic theory and practice of Sigmund Freud. There is also a critique of existing histories of interiors. Trajectories discusses key moments throughout the nineteenth and twentieth centuries of the doubled conditions in which the interior emerges.
The potential of Rice's thesis lies itself in a doubleness. Like an image, it invites new ways of projecting and thinking about the interior in relation to the twenty-first century. Rice hopes the book will provide "something of a framing and a demonstration of possibilities for thinking in new ways about a range of historical and theoretical material on the interior". This is its potential and its provocation. It will be interesting to see what kinds of doubling and future trajectories it produces.
Suzie Attiwill
GRUZMAN: AN ARCHITECT AND HIS CITY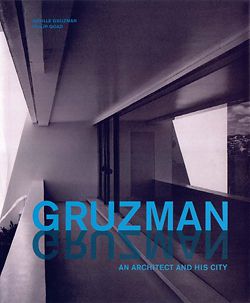 Philip Goad and Neville Gruzman. Craftsman House, 2006. $120.

This impressive publication has a long and distinguished pedigree. I became aware of its beginnings many years ago, when the inclusion of Gruzman's memoirs was a point of difference. The book benefits from their inclusion. While it has been said that the memoirs have been severely edited – many of those mentioned "had thin skins and deep pockets" – it is always important to hear from the source.
The book has three main parts: an essay by Philip Goad, a large illustrated section on built projects with comment by Goad and Gruzman, and Gruzman's memoirs. There is also a biography, which includes travel, and a "compiled project list". As a reference book, Gruzman satisfies the authors' and publisher's aim of bringing the man and his work "into focus … and into the sphere of Architectural historical discourse on the past 55 years".
Twenty-four works are illustrated (in no apparent order) and most are beautifully photographed by Max Dupain and David Moore. Unfortunately, a couple of seminal works are not shown at this level. The book would also have benefited from illustrating unbuilt work as well as several important interior fitouts and Gruzman's own offices at 170 Queen Street, Woollahra. Concept sketches, perspectives of interiors and models would have illustrated the Gruzman design and presentation process. The inclusion of clearly drawn plans, sections and elevations is a bonus; however, north points and graphic scales would also have been helpful – both appropriate orientation and a finely wrought appreciation of human scale were fundamental to Gruzman's output.
Gruzman was more than a talented architect. He was "the universal man", trained in architecture and planning, who was also an educator. Many of his students remember him as a passionate man who lived architecture, whose work predated the current environmental concerns by fifty years and who maintained that "good design is everything".
He designed tapware, was interested in prefabrication and used industrial glazing sections and operable glass louvres in residential projects. He had rewarding relationships with structural engineers, and much of his work appears to defy gravity. Gruzman's influence was wide and many architects practising in Australia today owe much to Gruzman.
While James Weirick maintained at the Sydney launch that Neville Gruzman was the finest house designer in Sydney, the book shows that he was equally skilful in other programmes – multi-residential, commercial and retail. Many dispute Weirick's assertion, yet Architecture and Arts in October 1962 described Gruzman as "one of the most important to emerge during this post war period".
Sydney is richer for Neville Gruzman's architectural output. Our quest now is to understand the built work, respect it and maintain it. Unfortunately, as chronicled in this book, several examples have been demolished, altered or painted.
This monograph confirms Gruzman's importance. He practised at the same time and with similar concerns to Sydney architects Peter Muller, Bruce Rickard, Ian McKay, Harry Howard and Douglas Snelling, but his difference is that he was vocal on all aspects of the built environment. His inventive solutions to client requests demonstrate a successful, theatrical intermingling of Modernism, Wrightian organic and traditional Japanese architecture.
Jacqueline Urford
UNIVERSITY OF SYDNEY ARCHITECTURE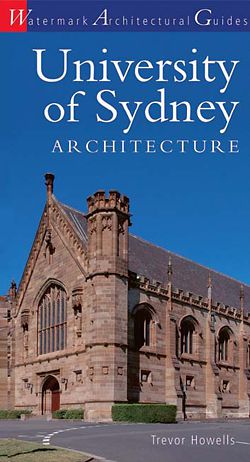 Trevor Howells. Watermark Press, 2007. $40.

Trevor Howells' guide to the University of Sydney's architecture follows a number of recent guides to the architecture and landscapes of universities in Australia. It is well organized around campuses and walks, and brings to light a wonderfully interpretive admiration for buildings that have been the workplace of many of the authors.
In the stories and documentation of the buildings, a recognition builds up of the potent presence of universities in Australian society. The building stock designed by state government architects and other renowned architects and academics indicates the significance placed on the founding and expansion of these institutions as concrete presences within society. There was an acclaimed need for institutional cohesiveness in Australia to provide a liberal education in the classics, sciences and mathematics, including languages and political thought, in order to provide locally inspired leadership for the country. This was a nineteenth-century call for the translocation of knowledge and values that remain embedded in Australian institutions. However, do the educational values aspired to by their founders remain potent for universities today?
In a world dedicated to the virtual and to transience, what is now valued about universities as an indicator of their status is the visibility bestowed by architecture and environments. The University of Sydney, known as a "sandstone", bases its status on keynote buildings by architects such as Edmund Thomas Blacket, Walter Liberty Vernon and Leslie Wilkinson. By contrast, University of Sydney Architecture includes buildings constructed during periods when different values predominated over what universities embodied. For example, the Mungo MacCallum, the Christopher Brennan and the Griffith Taylor Buildings hardly ring true to those values espoused at the inauguration of the university, but allude more to speculations on education related to the burgeoning middle classes of post-WWII economies. The buildings resulting from such economies are seldom those used to represent the university. Yet in a guide they form a component of the tapestry that enables a reading of government policy and social value.
The economy continues to be the driver of university development, but in the past fifteen years rising importance has been attached to the marketing of prestigious spaces to entice students. It is in this context that new constructions such as the Law School by Francis-Jones Morehen Thorp play such a significant role. They are included in the guide not simply because they are close to completion, but because they complete the return to a representation of earlier senses of value. The desire for universities to visibly represent their aims through their architecture is again palpable, even if a little hollow.
The really wonderful thing about guides to campus environments is their ability to uncover treasures of the interior spaces that are not immediately obvious even to staff and students – and I've worked within the university sector for the whole of my career. University of Sydney Architecture allows some of the richness of spaces such as MacLaurin Hall and the colleges to be located. The book invites the reader to seek out the spaces, and to realize that Sydney and its institutions hold treasures to be explored in the most liberal educational sense. It is certainly worth taking when you next walk the grounds.
Desley Luscombe
Related topics