MODERNISM AND AUSTRALIA: DOCUMENTS ON ART, DESIGN AND ARCHITECTURE 1917—1967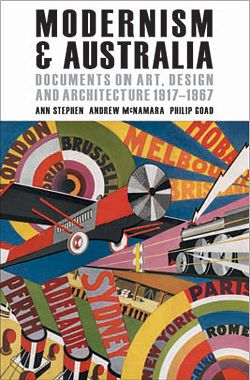 Ann Stephen, Andrew McNamara and Philip Goad (eds). The Miegunyah Press, 2007. $65.

This is a big book. A doorstop. You'd think again about picking up an extra copy if you had to carry it around for the day. Impressively, in the course of over 1000 pages, Stephen, McNamara and Goad present a staggering range of historical writings on, as the subtitle suggests, art, design and architecture spanning the middle decades of Australia's twentieth century.
Modernism and Australia is pragmatic rather than pretty, densely packed and arguably overcrowded. It is difficult to keep a paperback of this scale in shape, and everyone who owns a copy will soon find the spine looking ragged. This is for a good reason: students and academics alike will loot this collection mercilessly. Even those who question the editors' final decisions over the table of contents will find it hard not to take it as a starting point for any survey course on Australia's twentieth-century arts. And those who (can) pick it up out of interest will be impressed with the way that predictable pieces and questionable choices are far outweighed by surprising, penetrating and challenging selections. The book could have avoided most of the international writings included for context, for example, but the argument for having them there is both transparent and defensible.
The editors clearly organized Modernism and Australia with didactic ends in mind. The volume has three parts, corresponding to the periods 1917–37, 1938–49 and 1950–67, and each of these is divided into four categories: Interdisciplinary (concerning culture and "miscellaneous" arts, like flower arranging, public art and music), Visual Arts, Design and Architecture. Each entry, then, is prefaced by a contextual entry up to a page long that places the piece historically and notes its relation to other parts of the collection and, more importantly, to essays that are not included here – a move that ought to prompt much discussion about previously overlooked writings.
"Best in show" on the architecture list, which numbers a hefty 69 entries, is Robin Boyd, for whose influence over postwar architectural discourse the editors thoroughly account. Best Overend follows up, and the third architecture section ends in a crescendo of opinion and reflection on the Sydney Opera House. Among these obvious tendencies, the architecture section reflects Goad's intimate knowledge of the period and its literature, making available a number of fairly obscure writings that will now enjoy a second life.
With the book already in second printing, it will be a staple for years to come.

Andrew Leach
DESIGNING AUSTRALIA'S CITIES: CULTURE, COMMERCE AND THE CITY BEAUTIFUL 1900—1930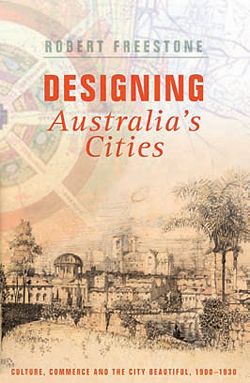 Robert Freestone, UNSW Press, 2007. $49.95.

Robert Freestone argues that the focus on urban design since the 1980s, by both government and private sector developers, harks back to the City Beautiful and its ideals of visual expression as the generator of good city form. Freestone's book Designing Australia's Cities is not only a useful sourcebook of the ideals that drove Australia's emergent planning and design professions in the early twentieth century and their aesthetic and social precedents from overseas, it is also a timely reminder that ingrained ideals of "beautification" still drive many contemporary urban design initiatives.
According to Freestone, the City Beautiful in Australia was not an overnight sensation, but rather the culmination of utopian visions, concerns over the aesthetic condition of cities and the initiatives of entrepreneurs and individuals intent on city improvements. The characteristics of the City Beautiful were order, harmony, formality and symmetry – its vision was for cities to be not only efficient, productive and safe, but also works of art.
Freestone believes that Canberra stands as our best example. The good ideas evident were focused on open space and environmental improvements, the importance of integrated design, and a commitment to enhancing the public realm. Griffin is quoted: "It was hopeless to attempt in the old ways to build up a 'town beautiful' with the selected units taken from this, that or the other style at the will of the architect or owner." The success of the Canberra plan is not in the adoption of the City Beautiful ethic, but in adapting, transforming and thereby transcending its principles.
Freestone draws parallels between the ideals inherent in the City Beautiful and the aspirations of New Urbanism – community planning based on compactness, walkability, livability, mixed uses and high design and development standards, particularly as they are formally applied to residential subdivision. So, too, the contemporary rhetoric of "place making" or "place marketing", albeit with a more balanced approach to site sustainability, streetscapes and sustainability in general. "The visual appreciation of the urban environment … and the quintessential 'bird's eye view' associated with the city beautiful has made a big comeback."
Today, "beautification" is not a popular word for designers to include in their design language. However, whether we like it or not, many of Australia's contemporary urban design projects would sit comfortably within Robert Freestone's general descriptions. And given the visual design solutions inherent in so much international design, we may be more familiar with the ideals of the City Beautiful than we care to admit. Fortunately, planning has moved beyond the narrower City Beautiful considerations of beauty, utility and aspirations for "healthy, convenient and beautiful cities" to new preoccupations with sustainability, production and livability.
Robert Freestone's book is brilliantly researched and focused. His inclusion of summary tables and illustrations is informative. As we strive for contemporary solutions to increasingly complex environmental and social imperatives, Freestone's work reminds us that schemes which are as visually resolved as those of the City Beautiful are not necessarily enough in today's context.

James Hayter