ROOM 4.1.3 INNOVATIONS IN LANDSCAPE ARCHITECTURE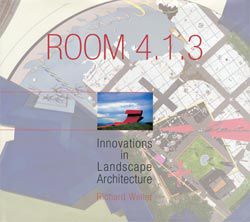 Richard Weller. University of Pennsylvania Press, 2005. $95.
This is an impressive publication. Beautifully put together, it records an impressive body of work accompanied by a series of thoughtful and challenging essays. The book is part of the Penn Studies in Landscape Architecture series, one of the most important book series on landscape architecture internationally, edited by John Dixon Hunt, the doyen of landscape academics. A monograph in this series is a great coup for Room 4.1.3.
Richard Weller introduces the book with "Inside Room 4.1.3", a personal and passionate account of the origins, ambitions and intentions of the practice. This essay conveys a seriousness and sense of urgency, but is leavened by self-reflexive, knowing wit. For example, after describing the projects as "allegorical topographies that retain their political and poetic integrity" and thereby as a "practice of resistance",Weller comments that "Not only is this politically incorrect, reeking of sulking Marxism, but it is also far too heroic". He knows his ambitions for the practice of landscape architecture are romantic and intense, but finds that for him there is no alternative.
The work itself is organized into seven thematic sections – Dialectical Geographies, Infrastructures, Event Spaces, Denatured Ecologies, Memoria, Gardens and Landmarks. These are broken into three groups separated by two sets of essays. Each project is accompanied by descriptive texts which are as ambitious and demanding as Weller's introduction. The array of projects presented includes work undertaken by Richard Weller in Berlin in the 1990s following the fall of the wall, and realized private gardens in Sydney by Vladimir Sitta, as well as many competition entries, described by Weller as "an acceptable compromise of the ideal and the real, the private and the commercial". These speculative works exist as exquisite drawings, which have been beautifully reproduced in this volume. This is the landscape equivalent of "paper architecture" – competition and unbuilt works used as vehicles to examine ideas and to generate polemic. This important tradition does not often manifest itself with such vigour in this part of the world. Built works are mostly small, with the exception of the Garden of Australian Dreams, which is generously presented at the end of the book.
The scholarly essays, by writers based in Australia, New Zealand and the US, are as lively, passionate and complex as the work itself. Nor are they afraid to comment critically on the work. Essays by Rod Barnett, Gavin Keeney, Paul Carter and Jacky Bowring address issues of signification, language and intertextuality, strong themes in the work, and the contemporary potential for a critically engaged landscape architecture. Julian Raxworthy and Peter Connolly place the work in Australian contexts, but without local blinkers. Connolly, in the wonderfully titled "Cowboy Critical", argues that the design process has an "antipodean" quality: "a playfully serious and skeptical disregard for the ponderousness of authority".
The design of the book is elegant and restrained – with its serif typeface and carefully considered layout, it is almost pretty. This works surprisingly well with the work itself – the elegance of the publication allows the work's energy to shine through. In his essay "Black Nightshade Ink", Rod Barnett writes, "Angry, moralistic, the work demands attention". This is an apt description and somehow the book as an object captures the tension between the poetic and the political, between romance, anger and hope, which suffuses the body of work, and which makes it so compelling.
JUSTINE CLARK
GREAT GLASS BUILDINGS
50 MODERN CLASSICS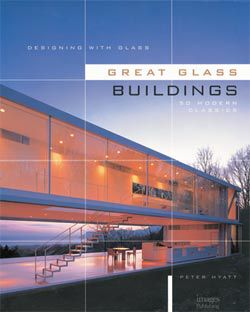 Edited by Peter Hyatt and Jennifer Hyatt. Images Publishing Group, 2004. $89.95.
The possibilities of glass architecture provided Walter Benjamin with a visual metaphor for his revolutionary desires for openness, transparency and permeability. In their introduction to Great Glass Buildings Peter Hyatt and Jennifer Hyatt set out their own agenda for glass architecture. Their "fifty modern classics" are freed of the social and political agenda that Benjamin attaches to glass architecture. They introduce fifty recent international projects by setting out the parameters for the glass architecture of a "new modernism". This new trajectory for "great glass architecture" is found in the harnessing of the material's inherent properties and exploiting its tectonic possibilities. The works presented as evidence for this account exploit the increasing sophistication of glass manufacture and its adaptiveness to demands on architecture for increased energy efficiency. The tripartite cover lines on the catalogue indicate the book's ambition. It aims to account for glass within the act of design, as a tectonic expression within architecture, and as a canon within contemporary architecture practice. Australian offerings include the atrium of Melbourne's Federation Square, Bark Design's own Sunshine Coast design studio, the transparent landscape of Andrew Nolan's Jenkins Robson House in Sydney and Cassandra Fahey's hedonistic Newman House in Melbourne's St Kilda. The generously illustrated book includes concise project statements and selected detail and explanatory drawings.
CAMERON BRUHN