CONCRETE POETRY
CONCRETE ARCHITECTURE IN AUSTRALIA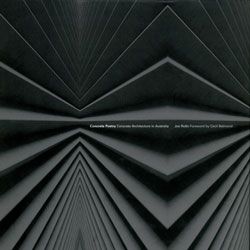 Joe Rollo, with foreword by Cecil Balmond, Cement Concrete and Aggregates Australia, 2004. $125.
This beautifully illustrated book juxtaposes thirty-six disparate buildings and structures that exemplify the inspired use of concrete. It is accurately described in promotional material as "a personal journey" by its author Joe Rollo that celebrates "the power and grace of concrete in architecture". While the text is predominantly descriptive, the wonderful photographs by Max Dupain, David Moore, John Gollings and others give a palpable sense of the material, the tough essence of which seems to rise off each page. This is despite the ability to make concrete into shapes and forms that could otherwise be described as gentle or fluid. For example Loder and Bayly's underground car park at Melbourne University (one of my favourites), which has a certain ancient, cistern-like presence. Or the abrasivelooking sound abatement barriers on the Bell-Banksia Link in Melbourne by Cocks, Carmichael, Whitford (1992); Donovan Hill's C House in Brisbane; and of course Australia Square and the Sydney Opera House. From these few examples it is easy to see the kind of diverse projects represented here and to imagine the rather startling effect achieved by placing on adjacent pages images of buildings such as Denton Corker Marshall's severe sheep station buildings of 1996–97 and the 1959 Australian Academy of Science building in Canberra by Grounds, Romberg and Boyd. The former photographed in colour by Tim Griffith and John Gollings and the latter in Max Dupain black and white. In most cases the accompanying text is placed at right angles to the images, which makes for much physical exercise while reading and looking at the photos.
Despite its untheorized nature, or perhaps because of it and the consequent understanding of concrete gained mainly through looking at the photographs, this book forms a valuable addition to a growing body of work dealing with the materials of architecture in a non-technical way. It would certainly be useful for students, who often want to use concrete in their design projects but have trouble describing or representing what this really means and the huge range of possibilities it offers.
SAM RIDGEWAY
THE ARCHITECTURE OF FUMIHIKO MAKI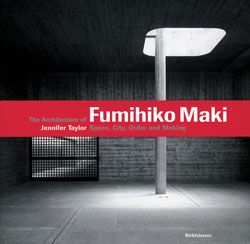 Jennifer Taylor, Birkhauser, 2003. $126.
I recall arriving late, six years ago, to the opening of an exhibition of Fumihiko Maki's works at Gallery Ma, Tokyo, and walking into a crowd with confused, almost dazed, looks in their eyes, many mumbling (the Japanese equivalent of) "Jesus Christ! He's getting even better as he gets older!" Some of the works on display – works under construction at the time – were known from illustrations in magazines, but almost no-one was prepared for their cumulative impact in the exhibition, which was overwhelming. To an extent Maki, as a supreme Master, had been considered to reside in the cosy Land of the Legendary, leaving the cut and thrust of everyday architectural innovation to Isozaki, Ito and Ando, et cetera. This small exhibition of Maki's extraordinarily inventive work changed all that, forcing a seismic shift in everyone's ranking of who occupied the cutting edge.
Hence the dazed look in their eyes.
This was not the renaissance of Maki, but a moment of reassessment in which it became clear, as it should always have been, that Maki is not, despite his seniority, a historical figure, but is a very active contemporary architect of brilliance.
Jennifer Taylor expresses this well in her new analysis of Maki and his architecture. Her book is not a retrospective trawl through his career – the usual form of a monograph – but an investigation and interpretation of the key themes that underlie Maki's thoughts and works of all periods, including the present. The book is unusually structured, with preliminary essays on Space, City, Order and Making which discuss the origins of these issues within Maki's thinking, followed by more focused essays charting the articulation of these same themes in his recent and current architecture.
A graduate of the prestigious University of Tokyo and one of the founding members of the Metabolist Group, Maki took a Master of Architecture at the Cranbrook Academy of Art in 1953, and a further MArch from the Harvard Graduate School of Design in 1954.
He subsequently worked for Skidmore, Owings and Merrill, and for Josep Lluis Sert, and taught at Harvard and at Washington University. Consequently, Taylor explains, Maki can be thought of as the most "Western" of Japan's leading architects, but this is to miss the "Japanese" reading of his works which resides not in their forms or materials but in their spatial organization. "In Maki's architecture … the precedence given to interior space over exterior appearance, and the very nature of the arrangement and connection of the functionally generated spaces, would seem also to be descended from the compositional techniques common in Japan since the feudal period." ›› Taylor's scholarship and her familiarity with her subject and with his subjects – Taylor and Maki first met twenty-seven years ago – sets her book apart. Its thoughtful narrative invites contemplation and reflection. Her chapter titles – Space, City, Order, Making – are, she explains, recurrent themes which have engaged the thinking and the pencil of Maki throughout his career.
"Space has been continually addressed as the matter of architecture, the city as architecture's central responsibility, order as that which gives form, and making as that which materialises the intentions. These we can view as threads continuously present in Maki's mind. With these threads he creates a woven strand, the cross section of which becomes a piece of architecture at each particular time." Depending on the site, the brief and other factors, various threads will assume greater importance and may adopt different characteristics which will identify the work as being of a new era, "so, while the threads may be ever present, their effect and contribution to the design outcome will be determined by the evolving circumstances." ›› In other words, the crowd at the Gallery Ma opening party ought not to have been taken by surprise. The experimentation and the innocent delight in creativity encapsulated in the exhibited Floating Pavilion in Groningen, Holland; in the Tokyo Church of Christ; in Makuhari Messe 2; and particularly in the exquisitely poetic Kaze-no-Oka Crematorium – which blew through the sometimes uptight and self-consciously sophisticated world of Tokyo architecture like a gust of chill, fresh air – are understandable when considered within Maki's entire oeuvre.
Although supported by numerous beautiful photographs, especially of Maki's interiors, this handsomely designed volume falls short in its layout. A number of buildings to which Taylor refers in her text are not illustrated – the reader cannot be assumed to have previous knowledge of the Isar Buropark in Munich, for example. Other buildings are insufficiently illustrated, and many illustrations are curiously out of sync with the text, often appearing on the page after the page on which they are described.
(The Makuhari Messe 1, illustrated on page 30, is described on pages 79 and 81.) To compound the problem, the illustrations are not numbered, making it impossible for them to be keyed to the text. Ideally, Taylor's book would be boxed with a second, supporting volume of sketches, drawings and photographs which could be studied simultaneously with the present book, which in all other respects must be the definitive work.
PROFESSOR TOM HENEGHAN