De-placing difference: architecture, culture and imaginative geography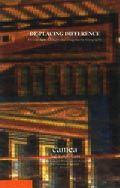 Edited by Samer Akkach. Centre for Asian and Middle Eastern Architecture, The University of Adelaide, 2002, $45.
This serious, scholarly publication bears the marks of its origins as the proceedings of the Third International Symposium of the Centre for Asian and Middle Eastern Studies (CAMEA). However, it also moves beyond this – by carefully compiling and framing a selection of papers in book form, CAMEA aims to have wider effect. This is admirable.
CAMEA attempts to explore "crosscultural dispositions" in architecture and landscape architecture, and "to articulate a discursive space situated in-between the architectures of the West and the non-West".
This volume addresses this "in-between" space as a productive space for thinking about place, difference and culture. In doing so it provides an insight into the complex work being undertaken in this fraught but fascinating field. Much of this work is wellknown within academia, but not beyond. Yet, as Peter Scriver demonstrates in his introduction to the "place" section, these writers have much to contribute to broader cultural and architectural discussions.
The material is compelling in its diversity.
For example, Mike Austin on Papua New Guinea, Sandra Kaji-O'Grady on Arakawa and Gins, Estela Duque's subaltern reading of Rapoport, Greg Cowan's "Tents and Political Occupations of Australia", Sarah Treadwell's lyrical writing about moire as an architectural strategy, and Peter Scriver's account of Australia's Afghan cameleers (set against their compatriots' current experiences).
Architecture is notorious for taking up theoretical discourses, turning them into styles, and discarding them when no longer fashionable. Postcolonialism seems, so far, to have resisted this process. Yet it has had significant impacts on the way scholars approach their work. This publication helps make this scholarly work available to the rest of us, and one hopes that such cross-cultural encounters will also have an effect on broader architectural practices and activities – on the way that architects work, not just on the styles in which they build. This is crucial if we are to live, think and work in this part of the world in any ongoing meaningful way.
Justine Clark
Sydney sandstone

Gary Deirmendjian. Craftsman House, $88.
Aimed at a general audience, this book is an affectionate account of the stone that, Gary Deirmendjian and his contributors argue, gave early Sydney its character and which continues to signify the city in many ways. It is an unashamedly celebratory volume produced, Deirmendjian writes, "in the hope that it may warm the hearts of the unaware and inspire increased sensitivity to the stone's many charms".
Colour photographs comprise the bulk of the book. These are organised into sections that mostly correspond to a building type – Places of Learning, Places of Worship, Public Buildings, Commerce and Trade – but the last two sections, Out and About and Greater Sydney, include less easily categorised manifestations of the stone: walls; sculptures; drinking fountains; kerbs; sandstone outcrops hewn by hand, by machine and by sea.
The photographic sections are separated by short essays from eminent public figures.
These chart a sequential story of the stone, moving from Tim Flannery's account of the geological formation of Sydney sandstone, through Shirley Fitzgerald's description of the processes of quarrying, Philip Cox's outline of architecture, James Broadbent's discussion of the attitudes and character that the stone lends the city, to Debby Cramer's story of the stonemason's craft. This plurality of approaches provides a brief but rounded understanding of the cultural and historical role of sandstone in the life of the city. The overall focus is on the way that landscape has, quite literally, been transformed into city, or, as Shirley Fitzgerald puts it, writing of "convicts hacking into the rocky outcrops", "Sydneysiders have been rearranging the rock ever since". This is not a demanding book, but it is an engaging one.
Justine Clark
Architectural theory review, vol 7 no 1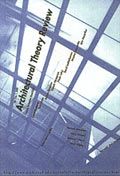 Guest edited by Gevork Hartoonian, $17.50.
Architectural Theory Review is one of a number of academic journals on architecture produced in this country with very limited circulation outside their narrow specialist audiences. In the past, it seems ATR has tried to make itself as unattractive as possible to a wider audience, with its clunky layout and the world's ugliest font in its masthead. By the look of the latest issue, things are changing, and this impression is confirmed by a perusal of the contents. Guest-edited by Gevork Hartoonian, it demonstrates a degree of ambition and engagement with wide architectural issues that was not often demonstrated in previous numbers.
In his introductory editorial, Hartoonian establishes the general theme of "critical practice". He means by this modes of architecture which neither celebrate the "regime" of late capitalism nor veil its operations, but rather open up space for reflection within it. He explicitly connects the imperative for such a critical practice with the need to negotiate with "the other" – an "anybody" whose subjectivity corresponds not to the rational accomplishments of Modernism but rather to those spaces of "inbetweeness" it produces. This is a theme with particular resonance in Australia today, but no contributors took up this particular challenge. Nevertheless, the abstract "other" haunts much of the volume. Andrew Benjamin examines this through the idea of the cosmopolitan, arguing for an experimental cosmopolis against the return to place advocated by many critics of late Modernism. This he defines as "a complex spacing without end". Papers by Mirjana Lozanovska and Nadir Lahiji – about post-war Beirut and post-wall Berlin – suggest that the "spacing" of the modern has often been attended by a certain violence. Ezra Akcan examines "the other" through the proliferating lenses of postcolonial discourse.
She rejects the incommensurability of different cultural experiences and calls for a non-Eurocentric definition of universality. But what would this mean for architecture?
Another line of inquiry is architecture's critical propensity, considered rather more autonomously. David Leatherbarrow insists that all architectural work involves both "a yes and a no to existing conditions", and proposes designers should say "no" more often, that is, they should more often suggest innovation in the project's social and programmatic conditions. John Macarthur's sophisticated piece on minimalism in contemporary architecture finds a "no" operating in some modes of neo-modernism which he persuasively describes as "being real things made out of dead ideas". Mark Jarzombek suggests the need for a meta- or post-criticism that would negotiate the alarming gaps opening up between architectural practices variously driven by sustainability imperatives, advanced computation, new urbanism, and the theoretical ambitions cultivated by the discipline since the 1980s.
In the middle of all this wealth, Hartoonian offers the reader the apparent treat of a clutch of interviews with his former colleagues at Columbia University: Kenneth Frampton, Mary McLeod, Bernard Tschumi and Mark Wigley. These figures are widely published, so these polished interactions yield little that feels new in comparison with the rest of the journal's content. But Wigley's equation of architecture with New Zealand, and architects with New Zealanders, is amusing and apt. In the socio-political realm, architecture is at the very antipodes of anything that matters, but it is this distance that can give it (as it gave him) the gauche chutzpah to somehow make a difference.
Paul Walker