The culture driven workplace: Using your company's knowledge to design the office
David Week. RAIA Education Division, 2002. $38.50.
David Week's book, published by the RAIA and written with the support of a Sisalation Scholarship, is a three-part conversation on transformations of the workplace. It starts by describing the organizational changes purportedly brought about inside the office by the knowledge economy, information technology, and shifting geographies of employment. This analysis is then used as a platform to explore the possibility of adapting workplace characteristics to companies' socio-technical cultures rather than business profiles or strict functional space requirements.
Whilst I found the underlying small-scale, topological design agenda interesting and worth pursuing, the structure of the book seems wanting in direction and rigour. One of the problems, I think, is the generic nature of its target audience ("anyone trying to get a handle on how to use workspace constructively"), combined with the encyclopaedic scope of the intended analysis, from workstation to region. This results, inevitably, in the t ext that privileges breadth over depth, with a consequent tendency to scatter, oversimplify and overdetermine.
In spite of the author's stated fondness for a new hermeneutic approach to office design, the book reviews and accepts, seemingly at face value, situations, expressions and hypotheses which – in my opinion – should still be taken with a grain of salt. Terms such as "knowledge economy" and "post-industrial society", for example, are loaded and multifaceted; they should not only be weighed carefully and applied selectively, but also discussed critically. The same goes for the structure of labour in service sectors, spatial location trends, skilling dynamics, and so forth.
Week, by contrast, and in line with the management studies literature which forms the cultural and methodological backbone of his writing, uses what are at best partial scenarios as apparently unquestionable premises for his workplace redefinition theory, turning future possibilities into current realities. (It would be interesting to see whether stronger reliance on labour studies and social theory could change one's perception and description of the industrial context.)
Mainly anecdotal evidence, coming either from secondary sources or the author's personal work experience, supports Week's optimistic analytical approach. The eclectic variety of examples from office practice restructuring makes for a slightly haphazard and yet enjoyable read, occasionally providing material for important reflection, especially when suggesting the need for designers to reconsider and update their workspace pattern language.
In the end, however, the strength of Week's potential contribution is greatly diluted by an overambitious structure, which may sound interesting in principle, but which struggles to bring theory and practice convincingly together.
PAOLO TOMBESI
Repressed spaces: The poetics of agoraphobia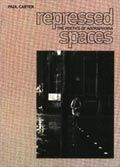 Paul Carter. Reaktion Books, 2002. $49.95
This book, the third by Melbourne-based artist and academic Paul Carter, traces "agoraphobia", the fear of open public spaces, through a rigorous historical survey of the meaning of the word over time. This is done in a concise and lyrical manner, which is both entertaining and informative, while (unusually) maintaining its' academic and critical aspects. Carter effortlessly engages both theory and practice, making this an important text for all those interested in the design/production of space, and in the increasingly popular notion of the loss of place (or public).
The framework for the study is developed through etymological analysis, setting up a referential arena in which the "agora", a traditional and necessarily public place of meeting and assembly, and "phobia", or fear, are investigated. Agoraphobia is then fruitfully explored as a "movement inhibition" which is revealed through a dialogue between agoraphobia as a spatial condition and agoraphobia as a pathological condition.
Carter argues that Freud (himself an agoraphobe) cast aside thoughts of the environmental origins of agoraphobia in favour of his own theoretical constructions, namely the unconscious, the boundaries of the Oedipal complex, and rational science. He also argues that "space theoreticians" and practitioners have historically failed to capture the essence of public space. Carter investigates agoraphobia as a "place making" anxiety, and more particularly, an anxiety about "meeting" places. The demonstration of this in local terms, through notions of colonial expansion, is insightful.
The arguments made for a "poetics" of space, and his explorations of poetics, operate as a tool with which Carter negotiates the complexities between theory and practice. Filmic experience is used to demonstrate an "agoraphobic poetics", and Carter presents an architectural example of this poetic practice through the sculptor Alberto Giacometti, and the composition and production of space in his work. This is an interesting association, and worthy of contemporary development.
In one of the more revealing moments of the book Carter argues for a "historical selfawareness".
This is articulated in simple terms as the relationship between site and memory, but is critiqued in terms of the lack of differentiation between "representational" space and "representations of" space. This is a critique of both the construction of public space, and the way in which this space is conceptualized. It explores the traces between historical space, ideological constructions, and the meaningful production of new space.
This book is an important contribution to the broader understanding of poetic practice in architectural production. If anything, it makes clear the importance of reading to architectural practice, which, in Carter's view, will lead to the "cultivation of a sociable and erotic art of meeting" and the search for "a multiple point of view, free of nostalgia for the one".
CHRIS PRICE
Art Works: Drawings by Ken Woolley

Images Publishing, 2002. $24.95.
This is the catalogue for an exhibition of the same name at the New England Regional Art Museum. It comprises a collection of Ken Woolley's accomplished travel sketches along with brief introductory texts by Woolley and curator Leigh Summers. The drawings are skilful, simultaneously conveying Woolley's interest in the places he draws, the delight of drawing as an act, and the romance of travel. They conjure up images of the architect, sketchbook in hand, coming to understand something about a place through the act of drawing. As such, they are in the tradition of the architect's sketchbook, with its antecedents in the grand tour.
Summers' argues that architecture is "an art" and that, therefore, these drawings are "art". This slip is problematic. The drawings of architects are fascinating, important and informative – a crucial aspect of the art of architecture – but is naming them "Art" the best way to convey this value? Woolley's short comments are more illuminating. They canvas the materials used, the difference between looking and seeing, the different, and incommensurate roles played by photography and drawing in coming to understand something about a place.
The kind of skill demonstrated in this book is one that may now be fading as architects draw less and less by hand.
Publications like this give us pause to think about what architecture is losing as we stop drawing, and to wonder what opportunities the discipline will find in new representational systems.
JUSTINE CLARK