CANBERRA ARCHITECTURE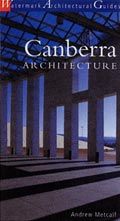 Andrew Metcalf. Watermark Architectural Guides, 2003. $39.60.
The latest in this series of architectural guide books, Andrew Metcalf's guide to Canberra is a welcome addition to both the series and to publishing on Australian architecture.
Discussions of Canberra architecture tend either to centre around the Griffins' competition-winning plan or to focus on key buildings, such as Parliament House or the National Museum of Australia. (Among the rare exceptions to this are Jennifer Taylor's chapter on Canberra in Australian Architecture Since 1960 and Ken Charlton's Federal Capital Architecture: Canberra 1911- 1939). Canberra Architecture offers a significantly broader picture of Canberra's built heritage, profiling buildings from its rural beginnings, through the Canberra competition, early government designs of the 1920s and 1930s, the buildings of bureaucracy in the 1950s and 1960s, to the major projects of the 1970s and beyond, as well as including many significant houses from all eras.
The guide also offers some very welcome improvements on the previous guides to Sydney and Melbourne, most noticeably the inclusion of illustrations in full colour, photographed by Simon Blackall. The photographs are something of a historical record in themselves, as a couple – with their vivid orange sky – were evidently taken during the recent fires. The coloured end papers, an aerial photograph of the Canberra area, are also a good addition, showing the built outcome of the Griffins' plan, and complementing the drawings that accompany Roger Pegrum's essay on the Canberra site.
But other variations in the format are not so welcome: Metcalf has sought to identify the individual designer of each building, noting (but not always) their firm in brackets, and he often separates the dates of the building and any subsequent works from the names of the architects. This leads to some quite confusing citations, such as Yarralumla where the unsuspecting would assume that the Department of Works was involved in the 1891 construction of the original homestead.
Similarly Roy Simpson's involvement in Canberra Grammar does not begin in 1929, as suggested by its citation, but in the 1960s, and then as part of the firm of Yuncken Freeman. Adherence to the format of citation of architects and dates as used in previous guides would have considerably lessened such potential for confusion.
The arrangement of the guide also departs from the chronological organization of entries of earlier guides, instead using geographical divisions. This change suits the needs of a guide book, making it easier to use "on the ground", but it diminishes the usefulness of the book in providing a de facto architectural history of the city.
The book concludes with a series of biographies of architects who have played a significant role in Canberra's architecture.
These biographies are an illuminating addition to the building entries, although in this case some of the more well-known architects, such as Harry Seidler and Roy Grounds, are treated with remarkable brevity.
It is also a pity that John Sulman's contribution to the development of Canberra was not recognized with a biography.
As with other Watermark guides, Canberra Architecture will be of great use to anyone interested in Australian architecture, offering a compact and comprehensive guide to the city's architectural development.
The range of works revealed by Metcalf demonstrates a finer architectural pedigree than is often credited to the much-maligned Canberra, making the guide a very valuable contribution to the study of Australian architecture.
JULIE WILLIS
SURFACE CONSCIOUSNESS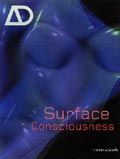 Edited by Mark Taylor. AD vol 2, 2003. Wiley. $66.95.
The total surface area of this issue, thematically dedicated to "surface consciousness", including all pages, cover and spine, is 8.380422 metres squared.
Laid out flat it would cover a surface of 4.190211 metres squared (enough to comfortably wrap two adults and a baby).
The 303 illustrations in this 128-page document, many of which are very small, occupy 68 percent of the total surface area.
While the authors' preoccupations outside this volume are diverse, the emphasis in the layout on pictorial surface, presents the theme as divorced of materiality. For example, A sequence of five images captioned "Perplications in five unalloyed metals (bronze, silver, copper, lead and gold)" collapses surface into image. It depicts ripples repeated in five different hues. The divergent physical properties of metals would presumably alter the shape, vigour and pattern of ripples, yet there is no evidence that qualities other than colour and sheen have been considered. This is despite the authors' stated desire to amalgamate digital and physical tectonics.
The publication has weight – 585 grams to be exact – but too little of this is intellectual. Replete with eye candy, the discussion of surface is rendered sweet and persuasive, but is ultimately insubstantial.
The word surface, used as a noun (the external layer or outer face of anything, the outside, the exterior, outward appearance) or as a transitive verb (to cover with a special surface) peppers the pages, appearing on one page twenty-five times, or at a frequency of once every twenty words. In contrast, the word consciousness, appears only once outside of the title, in a footnote referencing Avital Ronnel's observations on the unconscious as an apparatus that sends out proxies and delegates which often miss their mark. The surfacing of repressed memories to consciousness entails a codification that demands an expert listener.
Surfacing renders surfaces illegible.
There are fourteen contributors, and thirteen admit to an ongoing full or part-time academic appointment. Six currently reside in Australia and four in New Zealand.
Already in the selection of authors (with whom I share a great deal) there is a narrowing of social (and geographical) location, with implications for access and attitude to the technologies of digital surface. Is this phenomenon centred in Australasia and why? What political and social conditions support electronica enthusiasts located within the academy to experiment with imaging toys developed in the defence and entertainment industries?
How is it then possible for graphic formal exercises, divorced from questions of occupation and urban context, to be argued as significant architecture? Are imaging experiments the most urgent and relevant activity for teams of architectural researchers with considerable expertise, resources and creativity?
It is not that some of the work here has not been of significant value to industry, it has, and there are interesting discussions of surface in relation to built projects in Australia and abroad. But there are difficult questions to be asked as to how one might distinguish innovation from formal novelty.
Certainly, the better projects under discussion here are those that address problems of an extra-formal nature.
Imaging technologies are the child of the ocular project of the Enlightenment and some critical thought needs to be given to this inheritance and the ways in which science and art maintain or offer alternatives to the dream of technological progress. More is required than rummaging through philosophy and mathematics in search of inspiration and legitimation. The volume contains references to things Deleuzian, sifted through secondary sources.
Descartes, and Euclid, taking the blame for all things orthogonal, are referred to only in the negative while Newton gets off scot-free.
Mathematicians and scientists such as Bates, Klein, Somorjai, D'Arcy Thompson are referenced, but Einstein and Minkowski not.
Avrum Stroll, author of Surfaces (1988), is a ubiquitous source, as is the nineteenthcentury architectural historian and theorist Gottfried Semper. Husserl and Derrida, who each write ebulliently about the matters at hand are clearly out of fashion, as are Freud and Lacan, despite titular expectations and their fascination with mirrored surfaces.
Amongst a disappointingly predictable array, Sarah Treadwell's exceptional piece offers up volcanoes, fantasy cinema and missionary engravers in an essay on the instability of ground as architectural foundation. She reminds us that architecture, while having a parallel existence on the surfaces of paper and computer screens, also rests upon the earth where we struggle with others and with the forces of nature to wrest geological surface (too often conceived as a blank page) into occupied territory, surfaces in which we are permanently etched.
SANDRA KAJI-O'GRADY
THE GRAND TOUR TRAVELLING THE WORLD WITH AN ARCHITECT'S EYE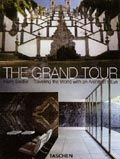 Harry Seidler. Taschen, 2003. $65.
If there was any book to induce architect's envy this is it. Harry Seidler's collection of more than 900 photographs, compiled from over fifty years of architectural globetrotting, is encyclopaedic in scale and daunting for the distance he has travelled. From Karnak to Beijing, Dubrovnik to Isfahan, Brasilia to Machu Picchu, St Petersburg to Angkor Wat, Seidler has not only seen it all, but taken stunning images of most of the great moments in architectural history. Seidler admits to his secret: the very good advice that his photographer brother Marcell (1919- 1977) gave him – only use Leica cameras and Kodachrome film.
I found myself trying to compete with what I have seen, only to be left way, way behind. I have seen some of the same buildings, gone to some of the same places but often to look at and photograph different things. Seidler's selection is, as one would expect, very personal. His choice of twentieth-century buildings is intriguing.
There are classics like Peter Behrens's AEG Turbine Hall, Berlin (1908) and Le Corbusier's Villa Savoye (but in the snow) and discoveries like Pedro Ramírez Vazquez's dynamic Anthropological Museum, Mexico City (1964).
There are also possible inspirations for his own work, buildings like Pier Luigi Nervi's Palazzetto dello Sport, Rome (1957), Oscar Niemeyer's Copan Building, Sao Paolo (1951) and Marcel Breuer's Koerfer House, Moscia, Switzerland (1963). His images of cities and urban scenes also give great clues to his understanding of public space and urban design.
The Australian section is frustratingly thin – I want to see more of his own visual reflections on our architecture culture, and also his images of his work. But perhaps this will (and should) be another book.
Seidler dedicates The Grand Tour to his wife Penelope. She appears in dozens of the photographs. It is a fitting gesture, emblematic of a life together and a shared passion for travel and architecture. Penelope also contributes a photograph – one of the inveterate traveller himself in Sayil in Mexico, and, as is to be expected, he is pictured taking a photograph.
PHILIP GOAD
HOUSING DESIGN IN INDIGENOUS AUSTRALIA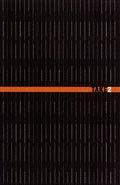 Edited by Paul Memmott with Catherine Chambers. Take 2, Royal Australian Institute of Architects, 2003. $36.30.
For those not especially familiar with the issues and complexities surrounding housing in Australia's Indigenous communities, this is a rewarding read – one that provides small windows onto worlds which are a fundamental part of contemporary Australia, but which rarely impact on mainstream architectural culture. In their introduction to the volume, Paul Memmott and Carroll Go- Sam observe that Indigenous housing has become a sub-discipline within architecture.
They also point out that while important books on Aboriginal housing have been published, they are mostly anthropological in nature. This means that Take 2: Housing Design in Indigenous Australia is the first publication to present a range of Indigenous housing design issues and strategies to the broad architectural public. And, with its readable prose and smart design, the volume makes such material easily accessible. Even for the reader whose own professional focus does not directly involve such work, this is a fascinating and worthwhile book.
Paul Memmott has gathered together a strong group of contributors, all of whom have direct experience as architects working with Indigenous clients. Such experiences provide the basis for the volume, and the essays range from how to deal with the pragmatics of extreme climates and environments, the challenge of termites, issues of health and funding, to complex cultural contexts – avoidance behaviour, sorcery et cetera. Memmott and Go-Sam situate this work by identifying three paradigms – the cultural design paradigm, the environmental health paradigm and the housing-as-process paradigm – and they suggest that the project ahead is to find ways of reconciling all three paradigms within design processes.
For me, the most engaging essays are those where the subjectivity of the writer/architect also comes into play. For example, Paul Haar writes affectionately about his "youthful enthusiasm" for self-help housing, while Philip Kirke gives an account of his experiences working with the Martu in the Western Desert where, for him, "the best projects were built on friendship and enthusiasm". The presence of the authors in their texts reminds us that the built work is the outcome of cross-cultural encounters.
As Haar writes, Aboriginal clients are not "needy recipients of our expertise", but "equal partners in developing a just and vital Australia".
Other writers describe quite specific cultural situations in some detail – for example Cathy Keys on Warlpiri women's jilimi and Shaneen Fantin on Yolgnu cultural imperatives – and make suggestions about how an architect might proceed in such contexts. This specificity brings home the diversity of Indigenous cultures in Australia and reminds us that blanket solutions are rarely satisfactory.
Most of the writers record lessons learnt in remote situations, but the book ends with a description, by Col James, Angela Pitts and Dillon Kombumerri, of the issues and social factors surrounding Aboriginal housing in Redfern's "The Block". In addition to disseminating useful design information, this is an important reminder of the different sets of concerns faced by urbanized Indigenous communities.
The book has ony two Aboriginal contributors, both architects, but hopefully, this volume will also act as a catalyst for further publications. Perhaps in these we might also hear more from the other contributors to this cross-cultural encounter.
JUSTINE CLARK