Tall Buildings: Australian Buildings Going Up, 1945-1970

Jennifer Taylor. Craftsman House, $110. ›› This book examines the remaking of Australian cities in the euphoric and optimistic post-war period. Its focus is a building type – the office highrise – that has not been taken seriously in this country's architectural history; what counts here is touching the ground lightly, something big buildings find hard to do. As principal author, Jennifer Taylor is responsible for the book's first section – with two introductory chapters – and the second, which offers a densely referenced chronology of pertinent buildings of the fifties and sixties, almost a catalogue raisonne. This will be useful to subsequent researchers. The third section – co-written by Taylor and Susan Stewart – examines urban, environmental and constructional issues. The final part of the book is a series of essays by other eminent architects and architectural historians on notable highrise exemplars. These essays are engaging. They address not only different buildings, but also different themes. Andrew Metcalf's piece on Bunning and Madden's ANZAC House and Liner House in Sydney is a beautifully written examination of influence. In her chapter on Woods Bagot's Advertiser Building in Adelaide, Judith Brine considers the role of architecture in the client's desire to project an image of progress. As well as describing a notable building's provenance, Geoffrey London's chapter on Perth's Council House traces the ironies of modernism-become-heritage, and the fate of modernist idealism in the face of current market "realism". Neville Quarry offers a delightful analysis of the patterns of sociality sustained in Seidler's Australia Square. While he acknowledges the criticisms of the towers-in-landscape paradigm, Quarry nevertheless finds merit in the dispersal of a few fragments of this kind through the contemporary city. This argument relates to that put by Colin Rowe and Fred Koetter in their 1978 book Collage City. It is a shortcoming of Tall Buildings that, despite a general introduction, it fails to put the Australian experience within a wider discursive context wherein the local situation could be seen against such critiques generated elsewhere. Nor is any conclusion offered that might draw wider lessons from locally gleaned insights. Tall Buildings is beautifully produced, illustrated with judicious drawings and outstanding period photographs. It is notable for energising an important line of inquiry that deserves to be taken further.
Paul Walker
Aurora Place: Renzo Piano, Sydney

Andrew Metcalf. Watermark Press, $99.%br% Books and buildings clash head on when the book wants to celebrate architecture.
Victor Hugo suggested that the invention of printing would kill the commemorative dimension of architecture. The reverse is also true: the spatial and narrative dimension of a book evaporates when architecture wants to be textual. I am not playing with words, but, lets face it, in our time buildings are experienced mostly through books. This is perhaps inevitable when, more than ever, architecture has been dragged into the commodity world to satisfy the demands of the culture industry. There are books that theorise architecture; books that historicise architecture, and there are those that – thanks to the techniques of graphic design – are chic and suitable for the "coffee table".
Andrew Metcalf's Aurora Place, illustrated with Martin van der Wal's photographs, is a book of different kind. This might be called a "catalogue" book, and a good one. Just take a look at the contents of the book and you will see what I mean by "catalogue". Metcalf introduces the Aurora Place building through chapters that weave technical and product information with insightful theoretical issues that are pertinent to current architectural debates, but that are also relevant to the breadth of Renzo Piano's architecture.
Placing the building in the morphology of Sydney, Metcalf discusses a number of issues that I would summarise in the following three points. Firstly, the synergic dimension of architecture in general, and Piano's Workshop operation in particular, could be associated with the production of film where the idea is realised through the cooperation of many industries. Secondly, if the cut and montage are essential to cinematography, so too is the tectonic essential for architecture. Underlining this last point, Metcalf correctly suggests that technical drawings "reflect the collaborative context in which designs are created".
Technical drawings also demonstrate the dialogical relationship between the art-form and the core-form, as discussed by Gottfried Semper. The import of the tectonic is peppered throughout Metcalf's text, showing the author's competence in contemporary architectural debates. Thirdly, architecture, like movies, is appropriated by the masses – buildings enter not only into the process of commodity production, but also into the world of tourism. This could be the destiny of architecture in modernity; an important subject that Metcalf is seemingly aware of but comes short of discussing in his text.
While the book suffers from minor editorial glitches, I would recommend it to both academicians and practitioners.
Gevork Hartoonian
The Architecture Of East Australia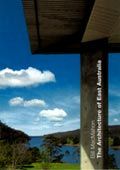 Bill McMahon. Edition Axel Menges, $75.%br% The appearance of any guidebook to Australian architecture is to be welcomed.
As surrogate histories, guidebooks can perform an important role. Bill McMahon's The Architecture of East Australia is a handsomely produced publication with excellent photographs by Eric Sierins and Max Dupain. From the outset, it promises well. With the ambitious statement in the preface that "the inclusions in this book will comprehensively describe (in detailed terms) the history of Australian architecture", it promises even more.
Published in Stuttgart, the book appears to have been targeted at an international audience – it is for those who are to fly into Sydney and dart around the eastern seaboard – hence the curious (and locally never used) title, "East Australia". This is a place which apparently includes every state except the Northern Territory and Western Australia. It is a pity. Little effort would have been required to include them. However, the attempt to cover architecture in provincial Australia is commendable, and country NSW and Tasmania score well in this regard. Yet entries for Ballarat and Bendigo are too modest and there is no mention at all of regional Queensland, and especially places like Charters Towers, Gympie, or Normanton.
Again this is curious given the maps which accompany each chapter, and which imply tripping across the nation in search of buildings.
An opportunity exists for a guidebook that covers all of Australia, and especially its regional architecture. This is a first and useful attempt and praise is due. But, as a selection, it is partial and regrettably careless with facts. Particularly galling are the spelling bloopers of important architect's names like J. J. Clark and Emil Sodersten and notable omissions like English architect William Butterfield's two largest works in Adelaide and Melbourne. It also seems pointless to list country buildings that have no clear address and are then are listed as having no public access.
Philip Goad
Twentieth Century Architecture In Woollongong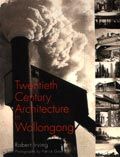 Robert Irving, Woollongong City Council, $29.95.%br% This publication is scholarly and detailed in every respect. Complete with glossary, chronology, bibliography and footnotes, it is a work typical of Irving's respected and methodical empirical research. Arranged chronologically and carefully qualified by Irving as to the veracity of such a technique, the text is accompanied by Patrick Grant's photographs. The images of industrial architecture and the lighthouses are the most compelling, and bring Woollongong to life, highlighting the city's association with its coke works and BHP's smelting plants at Port Kembla. There are also surprises for the architectural enthusiast like the vast Spanish style Woonona Co-operative Society Bakery (1928) or Norman McPherson's St Mark's Anglican Church in West Woollongong (1963), a stunning example of alternative postwar religious architecture.
Yet for such a detailed study, I wanted to know more about the architectural and social personalities that made modern Woollongong, Australia's ninth largest city, and also its place or non-place in Australian architectural history. I also wanted maps, not only to pinpoint the scope and shape of growth of this provincial centre but also to understand what sort of urbanism these buildings were located within. Such an addition would have ameliorated the book's taxonomic tendency. Irving has done a great service to the industrial town. Other regional centres like Geelong, Broken Hill, Bathurst and Kalgoorlie should look at his book with interest. Of any city in Australia, it is Canberra that deserves a book such as this. Irving's important volume proves that publishing the unknown and forgotten can reap great rewards. It also proves that the capital cities should not be regarded as having a monopoly on our architectural history.
Philip Goad
The Modern Movement In Architecture, Selections From The Docomomo Registers

Edited by Dennis Sharpe and Catherine Cooke. 010 Publishers, $70.95.%br% 1982: Hubert-Jan Henket and Wessel de Jonge are invited by the Dutch government to advise on how to deal with ailing modernist buildings in the Netherlands. To their great surprise they discover similar groups operating in an ad hoc way in other countries. 1988: DOCOMOMO is formed (it stands for the DOcumentation and COnservation of MOdern MOvement architecture and urbanism).
This book is the result of 30 out of the 40 international DOCOMOMO groups submitting 20 buildings each plus text, a sample of the register held in Rotterdam. Australia's is the second entry in this alphabetically ordered book. The essay, by Jennifer Hill, Noni Boyd, Scott Robinson and Harry Margalit, emphasises the presence of many modernisms in Australia, starting in the mid 1930s, reinventing itself in the 1950s and again in the 1960s. The buildings themselves are familiar, but their place in the international context is not.
Chronological or stylistic classifications, common in history books, are absent: regional difference is the key. In an introductory essay, Dennis Sharp argues this cannot be viewed as a history book because it has no editorial agenda, rather it is simply shedding light. The layout is consistent: small black and white photographs - teasing, revealing little – some contemporary, others taken shortly after construction.
Sharp suggests this is the first book to cover such a wide range of built examples, and demonstrates the diaspora of modern architecture – not a uniform International Style "but a series of 'Modern Movements' occurring in various parts of the world".
Why preserve modernism? Maristella Casciato quotes Calvino: "Memory has true value only if the traces of the past and projects for the future are held together, if it makes it possible to do what one wanted to do without forgetting, becoming while never ceasing to become."
Toby Horrocks
William Hardy Wilson: Artist, Architect, Orientalist, Visionary

Zeny Edwards, Watermark Press, $77.%br% In the field of Australian architectural history, William Hardy Wilson (1881-1955) is principally remembered for pioneering the study of Australian colonial architecture. The volume under review offers a comprehensive view of the life of Hardy Wilson. It is informative and attractive, and altogether a welcome addition to the bibliography on twentieth-century Australian architecture.
Howard Tanner's "Foreword" sets out the main features of Hardy Wilson's work and life in a compact way. Clive Lucas offers an account of his own involvement in the conservation of some of Hardy Wilson's buildings. Lachlan Hardy Wilson's "My Father" is a series of reminiscences about his family. Contributions by Catherine Forbes and John Johnson deal with Hardy Wilson's work in terms of garden history and literary output.
The highlights of the volume are probably Ian Stephenson's study of Hardy Wilson's domestic interiors and Joanna Capon's essay on Hardy Wilson's interest in Chinese art and architecture. By contrast, Zeny Edwards's biography of Hardy Wilson reads like basic research operating on overdrive – undigested and tedious.
Notwithstanding the uneven quality of the various contributions, readers will find much to engage and stimulate them in this book.
Hardy Wilson's travels in America, Britain and China, his relationship with cultural figures such as Arthur Streeton and Sydney Ure Smith, and his publication activities emerge as the main geo-cultural features of an active life. The cultural agency of Hardy Wilson as a twentieth-century Australian architect of private means comes across clearly. The volume is also admirable in its attempt to broaden the understanding of Hardy Wilson's work by dealing with his architecture in the context of his interests in art, furniture design and garden design. By openly presenting Hardy Wilson as a racist (e.g. page 9), the book has gained some critical distance from its subject by avoiding the polite silence that characterised much previous work on him.
|This is certainly a step in the right direction.
Yet, in the light of recent research on 20th century architecture by John Macarthur and Paul Hogben, it might be fairto say that the cultural critique of Hardy Wilson has barely begun.
Stanislaus Fung
Debating The City: An Anthology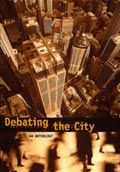 Edited by Jennifer Barrett and Caroline Butler-Bowden. Historic Houses Trust, $77.%br% This carefully crafted volume presents heterogenous approaches to thinking about the city. Contributions from urban theorists, geographers, architects, developers, artists, historians, cultural critics, and so on, are gathered together in three sections "City Living and Cosmopolitanism", "Urban Visions and Public Space" and "Consuming Spaces".
Despite the diversity, the essays are also tightly bound together through an intriguing network of links and tensions. For me, the most compelling piece was Jane M. Jacob's "Hybrid Highrises". Jacobs points out the banal absurdity of the highrise = phallus myth and critiques the broad-based western investment in the idea of the highrise as a simplistic sign of monstrous modernist masterplanning. Jacobs understands the highrise as a "mass ornament" of modernity.
She teases out the hybrid appropriations and uses of the highrise by looking at Asian and Australian examples, and, in doing so, offers a much richer, more nuanced account of both modernity and of the highrise. This struck a particular chord with me, but other readers, with other interests, will find other essays equally captivating.
Justine Clark