Architecture from the Edge

Barry McNeill and Leigh Woolley. Montpellier Press, $60.
As an architect and academic from another edge (Perth), this book documenting the creativity of architecture from Australia's margins struck a chord. Expecting to find a discussion of the qualities distinguishing Tasmanian architecture from its mainland equivalent, I was surprised to find relatively little of this line of argument. Instead, the book reads largely as an attempt to justify Tasmania's rightful inclusion in the canon that is twentieth century Australian architecture.
A number of themes familiar to all architects, such as the retrogressive cultural nostalgia protecting much nineteenth century building stock, the associated undervaluing of twentieth century buildings, and their compromising by unsympathetic later alterations (or outright demolition), are also of concern to Taswegians. And, in accord with the orthodox narrative of Australian architectural development, architecture in the island state has evidently experienced the same series of transitions from Arts & Crafts, Federation and Modernism to Nuts & Berries, Brutalism and Postmodernism.
Being a fringe-dweller, I am sympathetic to the book's aim to supplement the otherwise eastern states-biased exemplifications of architecture in Australia. However, the discussion of the condition of the "edge" and its creative idiomatic potential – the examination of "Tasmanian Qualities" – is an opportunity not fully pursued. In contrast, there is an effective, often interesting contextualising of Tasmanian architecture relative to international trends and historical events. Indeed, the key message of the book is that Tasmanian architects explore and operate with global ideas in a regional setting.
Again, it is the impact upon those generic ideas of the powerful qualities of the Tasmanian landscape and light and the distinctiveness of architectural response that tantalises but remains unarticulated.
The authors' acknowledge that this is "not a professional volume or academic treatise but a starting point for a general reader". Yet there seems some confusion about the book's real audience. It is, like much Australian historiography, a kind of "who's who" of Tasmanian architects that would seem of most interest to architects. However, there are few drawings and no plans, but plentiful colour photographs illustrate the featured buildings quite beautifully and will appeal to generalist and specialist readers alike. In the end, importantly, this is a book promoting and celebrating Tasmanian architecture's Australian affiliation.
Kate Hislop
Geometries of Power: Imperial cities of Delhi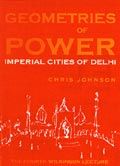 Chris Johnson. University of Sydney, $19.95
New Delhi and Chandigarh are paragons of modernist conceptions of the city. Along with Canberra and Brasilia, as William Logan argues in his foreword to this book, these new towns encapsulated Modernist ideals of universality, functionality, and geometric order in distinctive plans that we now regard as twentieth century heritage. Each also represented an epic journey into unknown territory, bringing, so the story goes, order out of chaos. If Chandigarh was, in this view, the ultimate triumph of Modernism's universalist tenets on the world stage, in Le Corbusier's account the struggle towards that goal spanned his whole career, beginning with his youthful "Journey to the East". It is telling, however, that Corb's notes and sketches from those early travels were published late in life, as he selectively re-presented and ordered the projects and his seemingly chaotic early impressions and passions.
Chris Johnson's Geometries of Power is best appreciated as a further contribution to that distinctly Modernist genre of architectural reflection through travel. To discern order within the apparent chaos of an exotic milieu is the stated aim of his selective analysis of the geometric bases of spatial order and political power in the historical development of India's capital city. An illustrated compendium to a public lecture, the concise text – aimed at an Australian audience with little direct knowledge of India – is enlivened by the author's evocative sketches. These give shape to the impressions of other travel writers on India such as William Dalrymple, from whom Johnson takes his first cues.
Johnson's open, exploratory approach draws freely on his own impressions and on a range of secondary sources, but little of the most current and relevant scholarly literature. In five short chapters he addresses the multiple historical and mythological orders of Delhi; geometric aspects of Hindu geomancy; the superposition of Hindu and Islamic ordering principles in the case of "Old Delhi" Shahjahanabad); order and geometry in the design of imperial New Delhi; and finally, the resurgence of earlier geometric and geomantic tendencies in postcolonial Indian architecture. As a travelling observer, whose trips to the field have evidently been intense but brief, Johnson shares his spontaneous impressions and opinions, but never allows himself to linger on any topic. The book is about "universal themes" that, he suggests, readers might explore through their own experience of the places described.
Logan's foreward indicates a wider comparative-historical context for Johnsons' "themes", notably in the interpretation and conservation planning of other former colonial cities in Asia. It is unfortunate, however, that Johnson does not allow himself more room to reflect critically on the context and presuppositions of his research, not least his assumptions regarding the pan-cultural universality of relationships between geometry and power in urban design. Edwin Lutyens, the central figure in Johnson's reading of New Delhi, held rather problematic views in this regard. He had little interest in, or regard for, India's architectural traditions other than as a foil for his own prejudicial convictions regarding the universality of western classicism. Likewise, despite his obvious passion for his topic, the sometimes surprisingly terse and judgemental style of Johnson's text suggests a curious detachment from the contexts and subjects of his inquiry – including his own professional peers in India, past and present.
This is disappointing in view of the author's own significant experience with comparable issues of order and power in public buildings and spaces as the NSW Government Architect. As Johnson himself has argued elsewhere, the distinguishing character and power of cities is usually embodied at a more subtle but pervasive level of order than the ostensive architectural icons and geometric axes and figures with which he is exclusively concerned here. In imperial India it is at this unassuming, "normative" level of socio-spatial order that the legacies of colonial rule were perhaps most deep-seated and powerful. While the Viceroy's "outsourced" metropolitan consultants (Lutyens and Baker) inscribed their grand geometric scheme upon the ruins of the seven previous imperial Delhis, Johnson's own counterparts in the British Indian government – the staff architects and engineers of the Public Works Department – were responsible for the majority of the actual designs for New Delhi and its buildings. In particular, they called upon long-developed norms and standards to design the expansive residential subdivisions and leafy bungalow compounds that so clearly distinguish the imperial palimpsest of the British in India from their Mughal and Afghan predecessors. As the now considerable body of scholarly literature on the colonial architecture and urban development of British India has established, it was the characteristic geometry of the civil "lines" and military cantonments – determined by sanitary and strategic rather than formal criteria – in which the British employed their most effective tactic as an imperial power: to "divide and rule". ››
Peter Scriver