A History of European Housing in Australia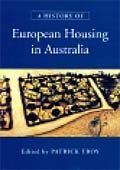 Edited by Patrick Troy, CambridgeUniversity Press, $38.40.

This is not a book about architecture. Indeed, one of the contributors claims that "we need to rewrite the history of Australian housing from the inside out: beginning, not with architectural styles… but with the underlying convictions about domestic life which shaped people's ideas of home". And here lies the main concern of this series of essays: the idea of the home in Australia (c.f. At Home in New Zealand: History Houses People, ed. Barbara Brookes. Bridget Williams Books, 2000). The essays provide a wealth of information on various subjects ranging from building regulations through to the impact of stoves and washing machines; the relationship between the detached house and its garden; the role of home ownership within Australian society; neighbourliness; and the flip-side of all these things, homelessness. Of particular interest to me were Nicholas Brown's chapter on the changing uses and meanings of rooms and, at the other end of the scale, Lionel Frost's chapter on the development of urban services and infrastructure.
The book argues that the detached house has been Australia's preferred form of housing since white settlement. It gives little attention to terrace housing, and tells us several times that blocks of flats have never been popular in Australia. An essay exploring flats might have shown otherwise – that medium density blocks were an esteemed expression of modernity in the 1930s, and/or that the advantages of higher density housing were promoted post World War II as an alternative to suburban sprawl.
But one book cannot cover everything, and this is a thoroughly researched, highly accessible, series of essays on the detached house. It is ideal for anyone wanting to expand their understanding of the use and development of this building type, and for architects doing sensitive additions and alterations to it.
Notice by Julia Gatley.
Architecture Bali: Architectures of Welcome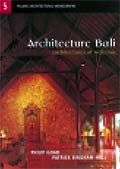 Philip Goad and Patrick Bingham-Hall.Pesaro Architectural Monographs, $54.95.

Although called Architecture Bali, this book actually concerns one very specific, relatively new, aspect of Balinese architecture: the luxury hotels that began to be built in the 1970s and which were temporarily halted by the "Asian crisis". One (not featured in this book) is now a half-built ruin, so it seems particularly ironic that, at the time of reviewing, most copies of this book were stranded on a ship on the Great Barrier Reef.
Following Kerry Hill's brief, thoughtful introduction, Philip Goad outlines the history of this hybrid building type and draws links with international and Australian architectural developments of the 1970s (many of the architects have Australian backgrounds).
Goad shows once again how deftly he can turn his hand to diverse material. However, one of the strengths of recent Pesaro Monographs has been the dual-essay format, so it is disappointing not to have Goad's elegant work complemented by another writer – perhaps one with particular expertise in Asian architecture and post-colonial thinking. Goad points to the complexity of the touristic engagement, noting that other writers have come to no conclusions in this regard, but it would be interesting to have these issues canvassed more fully. Hill observes that "a traditional Balinese house is not a model for Western living"; he also notes that the hotels in question have now led to new developments in other forms of Balinese architecture: "rather like reverse osmosis….
The impact of the modern hotel on Bali's built (and unbuilt) landscape is immeasurable". It would be interesting to know more about this enfolding of similar but culturally different architectures. However, such discussions are perhaps beyond the scope of this book, which does beautifully demonstrate the delicate balance achieved in the ten hotels featured. Patrick Bingham-Hall's sumptuous photographs certainly made me wish I had the cashflow to be welcomed into these sensual, sybaritic spaces. But for the moment the photographs will have to do.
Sports Architecture

Rod Sheard, Spon, $138.60.

Written by a principal of HOK LOB, this large, practically-oriented volume is devoted to the design of sports buildings. The case studies are all projects in which HOK LOB have been involved and include Stadium Australia, the WestpacTrust Stadium in Wellington and Melbourne's Colonial Stadium.
Statues: Decorative, Household, Commemorative and Practical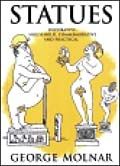 George Molnar, Duffy & Snellgrove,$24.95.

This reprint of Molnar's 1954 book Statues includes a second, previously unpublished, section "More Statues". Molnar taught architecture at the universities of New South Wales and Sydney, and was a cartoonist for the Sydney Morning Herald and the Daily Telegraph. He prefaced his 1954 collection with a call for less abstraction and more humanism: "The first step is to have more statues". Although some of the cartoons seem a little dated, most still raise a wry smile and are perhaps all the more amusing now that we have lived through post-modernism and come out the other side.
Architects' Data 3E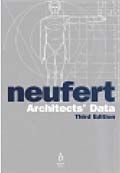 Ernst and Peter Neufert, edited by Bouhasma Baiche and Nicholas Walliman, Blackwell Science, $245.30.

The third edition of this dense, useful source book includes much updated information.
The facts and figures are supplied in the belief that, "if creative designers are given only the constituent parts, as is the intention here, they are compelled to weave the components together into their own imaginative and unified construction".
However, the measurement basis is still "Man: the universal standard" and, as the editors point out, climate information is most relevant to the northern hemisphere.