GUNYAH, GOONDIE AND WURLEY: THE ABORIGINAL ARCHITECTURE OF AUSTRALIA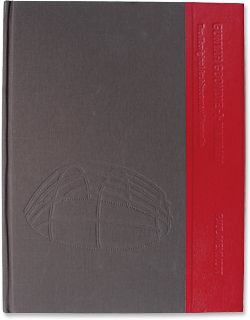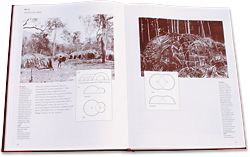 Paul Memmott, with preface by Amos Rapoport. University of Queensland Press, 2007. 440pp. $90.
Aboriginal Australia is often perceived as a hunter-gatherer society without a built tradition. Gunyah, Goondie and Wurley: the Aboriginal Architecture of Australia dispels this myth and explores the intricacies of Aboriginal designed structures, space and territorial behaviour, from minimalist shelters to enduring houses and settlements. It presents the rich diversity of Aboriginal architecture from early forms to recent innovations and engagements.
Gunyah, Goondie and Wurley draws together and synthesizes formerly widely spread studies of the ethno-architecture, socio-spatial structures, domiciliary practices and more recent developments in the architecture of Aboriginal Australia. The studies were systemically conducted over a 35-year period by Paul Memmott and others from the Aboriginal Environments Research Centre (formerly the Aboriginal Data Archive) at the University of Queensland. Memmott maps the history of Aboriginal architecture into four distinct periods: pre-contact or classical ethno-architecture, the acculturated architecture of the nineteenth and twentieth centuries, out-station ethno-architecture and collaborative projects from the 1970s onwards, and the new architecture of the late twentieth and early twenty-first century, completed by Indigenous architects with Western qualifications.
Ten chapters are devoted to pre-contact or classical Aboriginal ethno-architecture across Australia, ranging from explanations of the intricate nature of campsite behaviour in arid Australia to socio-spatial arrangements of customary camps and lifestyles of the southern Gulf of Carpentaria and the elaborate structures constructed in the Torres Strait Islands. The extensive design wisdom embedded in the regional styles of Aboriginal ethno-architecture becomes evident, and its diversity and exquisite nature is illustrated through extensive use of photographs, maps, drawings and diagrams.
Importantly, space is devoted to the distinct post-contact architecture forms found in pastoral camps, government settlements, mission villages and out-station camps. Memmott illustrates the importance of these vernacular architectural styles in maintaining the identity and cultural wellbeing of the user groups, suggesting that appropriate and culturally supportive design approaches to settlements and housing may be distilled from understanding these distinct architectural forms. He notes that "There is a large amount of Indigenous knowledge locked into the customary architecture which has yet to be examined and followed through in terms of its potential applications."
The latter section of the book presents an overview of the collaborative post-1970s work between non-Aboriginal architects and Aboriginal clients, as well as an introduction to the work of the first Indigenous architects with Western qualifications. Through the practice of these groups, three architectural design paradigms have evolved. Memmott suggests that the development of the cultural design paradigm, the environmental health paradigm and the housing-as-process paradigm have contributed to the distinctiveness of Aboriginal architecture as a separate field of practice, study and research. Examples designed within the different paradigms are given, providing some insight into the complexities and variety of professional engagement in the field. Memmott concludes with a dialogue on the ethical issues, challenges and potential for designers of including Aboriginality in architecture.
Gunyah, Goondie and Wurley is a landmark publication that will no doubt stand as the leading reference to Aboriginal architecture. It lays a framework for ongoing research and will appeal to a range of readers including architects, anthropologists and archaeologists, human geographers, historians, environmental psychologists, the lay reader and Aboriginal people. Its publication should encourage more Australian architecture schools to include studies of the architecture of Aboriginal Australia in their curricula. It should also encourage the revision of Indigenous studies programmes at school and tertiary levels to include an understanding of the unique nature of the built environment in Aboriginal Australia. The potential for architectural designers working on current housing and settlement planning issues to be informed should not be understated.
There are important lessons to be taken from ethno-architecture and other forms of Aboriginal architecture that can be applied to the future design of housing and public architecture across Australia. Most importantly, this book clears up the historical record of the built environment in Aboriginal Australia and provides important and positive information about Aboriginal cultural heritage. Gunyah, Goondie and Wurley: the Aboriginal Architecture of Australia includes two hundred specially drawn sketches, maps and photographic illustrations in a generous, large-book format.
Elizabeth Grant
NEXT WAVE: EMERGING TALENTS IN AUSTRALIAN ARCHITECTURE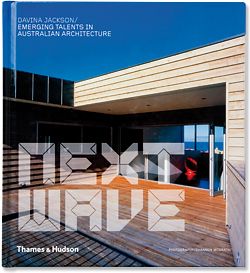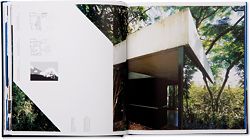 Davina Jackson. Thames and Hudson, 2007. 256pp. $65.
This handsome, square-format hardcover production is the latest in the compact Thames and Hudson coffee table survey series that has so far included SuperDutch, Swiss Made and Anglo Files. It has already received a lot of coverage and, intriguingly, was favourably reviewed by art critic Giles Auty in the review section of The Australian on the weekend of 17/18 November. It features between two and five projects from sixteen mostly small–medium-sized and extremely worthy Australian practices. In order of appearance: m3architecture; Richard Kirk; Bark; David Boyle; Marsh Cashman Koolloos; Adam Haddow, a director of SJB Architects, Sydney; Turner; Clinton Murray; Cassandra Complex; Elenberg Fraser; Neil and Idle; Minifie Nixon; Staughton; BKK; Terroir; and Iredale Pedersen Hook. The acknowledgments apologize for some architects and projects not making the final edit. The stylized map at the front reveals that all but one of these practices is located on the south-eastern seaboard 1200 kilometres either side of Sydney's GPO.
The impressive photographs are mostly by Shannon McGrath and the guest essay by Andrew Mackenzie, titled "Beyond the bush vernacular: new urban impulses and uncertainties", seems to be pitched at a global readership. Davina Jackson gives an account of the themes of the book around events in Sydney, with the central premise that with established practices focused offshore, "a new generation of youngsters is emerging to build their local visions". The cover is a detail from a photograph taken in the afternoon of the Rose House at Maroubra, a beachside suburb in Sydney, by architects Marsh Cashman and Koolloos. There is an unshaded bleached timber deck – a pool is behind the photographer – and adjacent bleached-timber-clad walls looking through a living space to the ocean and framed horizon beyond. A blue sky hovers above. The translucent title Next Wave is overlayed in a stylized version of a digital alarm clock font to round off the beach theme. This font announces each practice through the book and fragments of it are used as a framing device for photographs, particularly adjacent to the essays.
Inside, colour photographs are privileged. Most projects are framed by blue sky and there is a lot of bush. I may be old school but it is a pity that the small set of sections and plans accompanying the photographs are not provided with north point and scale bar or any sense of context. The selection criteria employed are not declared and I suspect that these architects have already emerged, but the idea after all is to present their local visions to a global audience.
Andrew Wilson
BLUBBERLAND: THE DANGERS OF HAPPINESS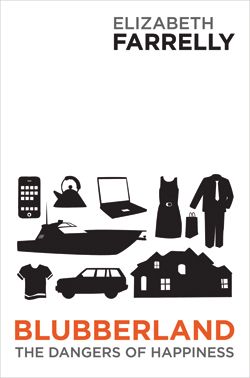 Elizabeth Farrelly. UNSW Press, 2007. 224pp. $29.95.
Sydney columnist Elizabeth Farrelly's writings are a source of fascination and frustration for the Sydney architectural community. We cheer her merciless political eye and barbed prose when she exposes the shortcomings of planning processes and our state government, yet wince in slow-news weeks when she launches well-worn attacks on the alleged egotism of the profession and rails against all things Modernist. Her recent publication, Blubberland: The Dangers of Happiness, a free-wheeling rumination on our culture of "superfluous superfluity", is characteristically fickle and provocative.
Meticulously researched, the early chapters tackle thorny issues of desire, beauty, ugliness and honesty. The breadth of her sources is impressive and at times overwhelming, in prose that leaps from philosophers Alexander Nehamas and John Armstrong to theologian Hans Urs von Balthasar, Cardinal George Pell, John Keats, Albert Einstein, Oscar Wilde, John Updike, playwright Tom Stoppard, artists Mike Parr, Damien Hirst, Marcel Duchamp, Richard Serra, Andy Warhol, Caravaggio, critic David Hickey and psychologist Ken Wilber – all in the space of a few pages. Here Farrelly is guarded, reporting dispassionately and diligently on a range of viewpoints and theories, but yet to declare her hand.
In the mid to late chapters of the book, she launches. Chapters on "Fat and the family home", "Nature and culture", "Feminism and future eating" and "Why so ugly?" crackle with energy and pace, alternately stimulating and infuriating. She augments well-understood issues of the environmental and social destructiveness of suburban settlement patterns by asking why criticism of suburban excess is now seen as elitist and judgmental rather than necessary and instructive. Her passionate defence of density and cities, through an investigation of the environmental credentials of New York, is concise and powerful. A brief chapter on the role and status of Australia's women architects in their profession is clear-eyed and forceful. But there are other moments that make you squirm with frustration. The old villain Modernism returns. Farrelly writes, "Modernism, wiping from its boots the existentialist despair of two world wars, quickly concluded not only that beauty was dead, but also that morality itself was no longer possible." No concessions to Modernism's optimism, its concern for housing the masses, its interest in economy of means and embrace of regionalism – all of which could be considered ambitions to re-engage with in the face of looming environmental catastrophe.
After the frenetic pace of the mid section, the final chapter, "I have a dream", describing Farrelly's vision of a utopian, lean future-city replete with roof gardens, bicycles, public transport, forest regeneration, organic food and wind generation, sounds disappointingly soporific. Perhaps we could all do with a dose of the Modernists' optimism – stop conceiving of the future in terms of repudiation, loss and limitation and dare to make something new.
Laura Harding