LEARNING ARCHITECTURE/ TEACHING ARCHITECTURE: A GUIDE FOR THE PERPLEXED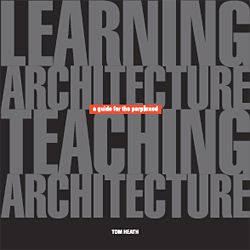 Tom Heath. Denarius Australia, 2010. 580pp. RRP $60.
Tom Heath (1931–98) is remembered by many as a leading practitioner and academic and for his contribution to architectural debate as the editor of Architecture Australia (1980–90). He was an ardent, articulate protagonist for rationality in the teaching and practice of architecture and relentlessly questioned the ideology of architectural education and architectural knowledge. His editorials for Architecture Australia were incisive and purposeful, questioning and dissecting the quandaries that faced the profession of the day and probing its mannerisms and values.
Learning Architecture/Teaching Architecture continues this probing by addressing underlying questions about architectural education. This is a practical guide to assist in creating common ground between the student who "does not know what to ask" and "the teacher who can no longer imagine what it is like not to know".
Seasoned practitioners and academics may no longer recall the quandaries and difficulties faced when beginning the study of a discipline that seemed to have so few fixes – especially regarding design and creativity. The effort and anxieties of trying to resolve design challenges with no "right" answers is a barrier faced by most students. Searching for the meaning of a brief and trying to make sense of the many variables can both spur further enquiry and erode confidence.
For those who teach architecture, there is a dearth of references exploring educational philosophies and teaching strategies. Learning Architecture/Teaching Architecture is clearly defined as a text to assist with these perplexing stages in architectural education. Its appearance and square format suggest a reassuring certainty, strength and directness. The foreword by Amos Rapoport and opening statements by Wolfgang Preiser, Andrew Seidel, John Simpson, Gordon Holden and Philip Follent underscore the primary purpose of the text as a practical and useful guide. Restrained line drawings by Ray Jones provide prompt further enquiry. Less successful are the process and precedence diagrams, which mechanically chart design decisions as equivalent steps in a heuristic network.
The language used is succinct. A constellation of short references and clarifying statements of immediate value and use are linked and framed by thoughtful introductions and by clear, sometimes quizzical, summaries of architectural theories and predilections. The introductory chapter comments on modern architectural education and some of its problems while mapping out fundamental design processes. The three core chapters are aimed specifically at students and acknowledge the Vitruvian triumvirate of commodity (The Plan is the Generator), firmness (The Materials of Construction) and delight (Masterly, Correct and Magnificent). The final chapter, Teaching Architecture, is more discursive, with an interrogation of underlying beliefs and ideology concerning creativity, design and studio practice supplemented by a list of teaching techniques and issues.
It is fitting that Tom Heath's broad contribution should be marked by this book, which has been made possible by Sipen Rojnavibul's patience and persistence in shaping it and bringing it into being, thereby allowing Tom's thoughts to guide students and their teachers well into the future.
Michael Keniger
BOLLES+WILSON: A HANDFUL OF PRODUCTIVE PARADIGMS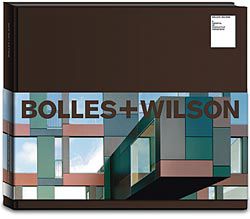 Julia Bolles-Wilson and Peter L. Wilson. Bolles-Wilson, Münster, 2009. 296pp. RRP $100.
This is a new self-published monograph from the German/Australian practice, established in London in 1980 and based in Münster, Germany, since 1988.
Architectural monographs tend to fall into two categories. The first follows a tried and tested formula – a high-profile critic pens a sympathetic essay, followed by a chronology of well-documented, beautifully photographed projects, organized according to chronology, location, type or other conventional system. The second attempts to conceptually reframe the format of the book to critically examine and represent the specific interests of a particular practice.
This book, unsurprisingly for those who know the work of the practice, mediates between the two. It reflects the idiosyncrasies of the practice:
"Their architecture is a symbiosis of the pragmatic and the conceptual, of the everyday and the exceptional, of the radically different scales of masterplans, buildings enhancing their contexts (immediate and cultural) and spatially choreographed interiors. These precisely detailed works, often spiked with narrative overlay, always mindful of comfort, cohere as oeuvre through their characteristic form language, wit and an inherent strategy of reshuffling organizational conventions."
Being self-published lends a particular insight into the memory of the practice, revealing the evolution of theoretical practice as well as architectural output in both built and represented form. Being self-written can mean that an independent voice is missing. In this case, the effect is to reveal a private view of the thinking behind the projects.
The format loosely groups projects with similar qualities, concerns and geography under the headings Homebase, Elsewhere Projects, Urban Choreography, Floating Signifiers, Reading Places–Reading Architecture and Rooms at the Hotel New York. Previously published essays by the architects explore their differing backgrounds and how this shapes their responses at both an architectural and urban level.
The book does not purport to be a study of the complete works of Bolles+Wilson, but it does offer a comprehensive portrait, and presents projects over the entire length of the architects' careers, including those that predate their partnership. Detailed coverage of key recent projects is interspersed with significant works from the oeuvre. The depth of coverage varies according to the relevance of respective works to the central themes of the book. This is accompanied by a broad range of representations – sketches, technical drawings, model photographs, collages, renderings, construction photographs, context drawings, diagrams and completed photos. The accomplished lens of Christian Richters is responsible for most of the photography of projects in or near the German home base, supported by the leading local photographers in the geographically dispersed project locations.
As an artefact, the graphic design is mercifully unself-conscious, allowing the density of the contents to be concentrated upon fully. This book presents a very personal journey into the heart of the Bolles+Wilson partnership. It is an intricate portrait that offers considerable insight into the theories, obsessions and tendencies of the studio.
Matthew Gribben
BEYOND THE PAVEMENT: RTA URBAN DESIGN POLICY, PROCEDURES AND DESIGN PRINCIPLES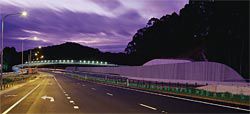 Roads and Traffic Authority of NSW. 2009. 111pp.
The first version of the Roads and Traffic Authority's Beyond the Pavement was published in 1999 in the form of practice notes. These notes were workshopped widely within the RTA and have guided the development and design of projects for the last ten years. However, the document now being reviewed, published ten years later, is not just advisory but is a statement of the RTA's urban design policy. [Now former] RTA CEO Michael Bushby said it "firmly establishes good urban design as a workable practice for the RTA for the forthcoming years". With a quality and format that could place it confidently on the smartest of coffee tables, Beyond the Pavement both celebrates the work of the last ten years and provides inspiration and guidance to those working as planners, project managers, engineers, urban designers, landscape architects and other specialists.
The projects illustrated, as examples of the approaches and principles discussed, include parts of New South Wales's major highway programs, Sydney's urban freeway system, busways, cycle and pedestrian paths, roadside shelters, drainage works and the upgrade of urban and rural roads.
The main message of the document is that good urban design outcomes have been and will continue to be achieved due to a number of factors. The RTA has been serious in its intent to fit the infrastructure it provides into its context beneficially and with as little environmental impact as possible. There is a group within the RTA responsible for the promotion of urban design thinking, for reviewing projects and training. Peer review process is also practised. Design teams are multidisciplinary, including urban designers as standard practice. Management processes are described in the second chapter of the document. Qualified urban designers are required to be retained for projects from the beginning. Concise technical guidelines, manuals and standards have been provided that address broad design issues. Those now in existence are identified in the document. The most recent of these address specifically urban and architectural design issues. And finally, there is recognition of nine integrated engineering and urban design principles as the point of departure for all projects.
It is around these nine principles that much of the document is organized. In contrast to the 1999 practice notes, where diagrams were widely used, real projects are used to illustrate their application. The principles are:
Contributing to urban structure and revitalization. The role and character of the different types of roads that are the framework of urban areas are recognized. Not just for the movement of cars, the road system is described as providing opportunities for many kinds and purposes of movement and consciously created environments.
Fitting in with the built fabric. Stressing the importance of understanding the potentially disruptive effects of roads on different environments, the discussion here is illustrated by suitable edge treatments of large and small urban and rural projects – mounds, retaining walls, noise walls and landscaping – to be considered early in the design process.
Connecting modes and communities. "Connection, access, modal choice, convenience, and ability to walk and cycle are key attributes of a community's quality of life." Roads should not divide, should not be difficult to cross and should enhance the permeability of urban areas.
Fitting with landform. This is fundamental to how the Hume, Pacific and Western Highways (as well as many lesser roads) have and are being upgraded. The road – with its cuttings, embankments, medians and landscape treatments – is conceived as part of the landscape.
Responding to natural pattern. Ian McHarg, quite correctly, is quoted as the starting point here, and suitable responses to different landscapes and ecologies are illustrated.
Incorporating heritage and cultural contexts. Both Indigenous and European heritage and their recognition as part of the road environment are addressed. The broad principles of protecting the curtilage of structures and landscapes, and the protection, repair and suitable reuse of historic bridges and other infrastructure are discussed.
Designing an experience in movement. "Instead of being a monotonous experience, travel along roads can be turned into an interesting one." Roadside views, bridges, barriers, retaining walls, lighting, signage, utilities, noise barriers and planting can be dead boring, but as is shown in the ten images presented, they need not be.
Creating self-explaining roads. "The road should be designed so that driving above the speed limit is uncomfortable and obvious to the road user." While not always feasible, there are many "beyond the pavement ways" in which this sound principle can be realized and contribute to road safety.
Achieving integrated and minimal maintenance design. The point that good infrastructure design must be low maintenance is well made. The choice of hard and soft materials, finishes, their accessibility and their endurance requires careful consideration. Many sound guidelines exist.
These principles are sound in themselves and are clearly explained. The policy stresses that it is their integration that is essential for good urban design.
The RTA has good reason to be proud of the examples of completed works illustrated. They have obviously been chosen because they are good. But it may be optimistic to judge them as representative of all that is now being built and I suspect that more workshopping of the principles is still needed.
It is good to see that signage clutter is noted as a serious issue. In my opinion this is where RTA practice could greatly improve: the public would be relieved and drivers less confused.
Permissible speed has many implications for adjacent land uses, the character of the road and the quality of the roadside environment. With urban designers now a part of the design team, the "beyond the pavement" implications of speed now receive more balanced attention.
As well as conventional engineer thinking (still alive in places), there are numerous obstructions to the achievement of good urban design outside RTA control: the public suspicious, agencies and levels of government immutable, planning regulations labyrinthine, politicians impatient. I have much sympathy for RTA project managers.
The great majority of the work presented has been designed and built by contractors to the RTA. It is, I think, unfortunate that the principal designers and builders are not acknowledged where a work is cited.
This publication is widely available. It is aspirational rather than technical, but provides references to further technical detail for practitioners. Although the text could be simpler and less repetitive, it is eminently "skimmable" for the more general reader and should be read by all engineers and other professionals whose contributions are being celebrated.
David Chesterman.

Postscript: The RTA Urban Design Section was one of three joint winners of the Australia Award for Urban Design 2010 for Beyond the Pavement.