The Contribution of Enrico Taglietti to Canberra's Architecture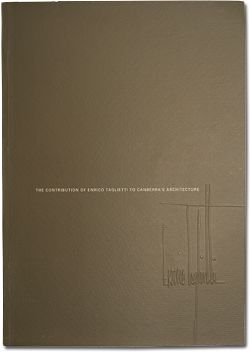 Ken Charlton, Bronwen Jones and Paola Favaro. Royal Australian Institute of Architects, ACT Chapter, 2007. 132pp. $55.
The RAIA ACT Chapter should be congratulated for publishing this monograph on the 2007 RAIA Gold Medal winner, Enrico Taglietti. Firstly because Taglietti's work deserves greater recognition. Apart from Jennifer Taylor's groundbreaking coverage in Australian architecture since 1960 (1986) and Taglietti's own monograph, Enrico Taglietti: architect in Australia (1979), little has been written on Taglietti's unique response to his time and place. Secondly, because, as with other accounts of émigré architects, the picture of Australian architecture is enriched and broadened by his inclusion.
With a multitude of photographs, plans and sections, this is a book many architects will enjoy. Collected together, Taglietti's work cannot fail to impress with its consistency and surprising quantity, even if some will not admit its idiosyncrasies. Essays by Ken Charlton, Bronwen Jones and Paola Favaro provide an endearing picture of a man who has devoted his life to what many consider Australia's spoilt architectural "orphan" – Canberra. Jones outlines the design themes found in Taglietti's houses; Charlton provides a comprehensive overview of his life and work – the sculptural exuberance and programmatic invention of the motels, libraries and schools are a revelation; and Favaro traces the influences of Taglietti's encounters with Italian architects Bruno Zevi and Carlo De Carli and the writings and ideas of Frank Lloyd Wright. It is an altogether balanced and well-handled account.
Where the monograph falls short is in its perspective. The authors' brief could have been expanded. Taglietti's work needs to be placed against the work of others in the same period, locally and internationally. For example, his concern in the 1950s and 1960s for mass and sculptural form is unprecedented in Australian architecture. The only other architects who come near, such as Stan Symonds and Peter Burns, do not have the quantity of work or breadth of program to strut their stuff. Taglietti's work is also different from the orthodox internationalism of Canberra brutalist works of the 1970s. Much is made of Zevi and Wright as clues to Taglietti's work, but not enough is made of Taglietti's own interpretation of the Griffins' project for Canberra and Australian architecture, his reading of place and his implied critique of much of the contemporary architecture struggling upwards around him in the postwar capital. Taglietti was the only architect who continued the Griffins' architectural visions for the national capital in the postwar decade. Little too is made of Taglietti's love of earth and mass, his insistent deep, very deep, eaves and equally deep chamfered fascias, and the power of shadow, the intention to reduce glare in the unforgiving Australian sunlight. Taglietti's complete acceptance of the visible roof also makes him stand out amongst his peers.
Taglietti has produced since 1955, against all bureaucratic odds, a body of work that proposes a valid example of an organic architecture, and a viable alternative to the persistent myths of lightweight construction and the unadorned.

Philip Goad
VOLUME: John Wardle Architects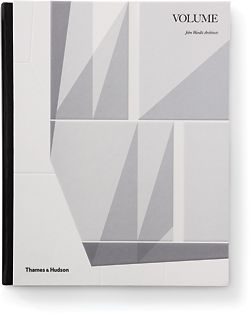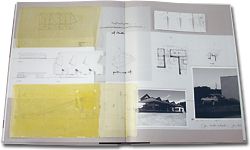 Essays by Leon van Schaik, Andrew Hutson, Chris McAuliffe, Paul Carter and Davina Jackson. Thames & Hudson, 2007. 316pp. $145.
As an out-of-towner mostly constrained to follow the works of John Wardle Architects from afar, I keenly anticipated this volume and was well rewarded. This is a handsome monograph that presents the built works compellingly while also generously recording and opening to discussion the underlying ideas and processes.
A presentation of thirty-two selected works over 210 pages is the heart of the book. The project photography is powerful and a thorough documentation of ideas, processes and details is related through concise text and telling images. The great delight is the inclusion of a thread of working sketches, maquettes, detail drawings, CAD mark-ups, overlays, material studies and models through the projects. We see design not just as an object or as a concept but as a supple process that builds from one to the other, and develops as themes from project to project with the turning of the pages. A self-evident strength of the architects is the mastery of technique across each of the instruments of design: site analysis, plan, section, elevation, material judgment, junction and assembly.
Four diverse essays illuminate different facets of the work from differing disciplinary viewpoints. Practitioners should enjoy Andrew Hutson's interrogation of the techniques and processes of the projects and of the office. Leon van Schaik's essay more formally locates the contribution to architectural knowledge, re-presenting the core concepts from Wardle's RMIT Masters presentation and expanding on their significance. Chris McAuliffe's essay on architect/artist collaboration is a little less accessible, with works discussed not always well illustrated. I confess to somewhat languidly savouring Paul Carter's prose, generally untroubled by enlightenment, although I was tickled silly by the notion of the "sedimental" bloke (p49). Davina Jackson's interview succeeds wonderfully in drawing out further insights into JW the man and JWA the practice, and there are succinct chronologies of the firm's projects and its personnel. Max Creasy's short and strong photo-essays emphatically locate human makers and dwellers within the architecture in an appropriately nesting prologue and epilogue to a well-rounded volume.
Volume is probably already a proud possession of those who appreciate fine architecture and fine books and those who record contemporary architectural history in the making. I can unreservedly commend it to all students of architectural design, of all ages. This architecture of John Wardle Architects is indisputably fine and will long endure, while the lessons to be learnt from this generous account of its making will reward sustained and repeated study.

Peter Skinner