Shifting views: Selected Essays on the Architectural History of Australia and New Zealand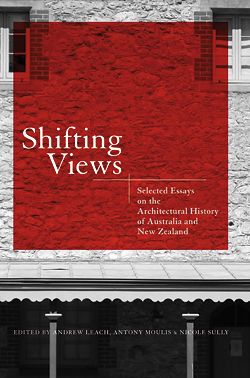 Edited by Andrew Leach, Antony Moulis and Nicole Sully.
University of Queensland Press, 2008. 256pp. $59.95.
An unsurprising sense of ambiguity is implied in the title of this rigorous compilation of essays. The creation of a history of built form in nations that grapple with wider issues of identity is bound to be as challenging as the creation of meaningful and appropriate architecture in these places. Reflecting on the difficulty, the editors ask, "What is to be taken up? What left aside? What clues can architects find in history that will help them make good architecture?"
There is obvious value in architectural history as a tool for self-reflection and informed practice. Changes in approaches to architectural production as well as to definitions of the history and theory of architecture make for a historical discussion prone to shifts in any place. However, in Australia and New Zealand, where the very idea of place is charged and problematic, these shifts may have a more acute effect on our self-awareness.
Thus, the editors of Shifting Views present the musings of historians whom they describe as earnest to "expose the scaffolding that holds up the histories of Australian and New Zealand architecture," rather than merely laying down the facts as they are known. This publication is as much a study of the making of architectural history, as it is a study of that history itself.
Shifting Views was sponsored by the Society of Architectural Historians of Australia and New Zealand (SAHANZ), and presents a collection of sixteen essays written by members (mostly academics) across twenty years of SAHANZ conferences. The society was inaugurated in 1985, having been initiated in Adelaide in 1984 by the late David Saunders, an academic who was instrumental in the introduction of Australian content to history units at the University of Melbourne. Membership has increased over the years, and conferences have been held across Australasia.
SAHANZ aims to provide a forum for those active in architectural history in Australia and New Zealand, encouraging a culture of criticism and debate rather than passive documentation, and Shifting Views accordingly packages a wide range of topics and approaches to the construction of history.
Essays range in subject matter and writing style from a lyrical exploration of missionary architectural practice in New Zealand (Sarah Treadwell), to a wide-reaching analysis of the problems associated with stylistic terms such as Federation (Julie Willis and Philip Goad), to an investigation of the mixed reception of postmodern architecture in Australia (Paul Hogben). The latter intriguingly probes the use of the industry's media (including Architecture Australia) by key industry figures to promote and attack the postmodern discourse. Harry Seidler for example, writes Hogben, "had clear intentions: to scare off editorial and reader support" for writing that explored interpretative and critical questioning in regard to issues of legibility and meaning.
Might exploring multiple perspectives of the accumulative context in which one practices today influence the way in which one practices or promotes one's work? Shifting Views offers a means for those outside architectural history circles to consider their place and their practice in terms beyond the limits of traditional historical narratives. It also provides an illuminating perspective on the shift in focus of SAHANZ conferences towards theory and critical analysis.

Narelle Yabuka
A TRIBUTE TO JØRN UTZON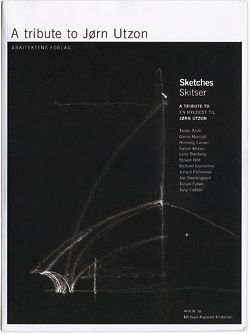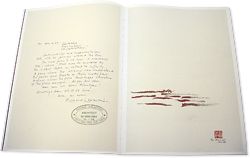 Edited by Martin Keiding with an essay by Michael Asgaard Andersen.
Arkitektens Forlag, 2008. 74pp. DKK198.
Jørn Utzon turned ninety this year. To celebrate, the Danish Architectural Press invited eleven architects, including Glenn Murcutt and Richard Leplastrier, to contribute a birthday greeting and a sketch to this volume. The result is a charming and sometimes witty tribute to the work and influence of Utzon as understood by some of the most significant architects of the last half century. These greetings are complemented by a selection of Utzon's own drawings, including never-before-published sketches of the Sydney Opera House, and an essay by Michael Asgaard Andersen, "Lines of Thought".
This essay moves the publication beyond simply being an engaging tribute. Through a detailed examination of a series of Utzon's sketches, it discusses the role of drawing in the conceptual development and production of architecture, arguing that paper was a "basic element in the construction, the unfolding and the presentation of Utzon's architectural visions". This is not a romantic account of the sketch as the sign of architectural genius. Rather, Asgaard Andersen acknowledges that drawings are a place of work and exploration as well as a site of communication and negotiation. He writes of the "complex interplay between the eye and the hand, and between thought and line" and the productive potential this offers. "This implies that one does not only work after and with the drawing, but that the drawing also works for the one that draws it. In other words, the drawing returns possibilities to the person who sits with it." This offers opportunities for the architect, the historian and the reader.
The essay alludes to the fact that architectural ideas are now rarely developed through sketching, but Asgaard Andersen stops short of examining what this might mean for contemporary architectural production, and what parallel opportunities are offered by new media. However, by giving us a considered account of Utzon's drawings, he opens up the issue of contemporary media in the mind of the reader, encouraging us to consider the question for ourselves.

Justine Clark