woha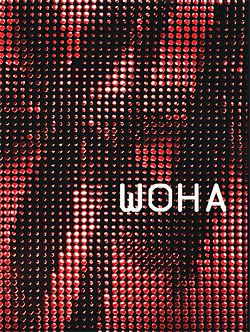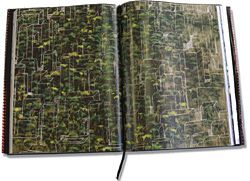 Anna Johnson, with essays by Leon van Schaik andWilliam Lim. Pesaro Publishing, 2009. 400pp. $90.
At first glance, the new monograph on the Singapore-based practice WOHA Architects appears to be a weighty tome indeed, but once you've wrestled it onto a table and slowly perused its four hundred pages of drawings, photographs and sketches you find it buoyant and lively in tone. In fact, page 1 begins with just four tantalizing words, "Making buildings is easy …"
WOHA then inverts the premise by telling us that "making Architecture is very difficult", but they sure make it look easy. There are twenty-seven projects documented in this monograph, ranging from schools to large public infrastructure projects, tiny renovations of Singaporean shophouses, medium-density low-scale housing projects, speculative proposals for high-density housing towers, single dwellings, university campuses and churches.
The practice directors, Wong Mun Summ and Richard Hassell, met while working in the office of Kerry Hill. While there are moments in their oeuvre when this lineage is apparent, the overall range of the work is remarkable. Some of it is brash and commercially savvy, some sleekly corporate; other works are serene, tranquil and highly refined, or project a powerful public sensibility.
Leon van Schaik's introductory discussion of the work in the context of globalization effectively places the practice in its regional framework. Anna Johnson's attempt to identify recurrent themes in the work was a much more difficult task. The practice seems keen to place itself beyond categorization, and while Johnson's attempt to pin them down is valiant and meticulously researched, it jars with a framing of the work elsewhere in the monograph that amplifies its variability and eclecticism.
As expected from a Pesaro monograph, the photographic record takes priority over documentation in drawing, which in some instances prevents the reader from being able to adequately assemble the work in their mind, yet the energy and optimism of the practice oozes from every page. Their ability to make multi-unit residential projects with sumptuous, tactile and luxurious garden settings will, I hope, jolt an Australian lay audience, which can only imagine these characteristics in a quarter-acre format. Also compelling is the way that WOHA harnesses low-tech environmental design as an opportunity for lyrical expression in architecture. This optimism is a welcome relief in a debate that seems only to be able to frame global warming and climate change in terms of repudiation, loss and numerical targets.
Rather than a comprehensive catalogue, the monograph is more an impressionistic survey. This sense of the incomplete would typically be a flaw, but here feels like an entirely appropriate quality for a monograph on a practice that is fifteen years young, racing at breakneck speed and emphatically unwilling to limit or constrain their trajectory.
Laura Harding
boomtown 2050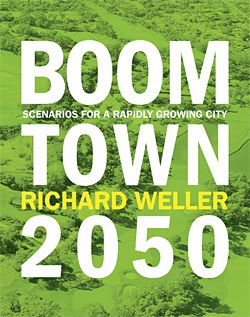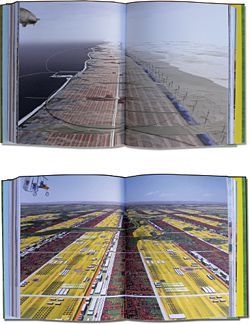 Richard Weller. UWA Publishing. 2009. 452pp. RRP $99.95.
This is an impressive book. It is hardbound and weighs in at 1939 grams, with 465 pages of quality stock flawlessly printed and stitched between hard covers and wrapped in a coated dust jacket. By Professor Richard Weller, Boomtown 2050 is packed with information in the form of facts, diagrams and charts; lots of full-colour photographs, captions and quotes; several essays; and some projections into possible futures, all of which amounts to a thoroughly engaging profile of the suburban phenomenon known as Perth. UWA Press has done a tremendous job in realizing this blockbuster production. A new benchmark has been set. The graphic style of Boomtown 2050 confidently adopts the innovations of Canadian designer Bruce Mau working with the OMA superstudio, and the "datascapes" and concept speculations of the celebrated Dutch architects MVRDV. Boomtown 2050 is ablaze with vivid images, interspersed and superimposed with block pull quotes and catchy slogans set in bold type. Their intrusive persistence emulates the proliferation of signage, brash advertising and eye-catching features that activate and saturate the everyday life of Perth's people.
There are very few scholarly books about Perth's architecture and planning and the city only occasionally makes a mention beyond a footnote in anything written about Australia's built environment. Now (the not-so-little) isolated Perth is cast in a bright contemporary light for all the world to see what we have been doing way down here for the past 180 years.
Perth is again in the rip of a rapid-growth phase. If official predictions are near correct, physical growth over the coming forty years will be considerably more intense than in past boom cycles. The city's population is predicted to double. Expansion and upgrades to infrastructure and systems are needed. Work has started and the effects on the city, its suburbs and the social fabric are already obvious. The rush has only just begun.
So, how will Australia's western capital cope with the flood of money and people? This question, posited within the context of environmental awareness and the spectre of climate change, has motivated the creation of Boomtown 2050.
Western Australians are proudly defensive of their landscape and their relaxed, laid-back lifestyle. Perth identifies itself through a symbiotic relationship between nature and culture: the beach and the barbecue, the club bar and twilight yachting on the Swan River, easy access to everything in the gently undulating leafy suburbs in an almost perfect climate.
Yet many of the images in Boomtown 2050 portray development's violent assaults on the precious and fragile landscape. The seemingly relentless spread of new suburbs promising an affluent sea-change lifestyle along the thin coastal strip may just be able to accommodate the new arrivals, according to the author and his team, but the result looks pretty difficult to sustain, as does the trashing of perfectly intact buildings to nourish the cycles of property speculation. Artist Jon Tarry's short video "No Rose No More" is a stark portrayal of this practice. The stills and accompanying commentary parody a Hollywood-style small town epic starring socialite Rose Porteous, her then mining magnate husband Lang Hancock and their supersized mansion Prix d'Amour, played out through the demolition of Perth's most well-known piece of domestic architecture, and leaving behind the hollow illusions that can stalk material excess and a yearning for celebrity status. A grand, broken down palace pulverized to landfill after only ten years in the limelight. This is no lone event in Perth. In May 2007 The West Australian reported that Australia's then most expensive house, valued at $80 million, was destined to be trashed three years after its construction, the land to be subdivided and the parcels returned to the market. This custom can be found at all scales.
Weller points to some ramifications. The West Australian's self-satisfied confidence and flamboyance are shadowed by anxiety. The chapter Local Culture consists entirely of quotes from Perth citizens voicing their concerns about the increasing number of migrants, the impact of growth on the environment, spiralling inflation and the escalating cost of housing. Architecture is deemed cheap, poorly designed and uninspiring. Another contributor announces that patrons using Perth's public transport are subject to a level of violence that is four times greater than fellow travellers on London's underground network. Current statistics show a significant increase in binge drinking, particularly by young women, and assaults.
Is Perth suffering change fatigue? Is the culture of exploitation becoming too distasteful? Can traditional values be retained or are their days numbered? Is all this a case of too much too young? Is this a social legacy of resource wealth? Although questions like these are not the direct subject of B00mtown 2050 they are easily cored from the seam of Weller's rich survey, a valuable consequence of this study.
The gaze of the research is centred on the suburban form, its sustainability and its relevance to a simultaneously ageing and expanding population. The analysis cautions "if the thunder don't get you, then the lightning will". The sources for this message are clear and accessible, making Boomtown 2050 a handy reference for continued research and for more widely informed public debate on the near future of Perth.
But Boomtown 2050 is more than a wake-up call to Perth's planners and politicians, or a resource for local activists. It is an optimistic and enthusiastic champion for imaginative design as an alternative to established planning procedures booksand over-reliance on the expediency of "business as usual". It is therefore a useful model for research on other Australian cities. Weller's view is that of a creative practitioner. He is professor of landscape architecture at the University of Western Australia and a very talented and accomplished designer with a critical eye and a sharp mind. His collaboration with David Hedgcock, professor of planning at Curtin University, and a team of students and graduates has extended over two years. The initial funding came from a government ARC grant and the money was well spent. BOOMTOWN 2050 introduces a method for urban development that is based on the principles of landscape urbanism and scenario building, giving equal weight to both empirical and poetic knowledge. Following the formatting of large quantities of information into "datascapes", analysis has informed the preparation of five speculative development scenarios that offer very different prototypes for urban growth. Accounting for local morphology and cultural aspirations, each scenario promotes a more densely populated settlement than the current low-level suburbs and small scale offer. All scenarios are sumptuously illustrated with characteristic panache.
As the administrative centre for the state's vast resources endowment, Perth is now fully embedded in the global economy and is confronting trends and pressures similar to other major cities across the globe. It is inspiring to have a proactive, serious and engaging study of this city that employs contemporary methods of urban analysis to tackle contemporary urban issues.
Bertolt Brecht said, "Reality changes; in order to represent it, modes of representation must also change." Boomtown 2050's speculative propositions are intended to unlock entrenched views and processes to spark a different urban debate so that Perth may fully embrace this amazing opportunity to nurture a mature, compelling, sustainable and equitable city. Boomtown 2050 is exactly the kind of research that universities can do to attract wider interest in creative architecture and planning and establish a sound theoretical and conceptual foundation to assist politicians and professions to confidently lead positive change.
Geoff Warn