A rainbow-coloured bridge will travel from a landscaped area at the northern entrance of the Perth Children's Hospital, over a busy road, to Kings Park and Botanic Garden. The bridge will allow patients, their families and hospital staff to travel to the park, and could open the door to certain treatments and therapies that involve outdoor activity.
The single-span bridge will be open to both foot and bicycle traffic.
The Kids Bridge was included in early plans for the replacement of the Princess Margaret Hospital, but the project has been delayed a number of times in the years since.
The $6.3 million project will be funded by the Perth Children's Hospital Foundation.
Early concept designs were provided by architects The Fratelle Group, which won a design competition in 2014 for the project. Design engineers AECOM have now been appointed to review the design and develop the final design.
In response to a query from ArchitectureAU, the Perth Children's Hospital Foundation clarified in a statement that "While Main Roads obtained the State-owned intellectual property from the Fratelle Group during early concept design development the AECOM design concept has a more conservative focus on the project management and constructability requirements of the future bridge."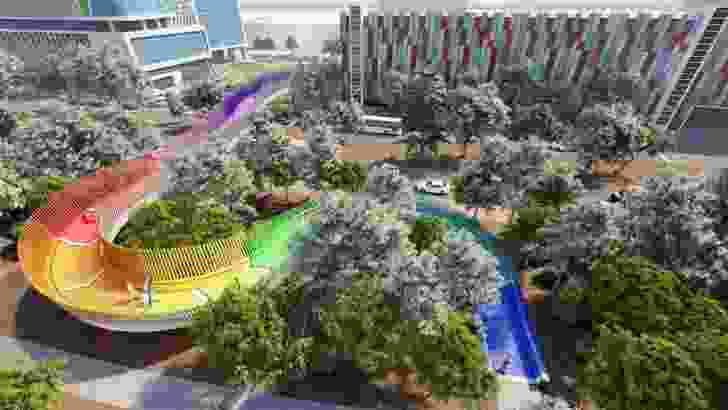 The WA government says Main Roads will manage the design, construction and maintenance of the bridge. Construction contractors will be appointed when the final design is approved.
"I am delighted to announce today that the Kids Bridge project is going ahead. Not only will it provide a huge opportunity to deliver a range of therapies for children at Perth Children's Hospital in a natural environment, but it will also provide some much needed respite for families in Kings Park, the natural heart of Perth," said health minister Roger Cook.
"We know there is strong evidence in the power of nature in healing and this bridge will allow this to be harnessed. The opportunity for some of our sick children and their families to access this urban sanctuary during a challenging time is a wonderful bonus."
The new Perth Children's Hospital, by JCY Architects and Urban Designers, Cox Architecture and Billard Leece Partnership with HKS Inc, opened in 2018.
The government is currently running an EOI process for the demolition of the now-disused Princess Margaret Hospital.
Related topics